'House of the Dragon' Star Matt Smith Drops Premiere Date, Immediately Tries to Walk It Back Days Ahead of HBO's Big Announcement
House of the Dragon — the highly anticipated Game of Thrones prequel — officially wrapped filming in February. Since then, the biggest question on fans' minds has been: when will the series premiere? Finally, they got their answer with a post from the official Game of Thrones Twitter account on March 30. But a few days prior, star Matt Smith accidentally dropped the premiere window during an interview and then immediately tried to walk it back.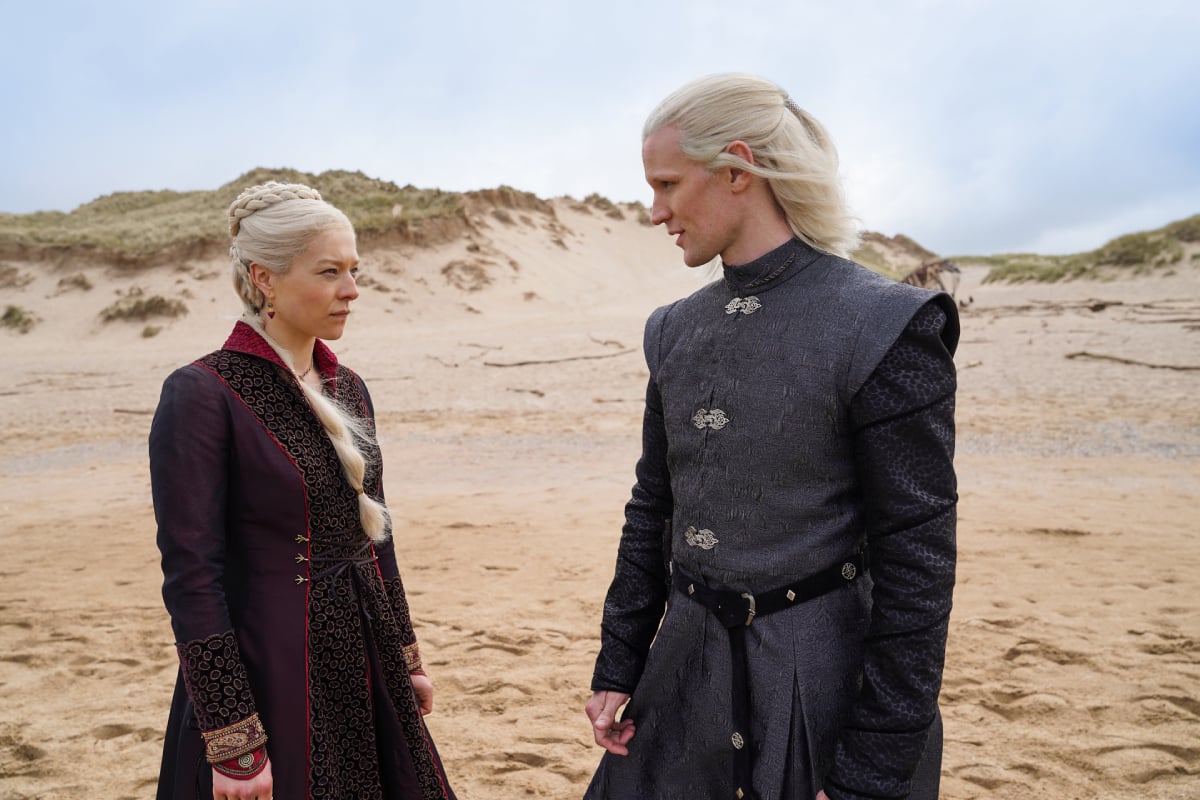 Hints about the 'House of the Dragon' premiere date started dropping in late March
HBO promised with the first House of the Dragon teaser that it would premiere in 2022. But, the premium cabler didn't give away any more details about the prequel's premiere window. With such a massive cast and crew, though, it was inevitable that some insider information would start to leak out. And that's exactly what happened in the last week of March.
The first hint that a premiere date had been set came from star Emma D'Arcy's (Rhaenyra Targaryen) management agency Roxane Vacca Management. According to Winter Is Coming, the agency's website revealed the show was coming to HBO in August. But then, they quickly erased that language.
Just a few days later, Matt Smith (Daemon Targaryen) was giving an interview to blackfilmandtv about his new film Morbius. When the interviewer asked a quick question at the end of the conversation about House of the Dragon, Smith accidentally mentioned the series' premiere window.
Matt Smith drops the premiere date before HBO
When the topic switched to the Game of Thrones prequel and Smith was asked about "taking on dragons," he let some information slip during his answer.
"We've gotta wait and see, til August!" he said of the show, before quickly walking back his comment. "Or whenever it is, September, I don't know when it's coming out. We were shooting for 10 months, it was a tough shoot, but we all got through it. I've not seen a frame yet, I'm waiting to see what it looks like, like everyone else."
Four days after Smith made the "August" comment, HBO announced on social media that House of the Dragon officially had a premiere date — August 21, 2022.
This date confirmed the fan speculation that a late summer premiere was coming, after it was revealed that showrunner Ryan Condal would be appearing at San Diego Comic-Con in July.
'House of the Dragon' is 'really different' from 'Game of Thrones'
Even though he's yet to see any of the episodes, Smith is promising fans that House of the Dragon will not be the same series as its predecessor. He told ComicBook.com that the prequel must be "its own thing."
"I think it's really different to the original series, to be honest with you. I mean it has to be. The original series was its own thing and it was, it was so brilliant and, and sort of left a mark in a way that it would be impossible to repeat," Smith said.
"So, I don't know. The truth is I haven't seen any so it's difficult for me. Essentially it's in the same world, it has to take on a slightly different identity."
House of the Dragon premieres Sunday, August 21 on HBO. All eight seasons of Game of Thrones are now playing on HBO Max.
RELATED: 'House of the Dragon': George R.R. Martin Makes Another Big Announcement While the 'Game of Thrones' Prequel Finally Gets a Premiere Date