How Farrah Abraham Really Feels About Being Replaced by Bristol Palin on 'Teen Mom'
It's official — Bristol Palin, better known as Sarah Palin's daughter, is joining the cast of Teen Mom OG. People reports the 27-year-old Palin confirmed she'll be joining the long-running cast with an Instagram post, too. "I am excited to join MTV's 'Teen Mom OG'," her Instagram post, which shows camera crews behind her and her three children, states. "I look forward to sharing my experiences and hope that I can help others on their journey."
In case you're scratching your head as to why the daughter of Alaska's most infamous politician is joining the cast, let's not forget that Bristol gave birth to her first son, Tripp, when she was just 17 years old back in 2008. She now has two more children with her husband Dakota Meyer — Sailor Grace, 2, and Atlee Bay, 14 months. We're sure we'll get to see a sneak peek into her busy mom life once she's on the show, too.
Bristol's joining brought about mixed reviews from the cast
Kailyn Lowry of Teen Mom 2 fame was one of the first to break her silence regarding the new casting. She took to Twitter to post, "Bristol palin & cheyenne & Cory for teen mom og? Our producers sure know what to do." She also added a blushing emoji at the end, indicating she may be embarrassed to be part of the show the new cast members are joining.
Kailyn sent out another tweet afterward that seemed to correct her first one, however. She tweeted, "I also am not hating whatsoever. I'm just surprised."
Catelynn Lowell, a fan favorite on Teen Mom OG, also put in her considerations on Kailyn's podcast. She didn't think the producers would bring in anyone to replace Farrah, because "we're the OG's, the original girls," she said. "If you do that, it won't be the original girls anymore," In Touch Weekly reports Lowell added. We see now that despite the show's intentions for its initial cast, they're willing to bend the rules.
Farrah says there is "not a replacement for me"
Farrah's certainly one of a kind — and she wants us all to remember that. Page Six reports in an email, Farrah said, "MTV has already tried to replace myself with another teen mom. It was unsuccessful and now with another teen mom, they can keep trying to replace but there is not a replacement for me [sic]." She also told Us Weekly that she's "dealing with a family loss right now" (her Pomeranian died) and thus cannot put any extra emotional energy into caring about the show.
Many were surprised that Farrah didn't seem angry about the situation, either. And she even wished Bristol luck and "her children safety as [Teen Mom executive producer] Morgan Freeman is a evil person." Farrah additionally wished the rest of the castmembers wellness and safety, too, given the circumstances.
Why Bristol's in and Farrah's out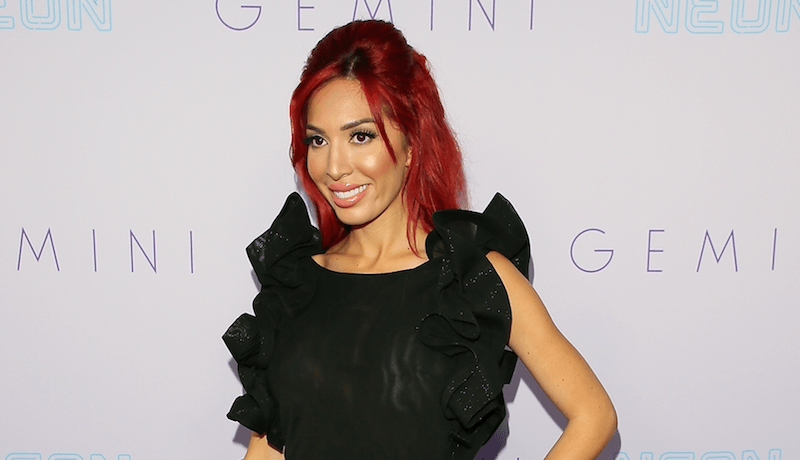 Despite the differing political views of Bristol and executive producer Morgan Freeman, they clearly think she'll draw viewers in — and they're probably not wrong. After Farrah's exit, they may feel as if they need someone with as much star power (or at least controversy) to grace Teen Mom. 
As for Farrah, she's prepared to get away from her Teen Mom fame and continue with her own business ventures, which have been pretty successful. Us Weekly reminds us she was given an ultimatum by the producers: She could continue with the adult entertainment industry or she could continue with their show, but she couldn't do both. They also discussed her treatment of the show's crew, as she's been known to disrespect them.
"Out of nine moms, you're the only one that's a problem" Morgan told Farrah, despite her insisting she's "compassionate" and "understanding." She then went on to sue Viacom and the entire Teen Mom OG production for $5 million due to "harassment," "wrongful termination," and "retaliation," E! News reports.
Check out The Cheat Sheet on Facebook!