How Many Seasons of 'The Andy Griffith Show' Were Filmed In Color?
The Andy Griffith Show ran for eight seasons in the 1960s.
Now 60 years since its debut on CBS, it remains one of television's most beloved comedy series.
Appearing mostly in black and white throughout the years, the program eventually switched to a more colorful picture.
'The Andy Griffith Show' marks its 60th year
It's been 60 years since the comedy about a single father and his young son set in North Carolina in a fictional town debuted on CBS. The father, Andy Taylor, also happened to be the fictional town's sheriff, overseeing the citizens of Mayberry's troubles and squabbles.
In a 1998 interview with the Archive of American Television, Andy Griffith revealed why he felt the show performed as well as it did.
"It was family-oriented," he said. "It was about a little town and all the people who lived in it. As Bob Sweeney used to say, 'It looks like an ordinary little town, but it has a little border of insanity around it.' And all those fine comedic actors like Don Knotts and Howard McNear and Jim Nabors, all of them made it. They represented that little, that little insane border."
The show went to color episodes starting in Season 6
After Don Knotts' farewell from the show after its fifth season, The Andy Griffith Show began presenting episodes in color.
In "colorful" seasons 6 to 8, with Knotts' departure, other characters came out of Mayberry's woodwork to try their hand at charming viewers as much as deputy Barney Fife had.
County Clerk Howard Sprague played by Jack Dodson was introduced. As well, handyman Emmett Clark portrayed by Paul Hartman began to make frequent appearances.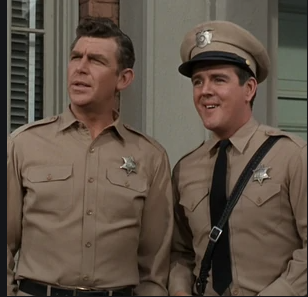 RELATED: 'The Andy Griffith Show': Why Andy Griffith Ended Up Leaving His Own Show
Don Knotts was replaced by Jack Burns in the role of bumbling, overly eager-to-please deputy Warren Ferguson.
Griffith, speaking to interviewer Larry King in 2006 said of Knotts' 1965 exit from the show, "I missed him, I missed him so dreadfully, I can't begin to tell you. The show when Don left, the show lost its heart.
"It stayed on for three more years and was, in fact, number one for the last year that it was on. But it really lost its heart and its soul when Don left."
Ron Howard's favorite episode was in color
While speaking with Larry King in 2013, filmmaker and former Andy Griffith Show alum Ron Howard was asked to name his favorite episode from the series. It turns out the color episode titled "The Ball Game" from the show's seventh season was close to home for Howard.
"I like one that was based on real life. My dad actually wrote the story for it," Howard said.
The renowned director explained that, in the episode, Andy is umpiring a boys' softball game. He calls his son, Opie, out at home base, leaving him bewildered and upset that his own father would call him out. Well, it happened to Ron Howard.
"That had happened to me and my dad," Howard said, laughing. "He called me out at home at a ball game that was on my birthday. But I couldn't believe he called me out!
"My dad thought that was hilarious that I was so upset about it. He took the idea to Andy [Griffith] and they made an episode out of it."