How Many Steven Spielberg Movies Has Tom Hanks Been in?
Steven Spielberg and Tom Hanks had already achieved so much before they ever decided to work together. After all, Spielberg was the Oscar-winning director behind Jaws, Raiders of the Lost Ark, and Jurassic Park. Meanwhile, Hanks landed back-to-back Best Actor wins and a string of hits that included Forrest Gump, Apollo 13, and Toy Story. So when the actor and director decided to collaborate, fans and the industry took notice. But looking back, how many movies have Spielberg and Hanks made together so far?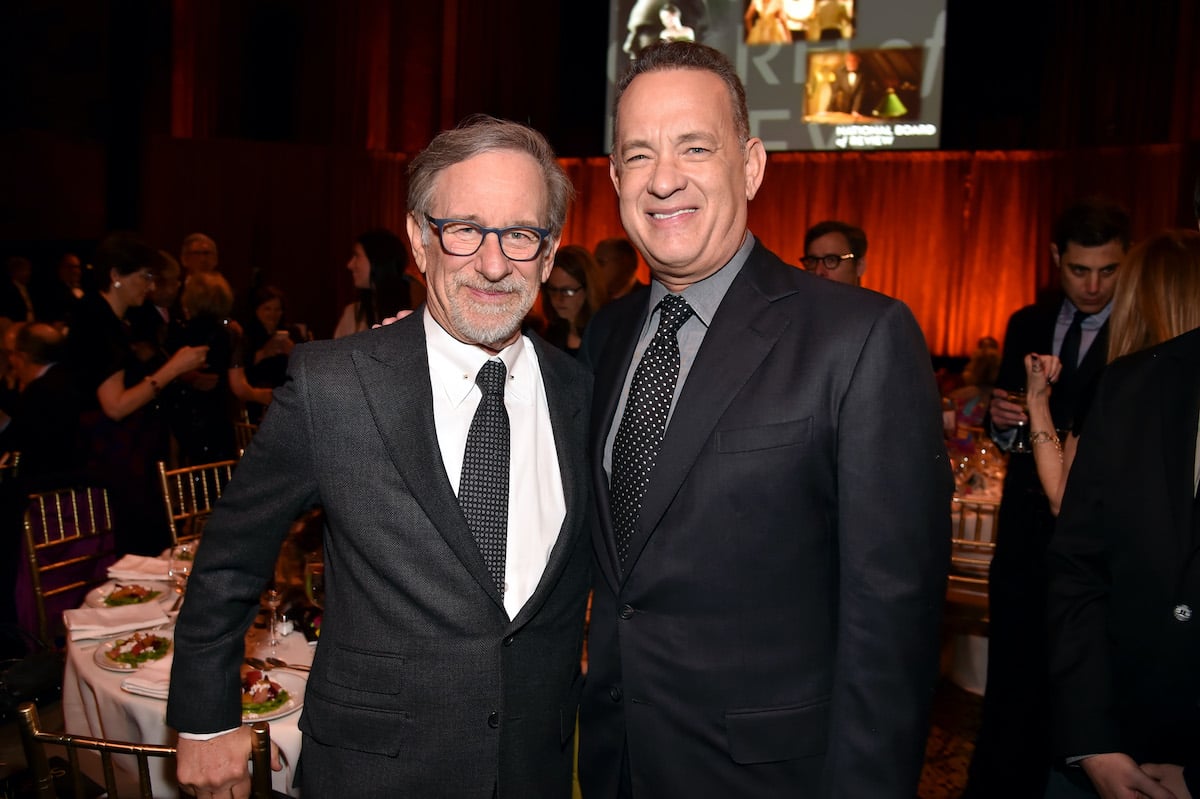 Tom Hanks and Steven Spielberg first joined forces in 1998
Two years after Hanks made his own directorial debut with That Thing You Do!, he starred as Captain John H. Miller in Spielberg's World War II epic Saving Private Ryan. Released in the summer of 1998, the movie wasn't only beloved by critics, it became a bona fide blockbuster. That's a testament to the box office clout of Spielberg and Hanks.
Saving Private Ryan went on to earn more than $480 million worldwide, according to Box Office Mojo. The film went on to earn several Oscar nods, including for Hanks' performance. And Spielberg won his second Best Director Oscar for the movie. Even today, many still consider Saving Private Ryan among the best war films ever made.
The duo also made a pair of comedy-dramas in the early 2000s
Following that wildly successful first team-up, Hanks and Spielberg didn't immediately commit to a follow-up. Rather, they wouldn't work together again until 2002's Catch Me If You Can. That film features Hanks in a supporting role as Carl Hanratty, the FBI agent on the tail of Leonardo DiCaprio's check-forging Frank Abagnale.
Then two years later, Spielberg and Hanks reteamed for The Terminal. Following an immigrant who is stranded in an airport, the movie is perhaps the least well-regarded of the director and star's pairings. But it still turned a tidy profit, bringing in $219 million worldwide against a $60 million production budget according to Box Office Mojo.
Tom Hanks and Steven Spielberg reunited in 2015 and 2017
More than a decade after their previous collaboration, Hanks and Spielberg stepped back into the history books for two Oscar-nominated historical dramas. 2015's Bridge of Spies stars Hanks as attorney-turned-hostage negotiator James B. Donovan. The movie continues their exploration of less famous but no less extraordinary real-life stories.
Likewise, The Post sees Hanks play The Washington Post editor Ben Bradlee opposite Meryl Streep as owner/publisher Katharine Graham. Focusing on the newspaper's publication of the Pentagon Papers, the film became another critical, commercial success story. And it effectively brought the number of Hanks-Spielberg movies to five.