How Many Times Has Michael Strahan Been Married, and Who Is He With Now?
Michael Strahan is a retired professional football player and an American TV personality who has enjoyed a highly successful career. After over a decade of playing defensive end for the New York Giants, the sports star pivoted to a television career. Notably, Strahan co-hosted Live! With Kelly and Michael and Good Morning America. He has also hosted the TV shows $100,000 Pyramid, Fox NFL Sunday, and Pros vs. Joes.
Though he's had a fruitful career, his love life hasn't been quite as successful. How many times has Michael Strahan been married? And is ​​Michael Strahan married now? If so, who is Michael Strahan's wife? Here's what we know.
How many times has Michael Strahan been married?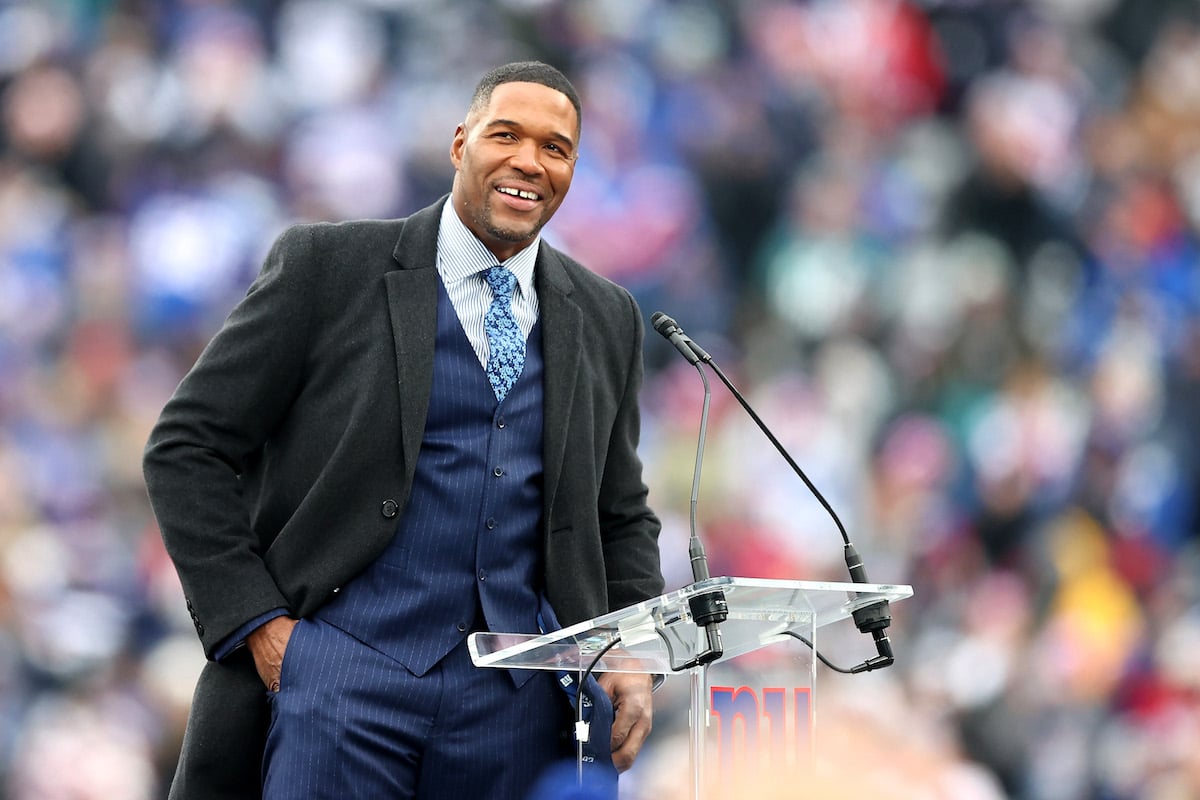 Michael Strahan has been married twice, Heightline reports. His first marriage was to interior designer Wanda Hutchins. His second marriage was to Jean Muggli. 
Michael Strahan wife #1, Wanda Hutchins
Strahan and Hutchins married in Germany in 1992 and had two children. Their daughter, Tanita, was born in 1992, and their son, Michael Jr., came along in 1995. The couple divorced in 1996, and for a long time, the reason remained undisclosed. Years later, however, Hutchins stated they were just too young and mutually decided they weren't meant to remain together. 
Michael Strahan and his first ex-wife have remained on good terms and have fostered a successful co-parenting relationship that the two even consider a friendship. Hutchins has even come to her ex-husband's aid in the face of bad press.
Unfortunately, Strahan's second marriage didn't end quite as nicely. 
Wife #2, Jean Muggli
Strahan married his second wife, Jean Muggli, in 1999. She gave birth to twin girls, Sophia and Isabella, in 2004. But two years later, the couple divorced. Muggli cited physical assault and Strahan's homosexuality as reasons for the divorce.
Following the allegations, Hutchins came to Strahan's defense, stating he was a good man and Jean Muggli was "evil." Hutchins said Muggli had even told Hutchins and Strahan's children she wished they would die.
Strahan's father, Gene "Willie" Strahan, also had some not-so-nice things to say about wife number two, the New York Post reported.
"Jean is a sick, evil lady," Willie said he wrote in a letter to his son. "Mike was mad at me. My wife was mad at me, and Jean, of course, was mad at me. But I had to get it off my chest. Jean is sick. I've been praying for her for years. It's a shame."
He was also engaged to model Nicole Mitchell
Besides his two marriages and divorces, Michael Strahan also had a long-term relationship with Nicole Mitchell (actor and comedian Eddie Murphy's ex-wife). The American fashion model and NFL player dated for five years. They became engaged but ended up calling it off.
Their celebrity relationship came to a very public, dramatic end after Strahan reportedly cheated on her. According to the Daily Mail, the Beverly Wilshire Hotel kicked her out for banging on a door that was said to lead to Strahan's room. Mitchell was convinced another woman was in the room and yelled obscenities stating as much. Despite their romance's dramatic ending, the two have remained friends. 
Who is Michael Strahan dating now?
Michael Strahan's current relationship is controversial. He is dating Kayla Quick. Besides being about 20 years younger than Strahan, Quick also has a criminal past.
In 2005, when she was only 18 years old, she was arrested on charges of disorderly conduct and grand theft, the Daily Mail reported.
The two reportedly began dating in 2015 and have kept their relationship mostly out of the spotlight.
RELATED: 'GMA's' Michael Strahan Talks About His Strained Relationship With Kelly Ripa