How Much Does Jimmy Kimmel Make Hosting 'Jimmy Kimmel Live'?
In the world of late-night talk show hosts, fewer are more popular than Jimmy Kimmel.
His affable nature, good humor, and tendency to ask his guests occasional hard-hitting questions mixed in with more genial ones have combined to make him one of the kings of late-night comedy.
Ever since the debut of Jimmy Kimmel Live! in 2003, he has been earning scores of new fans every year – as well as a very hefty salary.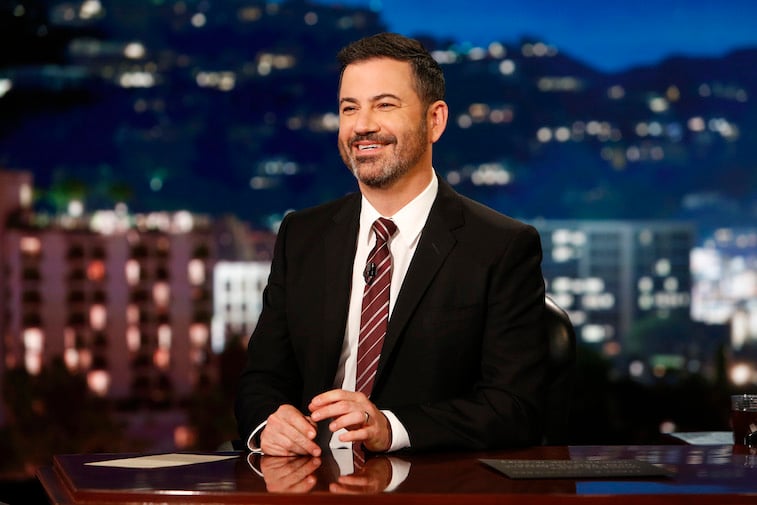 Jimmy Kimmel's early career
Kimmel was born in New York in 1967, the eldest of three children. He developed an interest in entertainment as early as high school and worked in radio as a host all throughout high school and college.
The skills that he learned on radio transitioned easily to television, and he became a regular face on the Comedy Central network when he landed a role in the popular show Win Ben Stein's Money.
Following his success on Win Ben Stein's Money, Kimmel started appearing on another Comedy Central show, The Man Show, opposite his long-time friend Adam Corolla. Audiences loved Kimmel's affable nature and natural talent at comedy, and soon, rumors were surfacing about Kimmel landing his very own television show.
In 2003, the rumors were confirmed when Jimmy Kimmel Live! was announced, and Kimmel permanently left The Man Show.
What is Kimmel's net worth?
Jimmy Kimmel Live! quickly became one of the most popular late-night talk shows. Fans loved Kimmel's quick wit, offbeat humor, and the show's habit of spoofing current events. It was seen as a show designed for a young, hip crowd, in contrast to other late-night shows like The Late Show or The Tonight Show.
Popular segments on the show over the past fifteen years have included recurring bits such as Celebrities Read Mean Tweets (About Themselves), Lie Witness News, and Unnecessary Censorship.
Kimmel has also managed to land some of the biggest names in entertainment and popular culture as guests on Jimmy Kimmel Live! Some of the well-known people to sit down with Kimmel include Barack Obama, Ben Affleck, Donald Trump, Hillary Clinton, and Matt Damon, with whom Kimmel has had a long-running, fake feud that has been the source of much public enjoyment.
For his work on Jimmy Kimmel Live! the host rakes in the big bucks. Reportedly, his salary is around $15 million per year, while his net worth is around $45 million. Kimmel has definitely come a long way since his college radio host days! Even with his astounding net worth, Kimmel is reportedly not a big spender and tends to be quite frugal in his personal life.
What does the future hold for Jimmy Kimmel?
With over fifteen years on the air and a huge fanbase that continues to grow every year, there's no sign of Jimmy Kimmel Live! going away anytime soon. As for Kimmel himself, the host divides his time evenly amongst his show and his family – he's a well-known family man, who reportedly makes sure that he spends at least five hours a day with his young children.
He is also a vocal proponent of the Democratic party and has earned some criticism over the years about his outspoken support for various political candidates. A few critics have spoken out by saying that Kimmel should keep his politics off of TV, but Kimmel is insistent that he will continue to speak out about the causes that matter to him.
It's likely that Jimmy Kimmel's talent and huge fanbase will continue to keep Jimmy Kimmel Live! at the top of the late-night rankings for years to come.