How Original 'Star Trek' Actor George Takei Became a Social Media Sensation in his '70s
Not all celebrities are interested in navigating the waters of social media, and few people over 70 have the kind of online presence that makes them an influencer.
But there's one person who has become a social media sensation and is both a celebrity and old enough to be the grandfather of most social media stars. Star Trek alum George Takei was an early adopter in the social media world, and today he's beloved by many.
Here's how this unusual star started his career playing a character in space, and almost 55 years later went light years beyond most people in social media.
The final frontier was just the beginning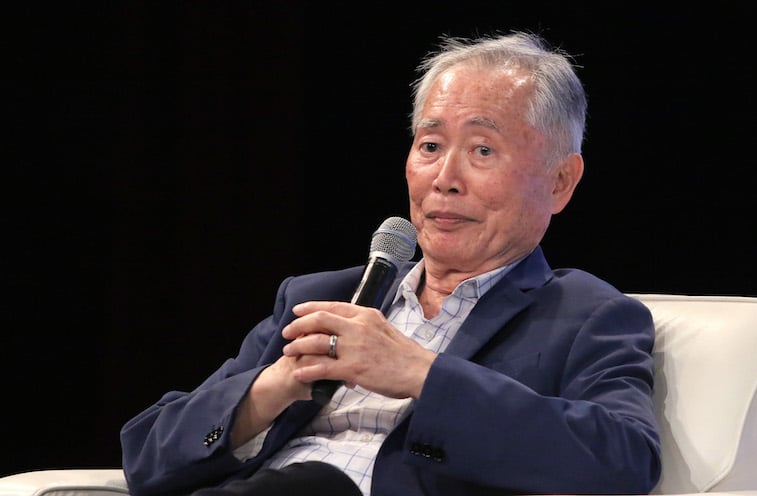 RELATED: 'Star Trek' and Beyond: Best George Takei Movies
In 1965, Takei was cast as Lieutenant Sulu on the ground-breaking series Star Trek. Although the show was only on the air for three seasons, it developed a cult following, leading to several movies and spinoff series. The diverse cast was highly unusual for its time, and Takei was instrumental in changing the public perception of Asian people.
Before Sulu won the hearts of America, most Asian characters were portrayed in a negative light, and they were often played by white actors.
While every actor would love to play such an iconic character, Takei's success as a representative of his cultural community had a very special meaning for him. His life as a Japanese American hadn't just been difficult; he lived through serious discrimination because of it.
George Takei's painful past
During World War II the United States government rounded up Japanese Americans and placed them in internment camps. Although they were American citizens, they were treated as though the were in alliance with Japan, and therefore enemies.
According to NPR, Takei was only five years old when his family was placed in a camp. They would not be freed for three years. By the time they were released they had lost everything and were homeless. They worked hard to rebuild their lives, and they faced racial discrimination along the way.
For Takei, escaping his past and finding success wasn't enough. After years as an actor, he co-wrote a book about his experience, They Called Us Enemy. His life was also the inspiration for his hit historical musical called Allegiance, and he recently played a part in an on-line showing of the play.
When Takei was almost 70, he came out to the world as gay. He and his boyfriend Brad Altman had been together for more than 20 years when they got married in 2008, as soon as gay marriage was legal in California.
Takei's history has inspired him to be an outspoken advocate of marginalized people. His passion for social justice, along with a clever, sharp wit, has made him a sensation in a world dominated by much younger people.
Taking Facebook by storm
RELATED: George Takei Says 'The Terror: Infamy' Has 'Chilling Resonance' for Today's Audiences
Takei was just shy of 74 when he dipped his toe in the world of social media, opening an account on Facebook.
Right away he found an audience, starting with fans of his work, but growing far beyond that. Today he has over 9 million followers on Facebook, nearly 3 million Twitter followers, and 1.3 million Instagram followers. He keeps his fan base happy with a blend of cultural commentary, interesting links, and just plain goofiness.
His signature catchphrase, "Oh Myyy!" has become the title of a book, podcast, and website he created.
At 84, Takei now has the kind of social media platform many people can only dream of. From his experiences as a child who lived through racial discrimination, through to his triumph as an artist and social media presence, it isn't just his age that makes him exceptional — but it sure doesn't hurt.