Hugh Hefner Once Hosted His Ex-Girlfriend's Wedding at the Playboy Mansion
When most of us get married, we're uneasy about inviting our exes. After all, watching someone you used to love walking down the aisle doesn't sound fun. But before his death, the founder of Playboy, Hugh Hefner proved he was above all that drama. Hefner didn't just attend his ex's wedding, he actually hosted it at the Playboy Mansion.  
Hugh Hefner establishes 'Playboy' and the Playboy Mansion
As the founder of one of the world's first, and most popular, nude magazine, Hefner has always been open about sex. Playboy magazine launched in 1953, a time when society was still shocked by photographs of naked women.
The magazine's first issue featured Marilyn Monroe, which immediately drew a number of fans. However, most "proper citizens" were outraged over the publication.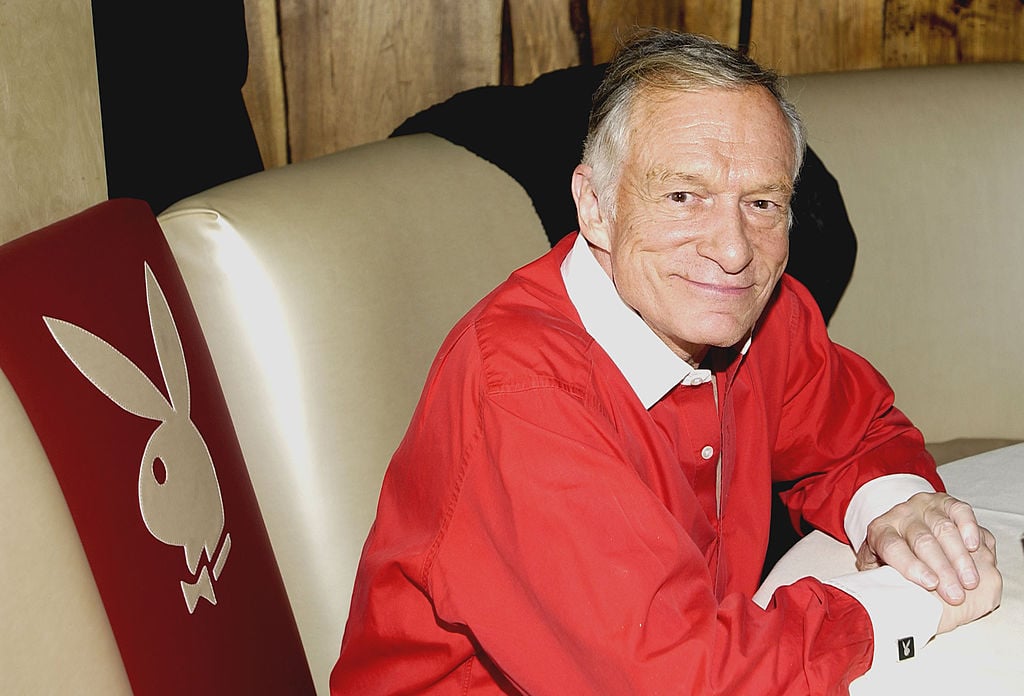 Hefner was undeterred by the protests, and after he was arrested for promoting obscene literature. He persisted with his goal of a sex-positive generation and made Playboy famous in the process. His luxurious home became known as the Playboy Mansion and was often used to host the most debaucherous parties. 
Over the course of his lifetime, Hefner became involved with a number of women. He was married three times, but it seems that he mostly preferred to surround himself with a constant rotation of live-in girlfriends. 
Kendra Wilkinson becomes one of Hugh Hefner's girlfriends
In 2004, Hefner met Kendra Wilkinson at his 74th birthday party.  She was only 18 at the time, but Hefner was so impressed with her, that he asked if she would like to move into the Playboy Mansion and be one of his girlfriends. 
"He asked me to be one of his girlfriends and I was like, "I don't know what that means, but hell yeah I'm there," Wilkinson once told Melani Sykes on the British reality series, I'm a Celebrity, Get Me Out Of Here!
When Wilkinson moved into the mansion, she joined Hefner's two other girlfriends at the time: Holly Madison and Bridget Marquardt.
The public was fascinated with life at the Playboy Mansion. How did a man in his 70s manage to have, not one, but three, gorgeous, college-age beauties as his girlfriends? The E! Network saw an opportunity.
In 2005, they launched a reality series called The Girls Next Door, which featured Wilkinson and the other girlfriends. The show quickly became very popular and made the three women celebrities in their own right. 
After spending almost five years with Hefner, another man caught Wilkinson's eye. At the annual Playboy golf tournament, she met NFL wide receiver, Hank Baskett. The two quickly fell in love, and with Hefner's blessing, Wilkinson moved out of the mansion to begin her life with Baskett. 
Kendra Wilkinson marries at the Playboy Mansion
In 2009, Wilkinson and Baskett decided to marry, and they knew the perfect place to hold the ceremony. The Playboy Mansion is surrounded by beautiful grounds, and was often used for parties. But how would Hefner feel about playing host for his ex-girlfriend's wedding?
"I could not be more delighted," Hefner told E! when asked about Wilkinson's wedding "This is one of the happiest days in one of the happiest places on earth."
So, amid white roses and flower wreaths, Wilkinson and Baskett were married on the front lawn of the Playboy Mansion. Her former co-girlfriends, Madison and Marquardt acted as bridesmaids, and Hefner celebrated along with the rest of their family and friends. 
Unfortunately, in 2017, Hefner passed away. And a year after that, in 2018, Wilkinson and Baskett filed for divorce amid cheating accusations. But on that day in 2009, everything was peaceful. They were able to show the world what love and respect should look like.