Humphrey Bogart Left His Wife For His 19-Year-Old Co-Star Lauren Bacall
The love affair between actors Humphrey Bogart and Lauren Bacall remains etched in history as one of the most romantic yet scandalous romances in Hollywood. They met while filming Bacall's first film. She was 19, he 43. Despite their age difference, they fell in love on and off the screen. During an up-and-down year between 1944-45, they came out the other side married and hopelessly in love.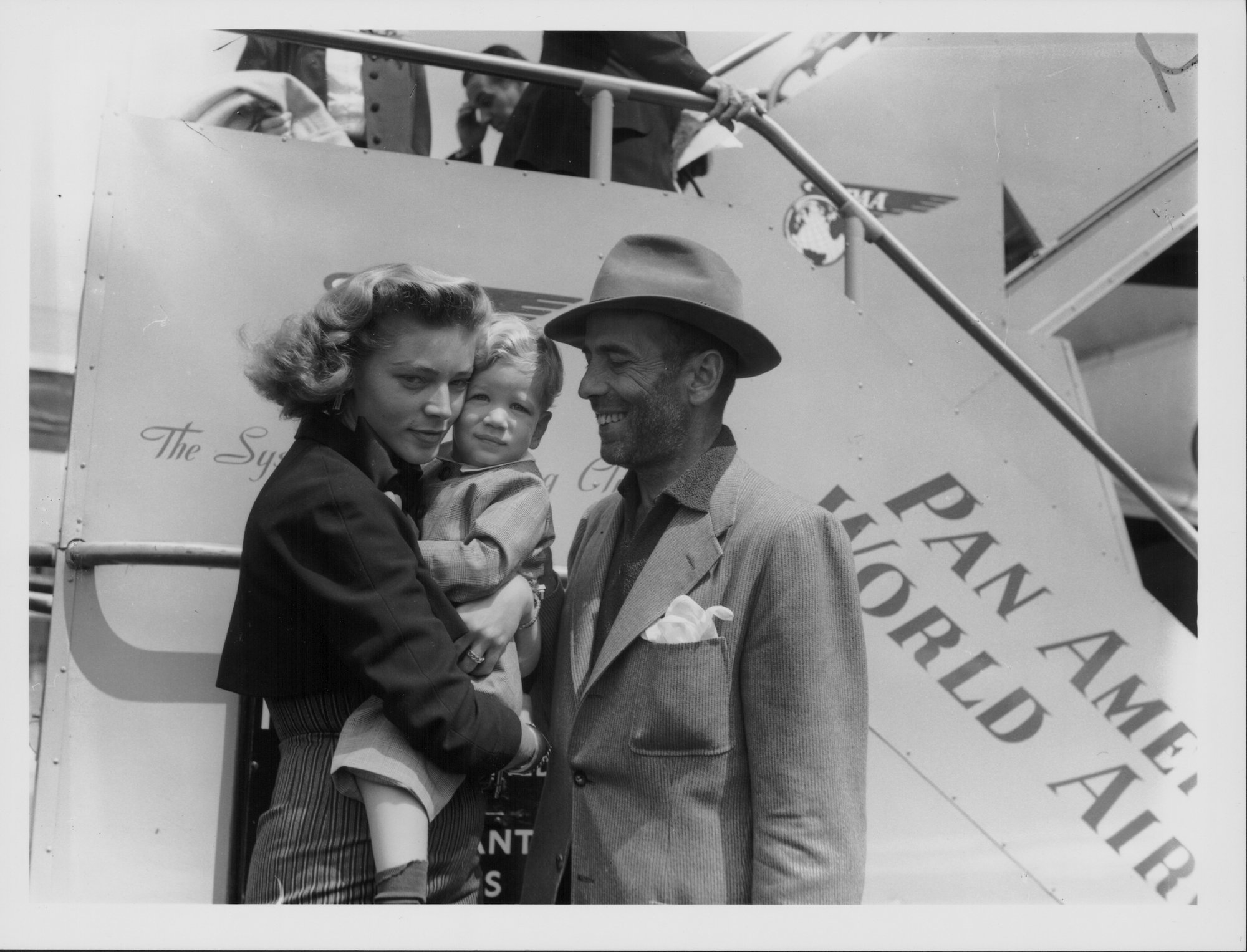 Humphrey Bogart was an accomplished acto
Born on Christmas Day 1899, Bogart was the son of a prominent New York heart surgeon and a woman's magazine art director. He did poorly in school and enlisted in the Navy to fight in WWI. It was while he was serving in the Navy that he acquired his signature scar over the right side of his lip, according to Biography. Following his honorable discharge in 1919, Bogart wasn't sure what to do with his life. He met an actor who got him a job as company manager for the touring production of a stage play. The following year, he received a small role with one line. The acting bug bit him. 
It was his appearance as an escaped killer in The Petrified Forest, that garnered a lot of attention. It was a role he would play on stage for two years before being cast as either a gangster or criminal in late '30s films such as The Great O'Malley and Crime School. He broke away from his typecast in 1941 when he nabbed the role of detective Sam Spade in The Maltese Falcon. Following he was cast alongside Ingrid Bergman in what would become the Academy Award's Best Picture in 1944, Casablanca.
Meanwhile, Bogart's personal life had been less satisfying. He married Helen Menken in 1926. The two divorced in less than one year. He married Mary Philips in 1928. That marriage lasted nine years. Bogart married his third wife, Mayo Methot in 1938. She was an alcoholic and the two battled routinely earning them the title in Hollywood of the "Battling Bogarts." Still, he tried to make the marriage work despite falling in love with another woman.
A young Lauren Bacall makes her big screen debut
RELATED: Lauren Bacall's Short-Lived Affair With Frank Sinatra Ended Badly: 'He Behaved Like a Sh*t'
In 1924 Betty Joan Perske was born in New York City. Her father, an alcoholic, left when Betty Joan was only six. Her mother changed their last name to Bacall after her maiden name, Bacal. At a young age, Betty Joan Bacall was taken with the theater and found acting parts while still in high school. She started modeling, landing on the cover of Harper's Bazaar in 1943. The wife of director Howard Hawks took notice and initiated a screen test. She also advised Bacall to change her first name. Betty Joan became Lauren. Bacall landed her first film role at the age of 19 in To Have and Have Not starring a middle-aged Bogart, Biography reports.
She was excited about being cast and Bogart told her, "We'll have a lot of fun together." She was nervous on the first day of shooting, but Bogart helped the young star learn to relax. To hide her jitters, she started tucking her chin which left her having to look up to the actor. Known as "The Look" that pose was something that would continue to follow her throughout her acting years. Although "there was no clap of thunder, no lightning bolt," Bacall wrote years later in her memoir, there was obvious and undeniable chemistry. That chemistry changed the ending of the film and their lives.
One of Hollywood's most notorious romances
In the completed film, the two ended up together. A few weeks into filming Bogart planted an offscreen kiss on Bacall and asked for her phone number. Her mother wasn't happy, after all, he was a married man. Nonetheless, it was an affair that was destined to happen, despite their near 25-year age difference. Bogart continued trying to make his current marriage work, despite having an affair with Bacall. But he got a divorce on May 10, 1945. Eleven days later he and Bacall were married.
They made a total of four films together before Bacall stepped back from acting to care for their growing family with a son, Stephen, born in 1949, and daughter, Leslie, in 1952. Bogart's fourth marriage and Bacall's first was a success. Sadly, the fairy tale came to an end in 1957. Diagnosed with cancer of the esophagus the year prior, Bogart died in January. She was widowed at the age of 32.
Bacall went on to make other films and Broadway appearances. She was briefly engaged to Frank Sinatra. She married Jason Robards in 1961. They had a son, Sam. Their marriage lasted less than a decade. They divorced in 1969. Bacall passed away in 2014 at the age of 89.