'I Love Lucy': Lucille Ball Blamed Desi Arnaz's Infidelity and Drinking for Their Divorce; He Blamed Something Else
Desi Arnaz described his reason for why his 20-year marriage to Lucille Ball failed after 'I Love Lucy' ended.
TV viewers still binge-watch the legendary sitcom I Love Lucy despite its finale over 60 years ago. Featuring the comedy icon Lucille Ball and her bandleader husband Desi Arnaz, the show revolved around the onscreen marriage of Lucy and Ricky Ricardo.
The co-stars faced extreme highs and lows during their 20-year marriage, which ended in divorce in 1960. Though Arnaz often made headlines for his womanizing and increasing penchant for alcohol, he pointed to another reason for the end of his wedded bliss to Ball.
'I Love Lucy' kept Lucille Ball and Desi Arnaz under the same roof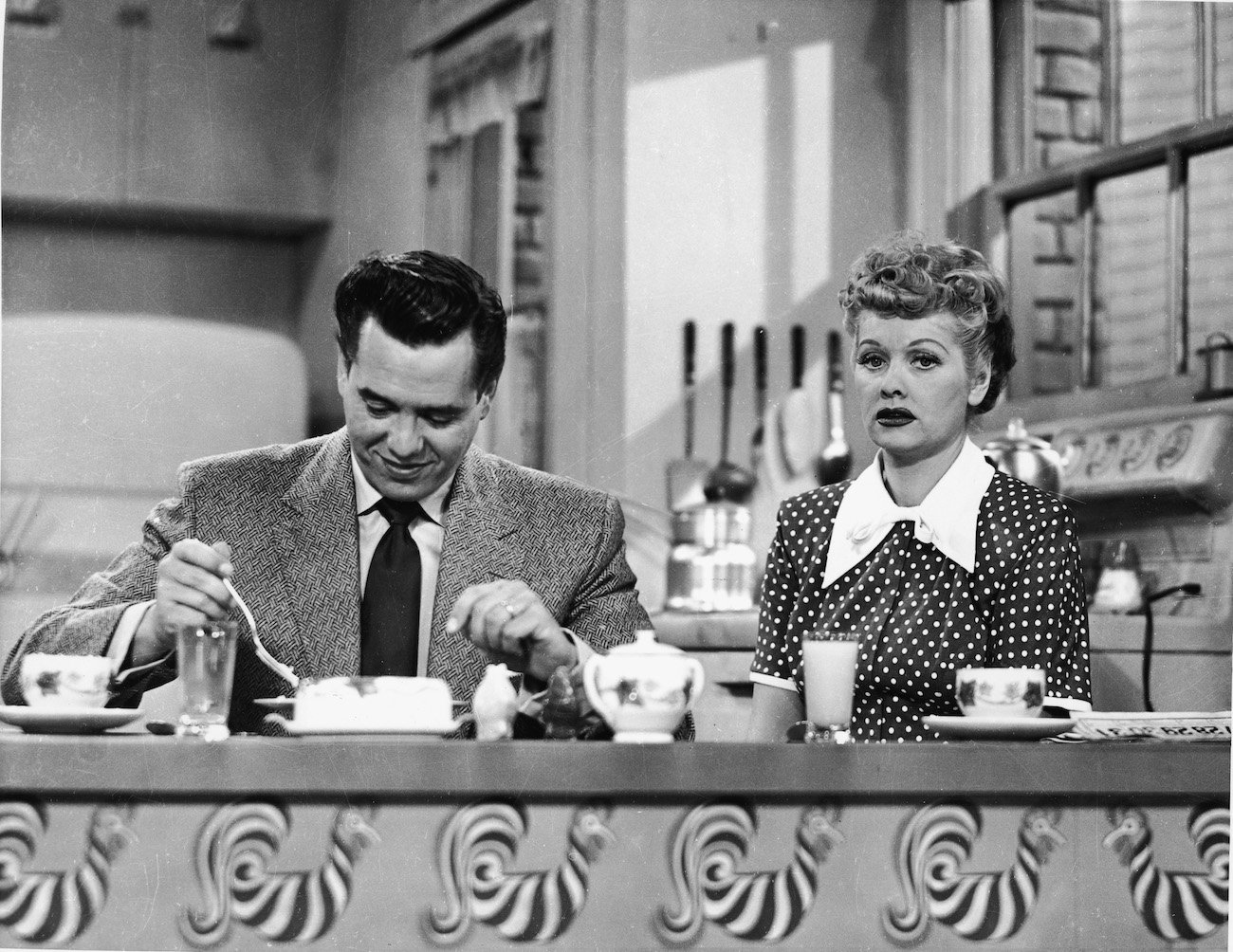 Lucille Ball and Desi Arnaz met on the set of the film Too Many Girls in 1940. Eloping later that year, the two had conflicting schedules, forcing them to spend extended periods apart. Almost immediately, problems surfaced with Arnaz's reported philandering. According to Country Living, Ball filed for divorce in 1944 due to her husband's excessive drinking and wandering eye.
The two reconciled with the agreement they would choose professional projects that gave them more time together. When CBS offered Ball a TV deal, she insisted Arnaz play her husband in the comedy.
"She knew that if he went on the road with the band, he'd be catting around all the time," writer Bob Weiskopf said. "She wanted him at home, where she felt the marriage would have a better chance of lasting, which of course it did."
Once I Love Lucy hit the airwaves, the couple became Hollywood gold. And Desilu Studios became an empire with Ball and Arnaz at the helm.
Desi Arnaz's behavior became too much for Lucille Ball
Coyne Steven Sanders and Tom Gilbert's 2011 book Desilu: The Story of Lucille Ball and Desi Arnaz includes extensive commentary from the two stars about their storied relationship. Faced with Arnaz's continued philandering and drinking, Ball revealed that living with him was often like living with two different people.
"He was like Jekyll and Hyde," the famous redhead remarked. "He drank and he gambled, and he went around with other women. It was always the same — booze and broads. I had seen it coming. I was always hoping things would change. But Desi's nature is destructive."
Ball filed for divorce in 1960, charging Arnaz with "extreme cruelty" and subjecting her to "grievous mental suffering." 
"I've tried so hard to be fair and solve our problems," the comedy icon said. "But now, I find it impossible to go on."
Despite Lucille Ball and Desi Arnaz's volatile relationship, their split was amicable, and they remained friends and business partners.
Arnaz offered a different reason for their split
Desi Arnaz didn't see his behavior as a major problem. The couple's daughter Lucie said his drinking "was part of his upbringing." As for his infidelities, Arnaz considered them insignificant.
"Desi seemed unable to understand Lucille's inability to forgive — or at least ignore — his numerous and apparently escalating extramarital transgressions," Sanders and Gilbert write in their book. Arnaz believed another aspect of their celebrity relationship might have caused their divorce.
"I think one of the problems is that we were both working too hard and were together too much. There was really no chance to be away from each other and let things cool off," Arnaz explained. "It was really ironic. For the first 10 years of our married life, we had both worked like hell to solve the problem of being separated too much."
Even after the couple split, Arnaz downplayed his use of alcohol and still seemed surprised by Ball's intolerance of his drinking.
"I had always been a drinking man," the I Love Lucy star said. "That first night after we went out after that rehearsal of Too Many Girls at RKO, we both got bombed and had a ball. But now, she was resenting it. As president of three studios and all that bullsh*t, I should be more dignified."
Looking back on her marriage, Ball still viewed Arnaz's self-destructive ways as the marriage's downfall.
"I couldn't understand it … It seemed like we had everything," she told Barbara Walters in 1977. "We certainly did have everything and worked very hard to get it. Two beautiful children. What else can you ask for? … But he had to lose. He had to fail at everything that he built up. Everything he built he had to break down."