Inside Timothy Olyphant's Love For Brad Pitt: 'There's a Chance I Might Leave [My Wife] For' Him
Timothy Olyphant and Brad Pitt starred together in Once Upon a Time in Hollywood — Quentin Tarantino's most-recent critically acclaimed production. While Brad Pitt took home the Oscar for Best Supporting Actor as stunt double Cliff Booth, Olyphant boasted a smaller role as James Stacy — a 1960s actor who starred in the well-known Western Lancer.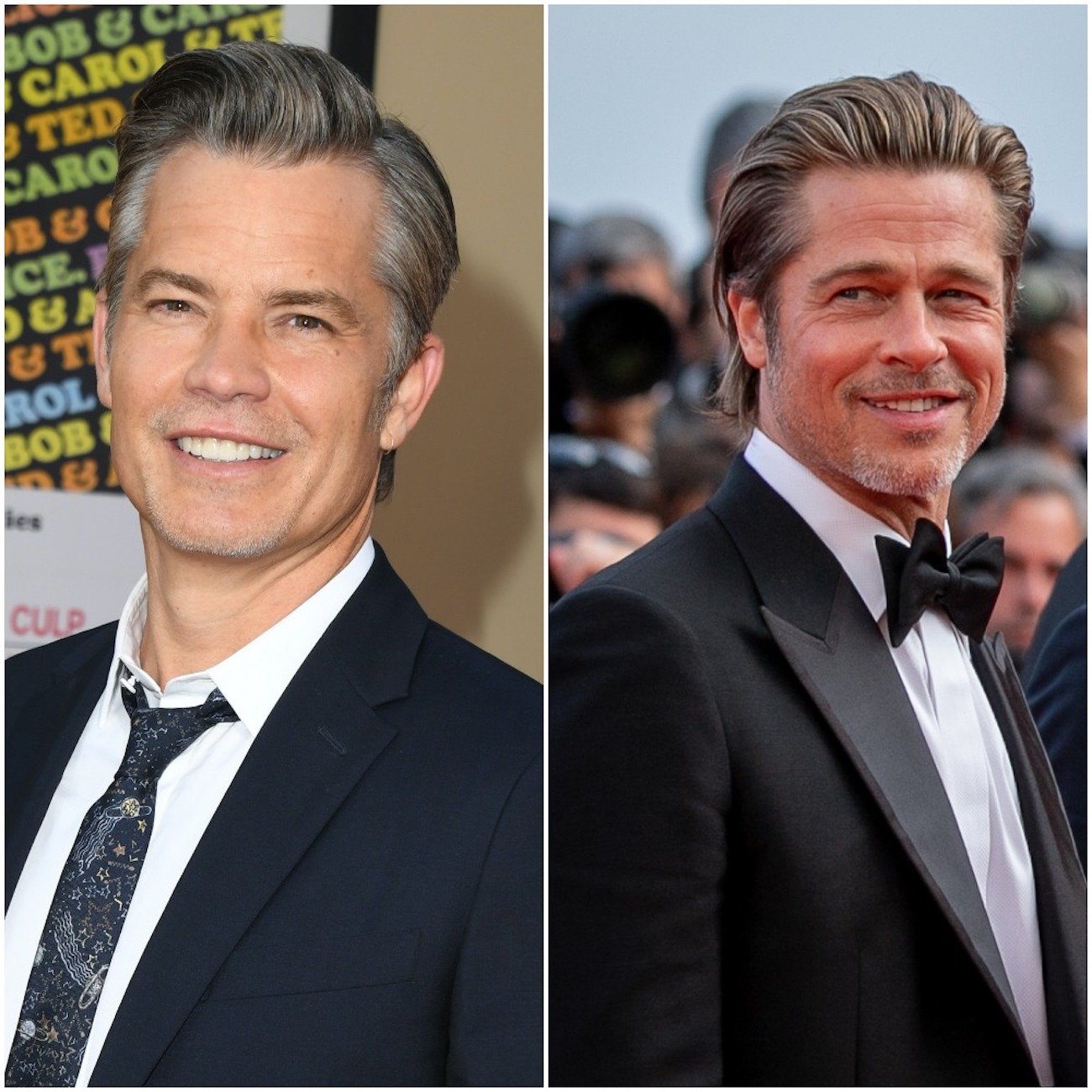 During an interview with Conan O'Brien, Olyphant discussed what it was like to work with Pitt. He celebrated the star's professionalism and punctuality while humorously noting the discrepancy in their fame and "suave" levels. 
Timothy Olyphant compares his arrival at the 'Once Upon a Time in Hollywood' readthrough to Brad Pitt's
Conan O'Brien referenced Olyphant's excitement to work on a Tarantino production, recalling the fact that Olyphant is quite a fan of the director. He also asked the Santa Clarita Diet star what it was like to work alongside Pitt. Olyphant noted that, while he and Pitt arrived early to the readthrough, Pitt entered with a bit more style. He shared:
"First of all, from the jump, the whole thing was a dream come true. At the read-through…I showed up early…in my electric car…the only person who arrived just before me was Brad Pitt, only he arrived on a chopper. And, I kind of thought, 'Well, there lies the difference.'" 

Olyphant | Team Coco
Olyphant explained that, while both guys arrived without any assistants and sans any press and paparazzi, Olyphant arrived in a battery-operated-mobile, while Pitt arrived on a chopper — all Danny Zuko-esque. 
Olyphant believes that Brad Pitt is 'as cool as it gets'
Olyphant went on to tell his wife that Pitt is "as cool as it gets." He went on: 
"I've said to my wife, I told you, I said, 'you know, I'd never leave my wife for another woman, but there's a chance I might leave her for Brad Pitt.' He's just that wonderful…" 

Olyphant | Team Coco
Olyphant jokes about his love for the actor before O'Brien comments that Pitt possesses "that thing" – when one sees him they just "get it–" all the fascination, all the wonder, all the attraction. 
Pitt and Conan O'Brien agree on one thing when it comes to Pitt — he is quite an attractive man, and it should come as no surprise that people want to be with him — he's just got the "cool" factor going for him, among other many positive traits. 
Other Pitt co-stars have celebrated his selflessness on set – his willingness to let others do their close-ups first, his team-player mentality, and his professional and compassionate nature. In the end, Pitt's just got it all.