Jay Ellis Reveals Tom Cruise's Words of Encouragement While Filming 'Top Gun: Maverick'
It's official — Jay Ellis is an action movie star. The actor best-known for performing so well on the TV show Insecure that at least one fan slapped him takes flight in the wildly successful Top Gun: Maverick. The breakout role for Ellis cements his action movie credentials, and some advice and words of encouragement from Tom Cruise on the set helped him own the part. Ellis also said Cruise provided some acting tips that he began using almost immediately.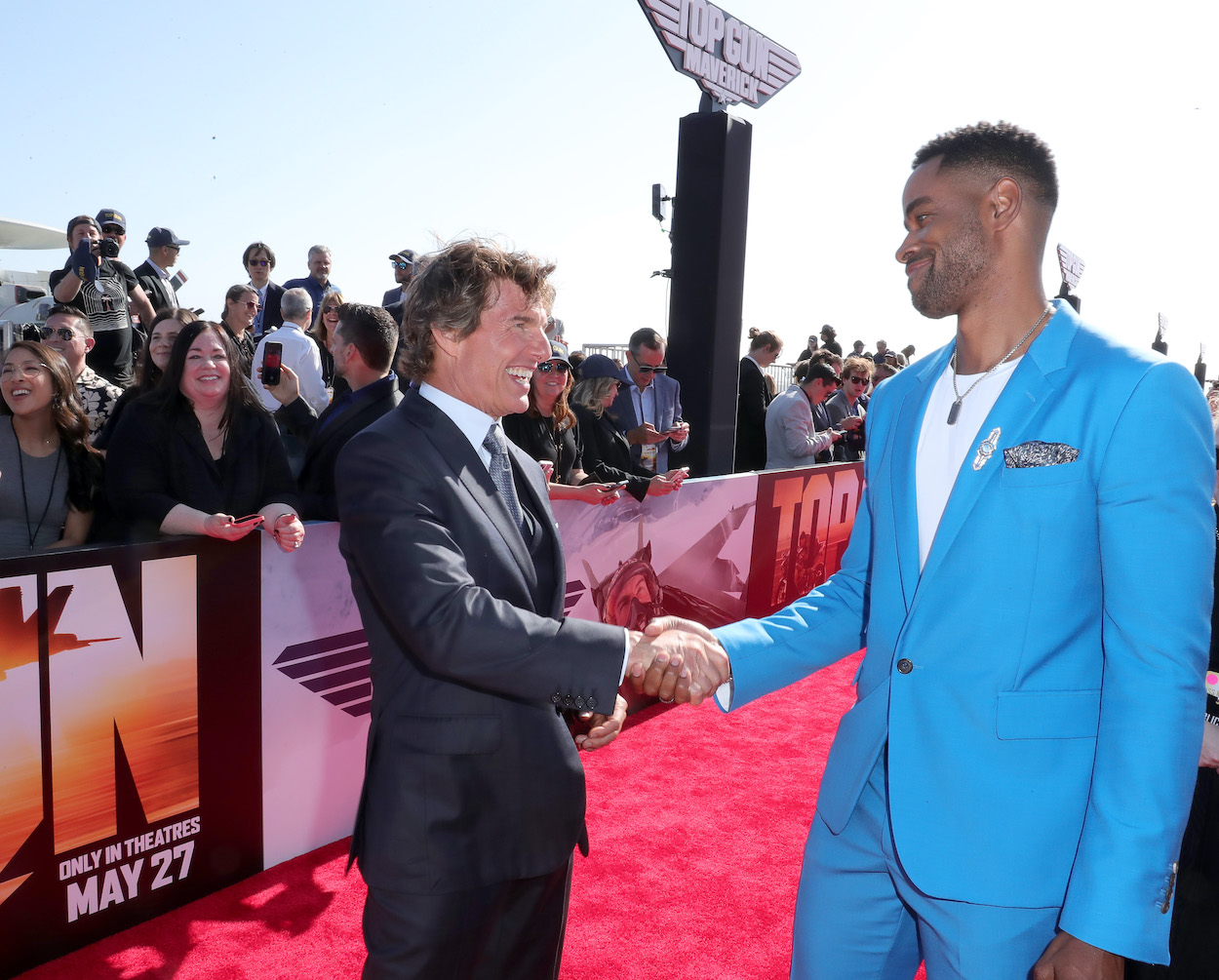 Jay Ellis breaks through with role in 'Top Gun: Maverick'
HBO's Insecure gave Ellis one of his first significant roles. Before that, Ellis' most notable parts were a large role in The Game and one-off appearances in TV shows such as NCIS, NCIS: Los Angeles, and Grace and Frankie.
Ellis starred in the horror movie Escape Room in 2019, but acting alongside Cruise in Top Gun: Maverick is a breakthrough role for him. Sharing the screen with Cruise in a blockbuster isn't the only perk, though. Ellis revealed the words of encouragement Cruise gave him on set, plus some acting tips Ellis used while filming Insecure.
RELATED: 'Top Gun: Maverick': Tom Cruise Insisted In-Flight Scenes Use Real Aircraft, Forcing the Cast to Undergo G-Force Training
Tom Cruise assured Ellis: "You're an action star"
Cruise proved himself to be an action movie star with 1986's Top Gun. Ellis does the same with his role as Lt. Reuben 'Payback' Fitch in Top Gun: Maverick. Ellis had never starred in an action movie like Maverick before, nor acted in a film expected to be a blockbuster. 
Cruise provided words of encouragement to Ellis and his castmates during filming. Cruise is the star of the movie, but he's also a producer, so he wanted to make sure his fellow actors had no doubt about whether or not they belonged there, as Men'sHealth reports.
"Tom was very clear: 'You guys are movie stars, and you're action stars. I can show you how I've done this and built this in my career.'"

Jay Ellis
Cruise made it a point to reassure Ellis about his action movie credentials, and he also provided some acting advice, which Ellis used almost immediately in a different role.
Ellis used Cruise's acting tips on the set of Insecure
Cruise let Ellis know he belonged on the Top Gun: Maverick set, but that wasn't the only way the Mission: Impossible star supported his co-star. Cruise provided an acting tutorial that Ellis started using right away.
As Men'sHealth reported, Ellis "[R]emembers Cruise teaching him about the importance of being conscious of camera movements while acting to ensure that the viewers are locked in on everything you're doing. Ellis says that lesson is 'one of the things I took into Season 4 of Insecure and Mrs. America.'"
Maverick started filming nearly four years before its 2022 release; the coronavirus (COVID-19) pandemic pushed the film's debut back by years. Ellis is just now starring in Maverick, but the lessons he learned from Cruise came in handy a while ago.
Cruise learned a hard lesson about wardrobe choice from Paul Newman years ago. It seems Cruise paid it forward to Ellis while filming Top Gun: Maverick.
For more on the entertainment world and exclusive interviews, subscribe to Showbiz Cheat Sheet's YouTube channel.
RELATED: 'Insecure': Jay Ellis Said Christina Elmore Didn't Talk to Him for 'Like 2 Days' After Episode 3