'Jeopardy!': Alex Trebek Once Said He Wasn't Sure Ken Jennings' Winning Streak Was Such a Good Thing
While Alex Trebek was very fond of 'Jeopardy!' super champion Ken Jennings, he admitted he wasn't sure viewers would like watching such a 'dominant' player.
Up until 2004, Alex Trebek and the staff at Jeopardy! had never seen a contestant like Ken Jennings. He was seemingly unbeatable.
And throughout his 74-day winning streak on the classic answer-and-question program, he had the host worried about whether viewers would be turned off by such a "dominant" player.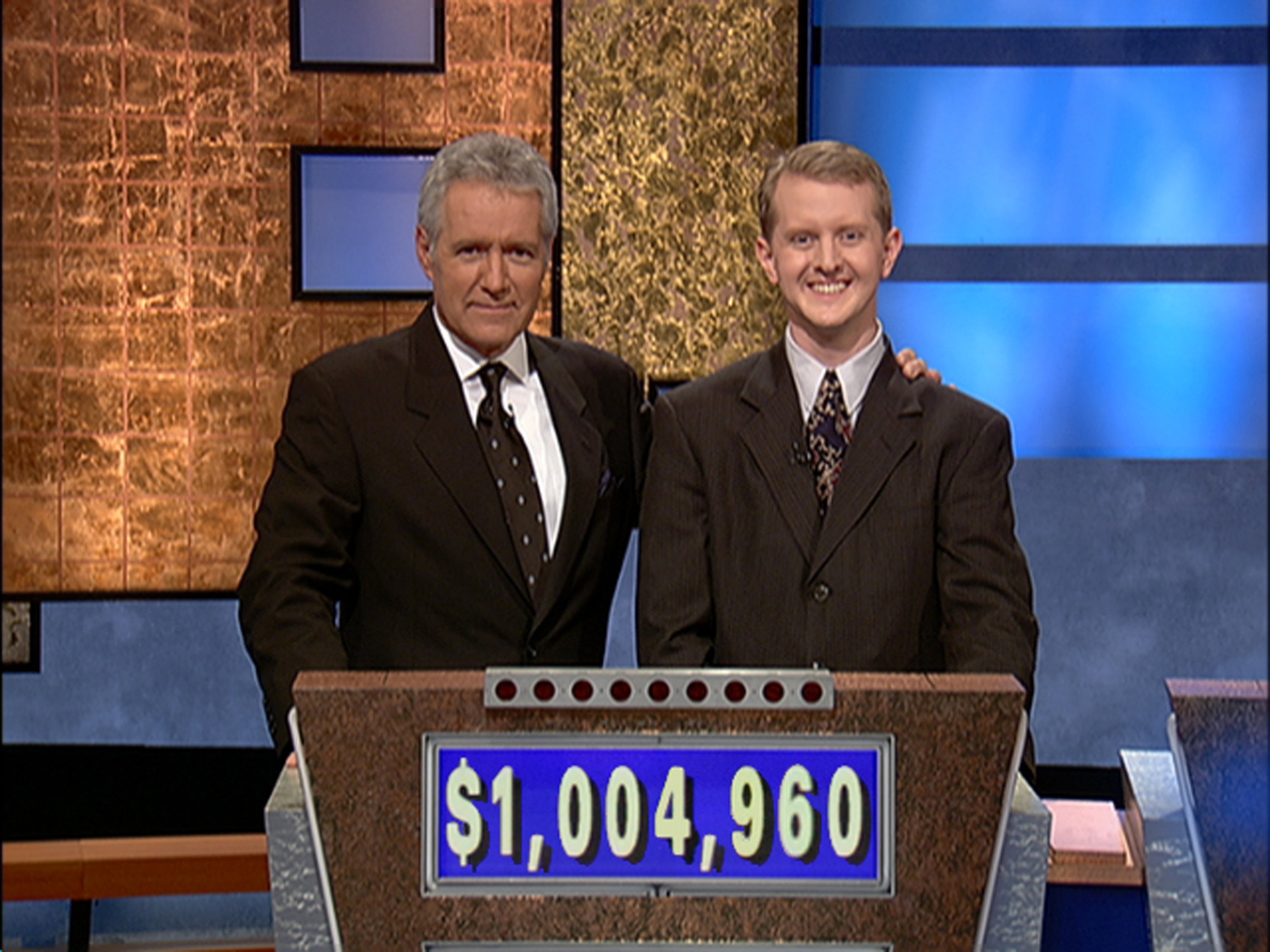 Trebek said he 'got to know' Jennings throughout his run on the show
In his 2020 memoir, The Answer Is . . .Reflections on My Life, Trebek opened up about having Jennings on the program for such a long time. He and Jennings never spoke off the show's set at that time; it was against show regulations. Still, the two saw one another on a near-daily basis.
"If you've got somebody with you on the show for 16 weeks and you are interacting during the conversation segments, that all mounts up," the host, who died in November of 2020, wrote. "That's 37 hours Ken and I spent together. We got to know each other and feel comfortable with each other."
Trebek, who quipped in the book that Jennings' long stay "was getting to be The Ken and Alex Show," added that late-night television hosts saw the humor in it as well: "[David] Letterman joked about us taking out a license and moving to Massachusetts and getting married."
The 'Jeopardy!' host worried that viewers wouldn't want to watch a long-running contestant
Current viewers of the program are used to buzzer beaters such as Matt Amodio and Amy Schneider with lengthy winning streaks. But in 2004 the show's rule limiting players to five wins had just been lifted the previous year. It's safe to say Jeopardy!'s producers and Trebek were not prepared for Jennings.
"Ken had taped around 40 shows before any of them aired," the quizmaster continued. "We weren't 100 percent sure people were going to like watching a player be so dominant. 'Good God, why are we watching this guy?' So that was sort of an unknown quantity."
Jennings, as it turned out, caused an impressive bump in the show's ratings. When he finally lost, Trebek wrote, "there was definitely a sadness. I had tears in my eyes. It just all happened so quickly. … I remember thinking, 'Ken's gone. My buddy. My pal.'"
Trebek's emotion at Jennings' loss 'touched' the G.O.A.T. player
During his time on the program, Jennings explained in his 2006 book Brainiac, the very professional Trebek was all business in his dealings with him. His defeat revealed to him how much the host really cared.
"'Congratulations, Ken,' he says, offering one final handshake," Jennings recalled. "'We're going to miss you around here.' I can't believe what I'm seeing: the normally sure-voiced Trebek seems to have a frog in his throat and his eyes are even a little moist. What do you know. All those months, the old guy did like me after all. I'm genuinely touched."