'Jeopardy!' Champ Matt Amodio Salutes Ken Jennings on the Anniversary of His Historic 2004 Win Streak: 'Long Live the Ken'
Jeopardy!'s current champion Matt Amodio has wowed the quiz show's viewers with his vast arsenal of knowledge and facts, ending the 37th season with 18 consecutive game wins.
The Yale doctoral student has made it clear that the winningest player of the game, Ken Jennings, is one of his idols and he took to Twitter to call attention to the anniversary of Jennings' phenomenal appearances that captivated fans in 2004.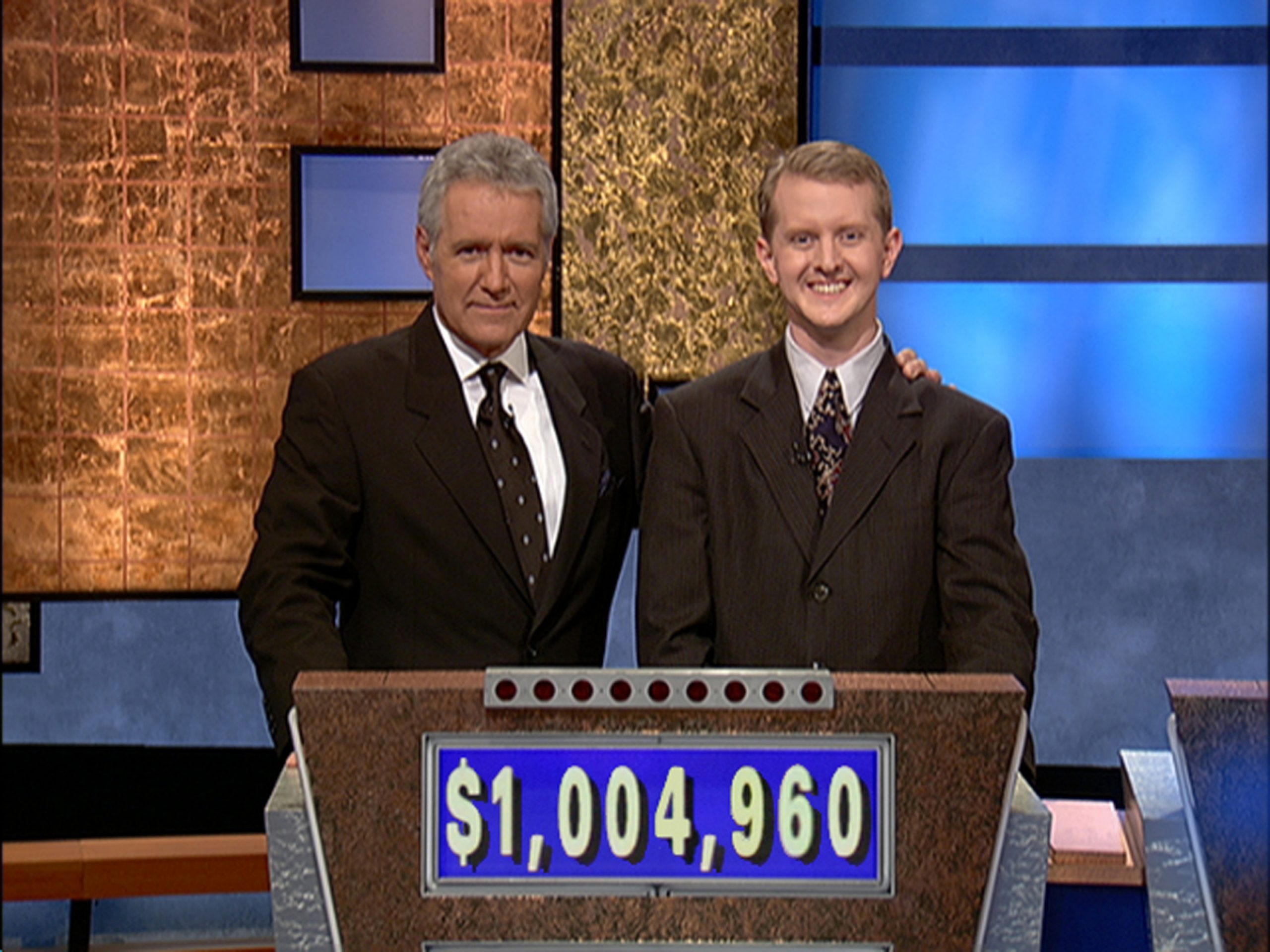 Jennings is one of Amodio's childhood idols
Amodio was born in 1990 and so, when Jennings was reigning on Jeopardy! in 2004, he was a teenage fan inspired and awed by the virtually unbeatable player's depth of knowledge and killer buzzer instincts.
Jeopardy!, Amodio told Vulture, was a nightly family ritual.
"It was on in my household from before I was able to understand what the words were," he said. "My parents were everyday watchers for my entire life, so I grew up with it. Eventually, I started to be able to interact with the show on my own."
As Amodio got into the game show and realized he was getting answers right, he was hooked. Jennings' 2004 run on the program turned the young viewer into one of the champ's biggest fans. From what Amodio had to say, the greatest of all time player became to him what Mickey Mantle was to New York Yankees' fans.
"I was a huge Ken Jennings fan," the Ohio native said. "It was like a sporting event. If there was gear, I would've bought gear and a big foam finger to root him on from my living room. I'm a huge Ken fan. Need to say that again. When I grew up, I started to learn more things, but it never really occurred to me to try out for the show."
Amodio paid tribute to Jennings on Twitter
Jennings' 2004 game wins gave the quiz show a ratings boost it hadn't enjoyed for some time. The former software engineer set a new record, winning 74 games and taking home over $2 million.
"When the streak finally ended, there was sort of conflicting emotions," Jennings said in an ABC News interview. "On the one hand, I was relieved to finally know how the story came out, and on the other hand, I was a little bit sad 'cause it's fun to play Jeopardy!"
Recently, Amodio noted the anniversary of his idol's epic run on Jeopardy!, tweeting "On this day 17 years ago, Ken Jennings began Season 21 as a 38-day champion. He would go on to win another game or 36. We would have to wait until 2020 to see him crowned, but we all knew he was the #Jeopardy GOAT in 2004. Long live the Ken!"
Another fan of the game show wished Amodio continued success in the show's upcoming 38th season and assured him he would soon be surpassing even Jennings. Amodio's response was appropriately loyal to his hero: "Thanks for your kind words! (Ken will always be #1, though)"
Amodio returns next week to defend his own title as current champ
There's no reason to think Matt Amodio won't continue to crush it on Jeopardy! when the classic program's new season begins on Sept 13. He's currently the show's third most successful player, right behind Jennings in first place and James Holzhauer.
The computer science student told local Connecticut television station WTNH that Jennings has influenced his playing methods: "One of the things that I found was an effective strategy, is follow everything that Ken Jennings says and try to duplicate it as best as I can. He's been a role model."
And Jennings recently returned the admiration, tweeting about Amodio during the recent Mike Richards hosting controversy: "This guy is the Jeopardy! story no one is following."
Watch current champ Matt Amodio when 'Jeopardy!'s 38th season premieres Sept. 13 on ABC.
RELATED: 'Jeopardy!': James Holzhauer Dislikes Mike Richards and Doesn't Care Who Knows: 'I Judged Him by the Way He Treated People Backstage'