'Jeopardy!': Fans Are Showing Ken Jennings Love For His Nightly 'Thank You Alex' Sign-Off
Since he began guest hosting Jeopardy! in early January, Ken Jennings has gradually grown into the role. The former contestant – and let's not forget, the officially greatest player the quiz show has produced – brings his own personality and knowledge to the lectern for each new game.
An aspect of Jennings as host that has not escaped fans' attention? His nightly sign-off of "Thank you, Alex," acknowledging late host Alex Trebek. And it's earning him points with the Jeopardy! faithful.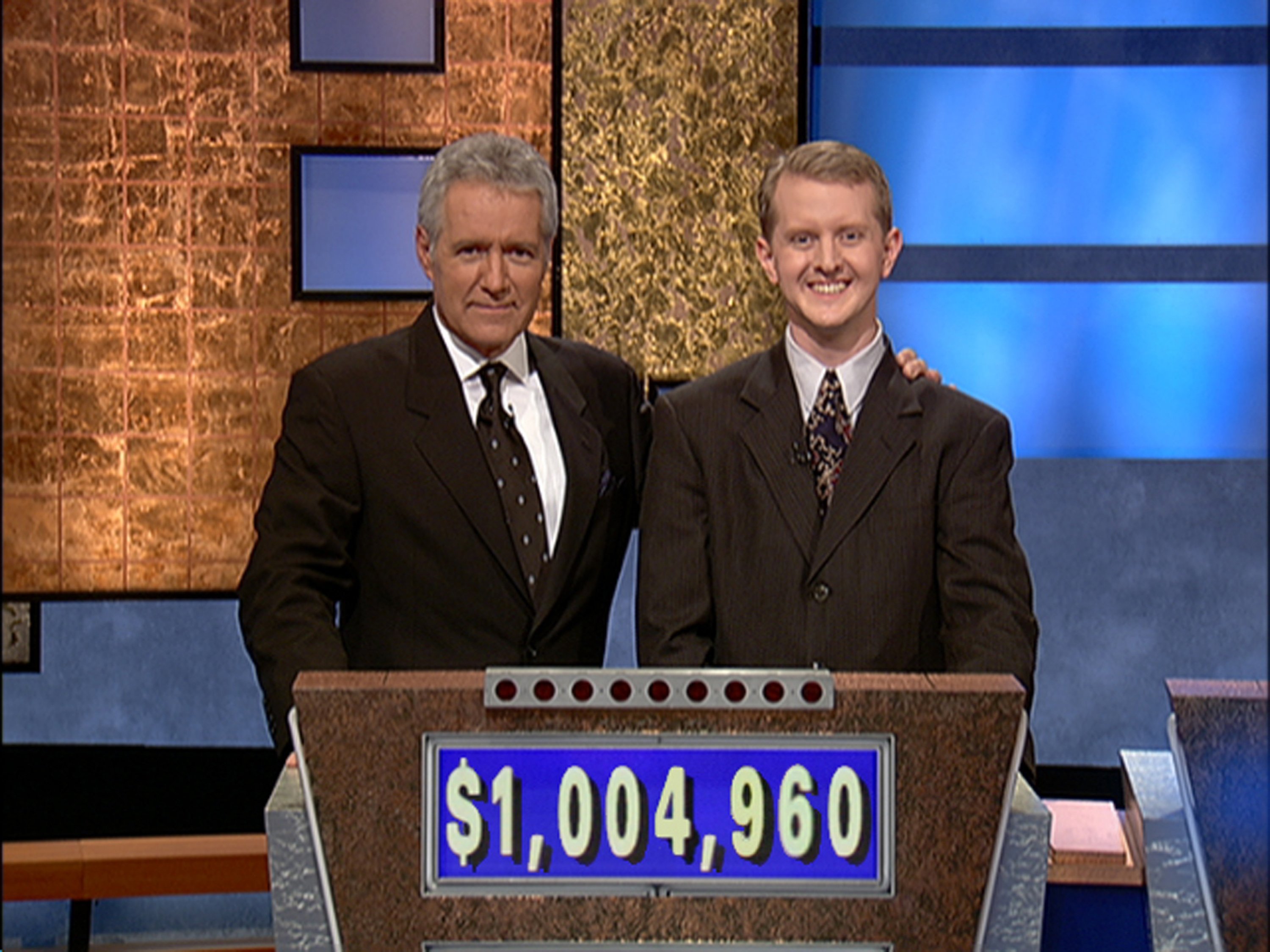 Trebek and Jennings had grown close
After Jennings' 74-game run in 2004 on the answer-and-question game show, Trebek got a little misty-eyed as he realized the contestant that had seemingly become his sidekick would be leaving the show.
When Jennings lost his 75th game to real estate agent Nancy Zerg, Trebek recalled in his 2020 memoir The Answer Is…, "'Oh my God,' I thought. 'He's done.' There was definitely a sadness. I had tears in my eyes. It just all happened so quickly. Ken lost."
Clearly, Jennings had become more than another contestant to the Canadian-born television personality.
"I remember thinking, 'Ken's gone. My buddy. My pal. This was getting to be 'The Ken and Alex Show,' the host quipped.
Trebek held the former software engineer in such high regard that he asked him to narrate portions of the audiobook version of his memoir.
Jennings' past tweets didn't endear him to many 'Jeopardy!' fans as a potential new host
Recently, the Jeopardy! champ has been featured on other game shows, namely Game Show Network's Master Minds and ABC's American version of the British program The Chase. Plus, he's also co-created a board game, runs a podcast, and writes prolifically on trivia and the world of trivia buffs.
Unfortunately, it's been the Washington-born Jennings' past tweets that have gotten him into trouble when his ascension to guest host was announced after Trebek's death. So much so, that some Jeopardy! viewers were concerned about his assuming the hallowed post, even in a guesting capacity.
RELATED: 'Jeopardy!': Brayden Smith Was the Final Champ of the Alex Trebek Era – Here's What the Iconic Host Had to Say About Him
In 2014, Jennings posted the now-infamous tweet, "Nothing sadder than a hot person in a wheelchair." He apologized for his comment.
"I never did a public flogging for this, but I did apologize personally to angry/hurt people who reached out personally," he tweeted in 2018. "It was a joke so inept that it meant something very different in my head [and] I regret the ableist plain reading of it."
After that in 2015, another tweet in bad taste had fans wondering 'what was he thinking?' when he posted about the death of a Star Wars fan who died after going to see The Force Awakens.
"It can't be a good sign that every fan who has seen the new Star Wars movie died shortly thereafter," he said.
'Thank you, Alex' is winning Jennings fans
Although Jennings' old, tone-deaf tweets had some of the game show's fans concerned, something interesting has happened. He's growing on viewers. Many even posting that they don't need to see any other guest hosts: Ken should stay, they say.
What's endearing the baby-faced father of two to them all the more? That "Thank you, Alex" at the end of each game.
In January, fans posted on the show's Instagram account comments such as "I think he's a great fit!! He's doing an awesome job!" and "I love that at the end of each episode he says 'thank you Alex.'"
And just days ago, even more praise for Jennings: "He always remembers Alex at the end of each show" and "Love it when he thanks Alex at the end. Hope he becomes the next host!"
The game show has a laundry list of other guest hosts lined up, but as it stands now, Jennings has seemingly earned himself the respect and cheers of many Jeopardy! viewers.