'Jeopardy!': Ken Jennings or Mayim Bialik — Whose Net Worth Is Higher?
Former Jeopardy! contestant Ken Jennings and actor Mayim Bialik are filling in with hosting duties on the classic answer-and-question quiz show until the end of 2021. Both are immensely popular with the program's viewers and both are immensely busy with projects outside of the show.
Find out which Jeopardy! host has a higher net worth.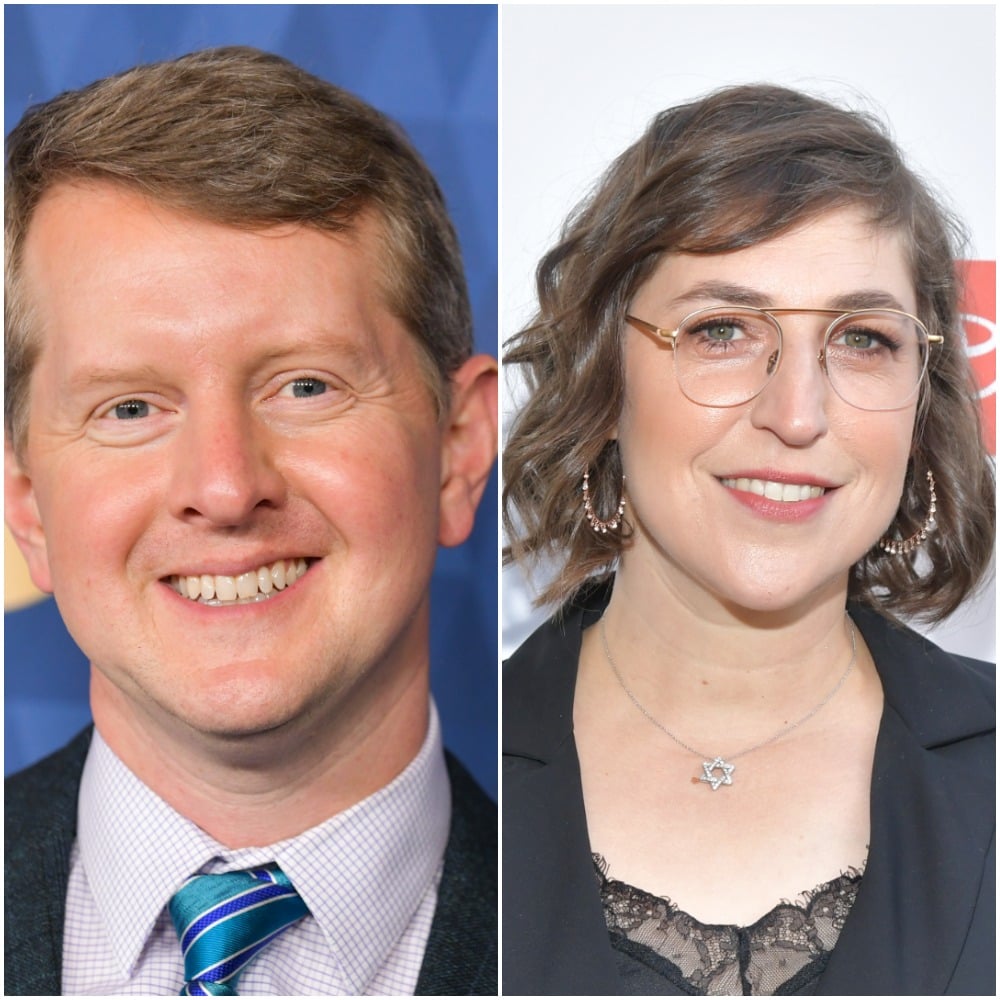 Bialik and Jennings are standing in on 'Jeopardy!' until a new host is found
The program has had quite a parade of guest hosts over the past year including journalist Katie Couric, CNN's Anderson Cooper, another of the show's champs Buzzy Cohen, Today co-host Savannah Guthrie, CNN's chief medical correspondent Dr. Sanjay Gupta, GMA anchors George Stephanopoulos and Robin Roberts, actor and television personality LeVar Burton, CNBC financial anchor David Faber, and Fox sportscaster Joe Buck. And, of course, Bialik and Jennings. Each guest host after their experience inevitably expressed a variation on the statement, "Alex Trebek made this job look very easy."
Jennings, who began his second guest-hosting stint since his last one at the beginning of 2021, concurred telling Newsweek: "It's a very tricky job. The mechanics of hosting 'Jeopardy!' are daunting. There's a lot going on at once, and Alex made it all look so easy. But I can tell you firsthand, it's not easy."
The Greatest of All Time player touched on how incredibly intimidating it was for him to step in as the first guest host just two months after Trebek's 2020 death.
"I was just terrified, and I think rightfully so," he continued. "I mean, Alex had just barely passed, and really no one else had hosted the show since 1974; like, literally, in my lifetime."
It's assumed that either, or both, Jennings and Bialik will be chosen to helm the show permanently. But we'll have to wait and see what Jeopardy!'s final answer on the subject will be.
Ken Jennings' net worth is $4 million
Celebrity Net Worth estimates Jennings' net worth at $4 million. The 74-game Jeopardy! champion won $2,520,700 from his 2004 regular-season wins; for the 75th game that got away, he earned the $2,000 second-place prize. He then went on to earn the $500,000 second-place prize for Jeopardy!'s Ultimate Tournament of Champions in 2005 and for his part in the show's 2011 IBM Challenge where he placed second, he earned $300,000.
Jeopardy! clearly loved having Jennings on, because they invited him back in 2014 for its Battle of the Decades game and in 2019 for the Jeopardy! All-Star Games. He earned $100,000 for each competition.
The contest that sealed Jennings' place in the game show's history books was its "Greatest of All Time" games in 2020. The former software engineer bested two of the program's other extraordinary players, James Holzhauer and Brad Rutter, to win the title and its $1 million prize. In 2020, he was hired by Sony Pictures Studios as a consulting producer on the program. He's been a "Chaser" on ABC's game show The Chase since early 2021.
The Seattle resident has also published several books including Brainiac and Planet Funny and co-hosts the podcast Omnibus with writer John Roderick.
Jennings has been married to his wife Mindy since 2000, and the couple has two children.
Mayim Bialik's net worth is $25 million
Bialik's career officially took off at age 12 with her appearance in the 1988 film Beaches as the younger version of the character played by Bette Midler.  She was 16 when she debuted in the NBC comedy Blossom as the title character in 1991 and turned 19 when it ended. At that point, Bialik chose to take a break from show business and earned her Ph.D. in neuroscience, as she told The Graham Norton Show. "I have a doctorate in neuroscience," she told the host. "I left the industry for 12 years. I really wanted to experience life where you're valued for what's in between your ears and not sort of for what you can provide for other people."
She began teaching after earning her doctorate but chose to join the cast of The Big Bang Theory's third season because she "was running out of health insurance and figured if I can just get a couple of [acting] parts, I'll get my SAG [Screen Actors Guild] insurance back. I had never seen The Big Bang Theory, didn't know what it was, and was cast, and literally, my life changed." The actor began earning $200,000 per episode as The Big Bang Theory's Amy, according to Celebrity Net Worth, and soon was receiving $450,000 per show, thanks to her co-stars' agreeing to take pay cuts in order to raise Bialik's salary.
The mother of two also hosts the mental health podcast Breakdown and has fronted FOX's Call Me Kat, executive-produced by her former Big Bang co-star Jim Parsons, since early 2021.
RELATED: 'Jeopardy!': Mayim Bialik on the Moment She Knew She 'Never Wanted Anything More Than That Job'
Related post url: