'Jeopardy!': Ken Jennings' Touching Tribute to Alex Trebek on the 1st Anniversary of the Iconic Show Host's Death
A year has gone by already since the death of Jeopardy! host Alex Trebek. The Canadian-born television personality died on Nov. 8, 2020, nearly two years after announcing he had been diagnosed with advanced cancer.
The show's "Greatest Player of All Time" Ken Jennings recently recalled Trebek and the thoughtful gesture from the host's wife that caught him off guard.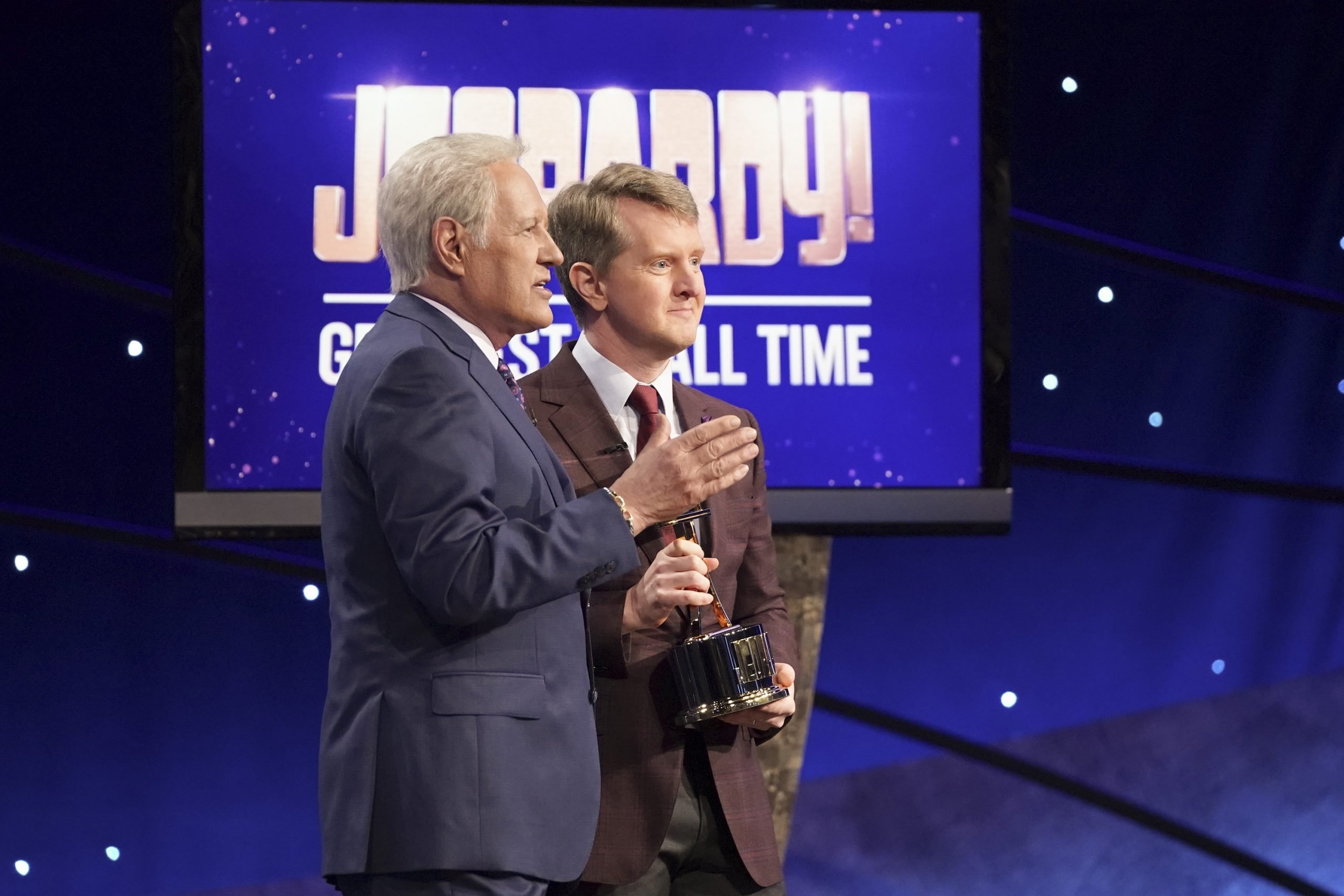 Trebek died of pancreatic cancer in 2020
Trebek shocked fans when he announced in March 2019 that he had been diagnosed with late-stage pancreatic cancer. In a video released detailing his illness, he said, "I'm going to keep working and with the love and support of my family and friends — and with the help of your prayers also — I plan to beat the low survival rate statistics for this disease."
In his 2020 memoir, The Answer Is…, Trebek disclosed he hesitated to share the diagnosis with anyone beyond his immediate family.
"At first, I was reluctant to share this news with the world," he wrote. "Basically, I'm a private person, but ultimately, I decided to do so because I wanted to stay ahead of the tabloids. I didn't want them printing or manufacturing all kinds of crap."
He soon realized how much he was loved by the show's fans when after "making the announcement, I quickly discovered there are millions of people out there who seem to care and who feel I have played an important part in their lives. I've received boxes and boxes of cards and letters from people around the world offering their support, encouragement, advice, and prayers."
Jennings' thoughts about Trebek on the first anniversary of his death
In a video tweet from the game show, its Consulting Producer Ken Jennings reflected on the late host, who he got to know well over his 74-game streak in 2004.
"I miss Alex a lot," Jennings said. "I feel like he's kind of in the building somewhere. It's hard not to talk about him in the present tense."
Jean Trebek gifted Jennings with a pair of her late husband's cufflinks
The Seattle resident described the incredibly thoughtful gift that Trebek's wife Jean presented him with after her husband's death.
"The first day I came in to guest host was just a few weeks after Alex had passed away," he revealed. "It was a really rough time. I got into the studio and one of the producers handed me a little box and Alex's wife Jean had given me a pair of his cufflinks that he had worn on the show. What a lovely gesture that was from Jean, you know, at a time that was very hard for her family. Dealing with a lot of grief and a lot of challenges. She thought about Jeopardy! and she thought about me, a person she had never even met. And I just thought, 'What a lovely thing to do, she's fantastic.'"
Moving his sleeve to reveal the cufflinks, Jennings said, "I'm wearing them today; the Alex Trebek cufflinks are the only cufflinks I own. They're kind of a good-luck charm for me here."
Jennings will continue guest-hosting Jeopardy! until the end of 2021, along with Mayim Bialik.
RELATED: 'Jeopardy!': Here's Mayim Bialik's Net Worth and Why She Seems Favored to Become the Show's Next Host