'Jeopardy!': Ken Jennings Was Convinced Alex Trebek Did Not Like Him
Find out why 'Jeopardy!' champ Ken Jennings thought show host Alex Trebek wasn't crazy about him.
The new season of Jeopardy! is premiering this week. Along with all-new shows, the popular game show is also introducing its newest staff member, Ken Jennings, who is joining the classic question-and-answer show as a consulting producer.
The 46-year-old opened up in his 2006 book, Brainiac: Adventures in the Curious, Competitive, Compulsive World of Trivia Buffs about his record-making run on the program, revealing he wasn't sure Alex Trebek was all that fond of him.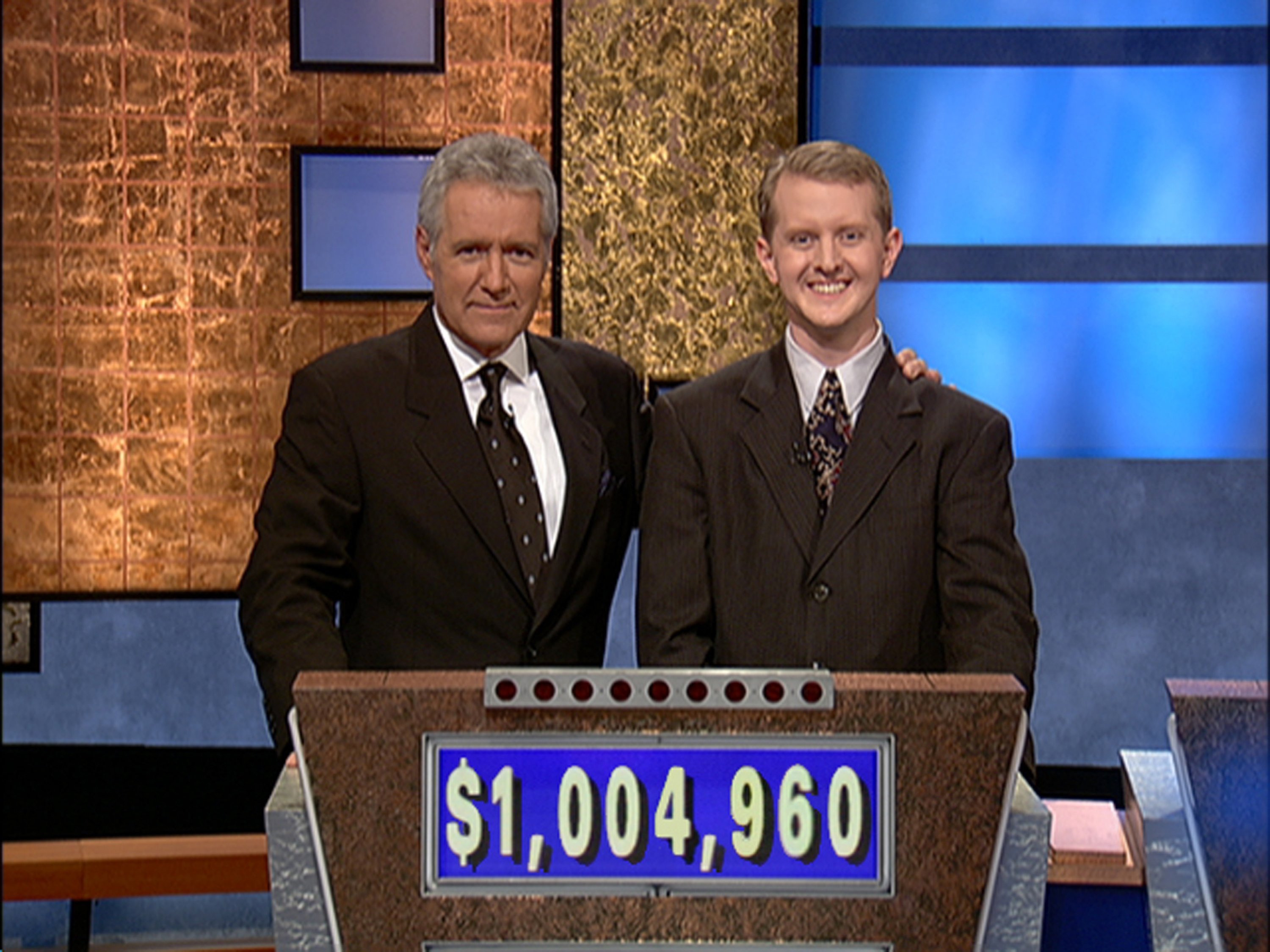 Ken Jennings thought he had gotten on Alex Trebek's bad side
At one point in his very long "residency" on Jeopardy!, Jennings writes in Brainiac, he began to think that Trebek wasn't pleased with him for some reason.
"Despite all the quality time Alex and I have been spending together lately," Jennings said, "he still seems a little chilly, as if he's rooting against me. Is this just part of his constant saltine-dry impartiality? Does he think I'm bad for the show? Does he dislike sharing the spotlight with a sidekick? Or is he just plain sick of me? I feel like passing a junior-high mash note up to his podium. 'Dear Alex. Do you like me? Check one. Yes/No.'"
The truth is, Trebek can't be seen to be too chummy with any one player. It just looks bad, as the show's GOAT explained to the Los Angeles Times in July 2020.
"The reason why you can't hang out with Alex is not because he's snooty," Jennings said. "It's because he's read all the answers and isn't allowed to fraternize. It's always funny to see him in non-Jeopardy! settings where he doesn't have the Perry Ellis set and he's wearing dad jeans and a bomber jacket. In real life, he could not be more down-to-earth and less like his fussy Will Ferrell stage persona."
Trebek's emotional reaction when Jennings finally lost on 'Jeopardy!'
In 2004, after 74 wins, Ken Jennings was at last unseated as champion on his 75th game. As he related in his memoir, he was shocked to see that Trebek, now 80, became emotional to realize Jennings would no longer be returning to the set.
Jennings writes that after his final game that year, "Alex wanders back onstage, with his tie loosened and in his shirtsleeves. I've been watching Alex Trebek since I was ten years old, and in two decades, I've never seen him out of a suit jacket. The effect is disconcerting and uncomfortable, a little like seeing your parents naked."
Watching Alex Trebek become a bit emotional allowed Jennings to see what an impact he had made on the host.
"'Congratulations, Ken,' he says, offering one final handshake. 'We're going to miss you around here.' I can't believe what I'm seeing: the normally sure-voiced Trebek seems to have a frog in his throat and his eyes are even a little moist," Jennings wrote. "What do you know. All those months, the old guy did like me after all. I'm genuinely touched."
Jennings and Trebek are now work buddies
The two old friends will be spending a lot more time together as the former software engineer will be joining Jeopardy! in its new 37th season starting Sept. 14.
For his part, the now former contestant is excited to be returning to the show's set – on the other side of the podium.
"Though I've played my last round of JEOPARDY! as a contestant, I'm delighted to have the opportunity to remain involved with my favorite show," Jennings stated in a show press release. "I'm still in on all the action,
but I don't have to worry about phrasing things in the form of a question anymore."