'Jeopardy!': Mayim Bialik Revealed She Didn't Grow Up Watching the Quiz Show — 'That Wasn't Our Thing'
Mayim Bialik shared recently about her 'Jeopardy!'-free household as a child. Find out why her family didn't watch the show.
Jeopardy! host Mayim Bialik recently opened up and admitted that, as a child, her family just wasn't a Jeopardy!-watching crew. Her mom, she shared with daytime talk show host Kelly Clarkson, had never seen the quiz show until her daughter began hosting.
Here's what Bialik had to say.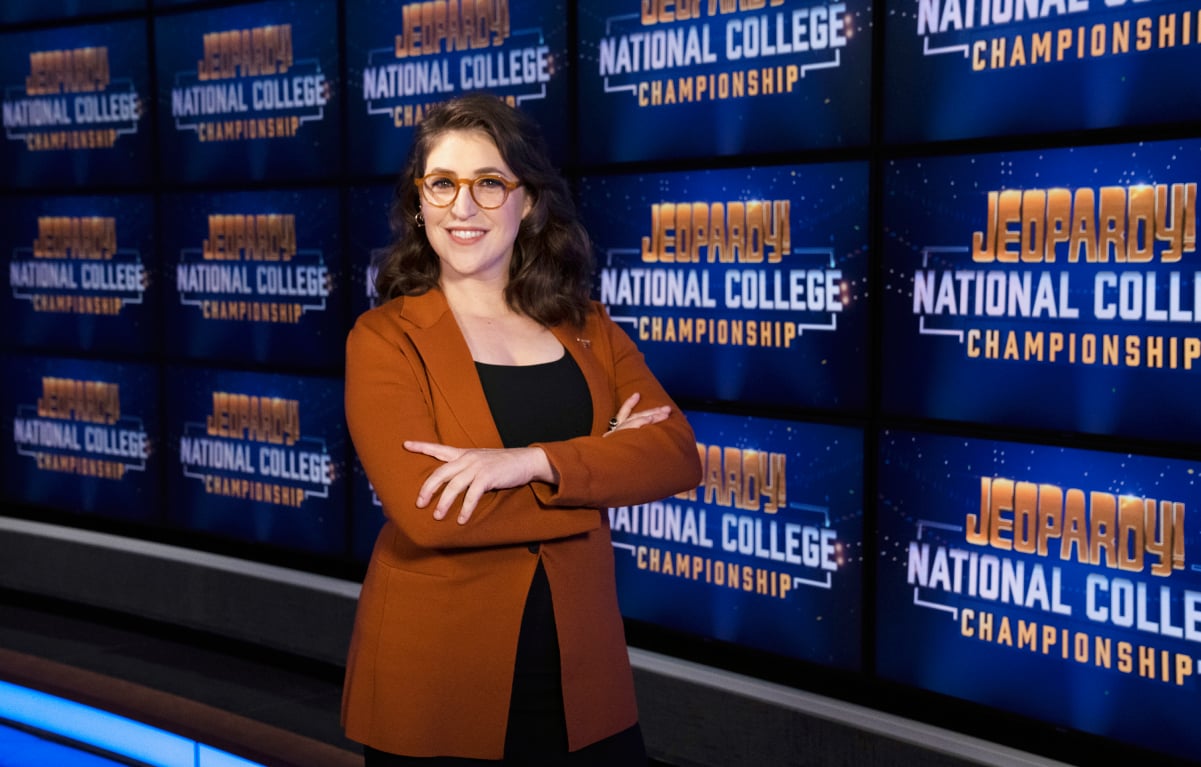 Bialik was thrilled – and terrified – to guest host on 'Jeopardy!'
The Big Bang Theory actor told USA Today that when she agreed to serve as a guest host on the quiz show following the death of longtime host Alex Trebek, her intent was to do right by his legacy and memory.
"I was terrified," Bialik said. "It's not like you can even try to fill Alex's shoes. Everybody kind of holds his energy present on that stage. You still feel him there, and I think I really just wanted to discreetly and humbly take that podium."
Bialik is the first to admit, however, that being guest host for two days in 2021 was nothing that she had expected.
"Every episode moves so quickly, and your job as host is not to mess up, meaning not to read the clue and then re-read it if you stumble," she explained. "It's a very specific and well-oiled machine. I was nervous the whole time, but it was nervous excitement, and once I kind of got into a rhythm it felt more natural."
The actor didn't grow up watching the quiz show
The former star of Blossom got real while visiting with Clarkson on her talk show about the fact that Jeopardy! just wasn't watched in her childhood household.
"My parents were documentary film makers, public school teachers, super Bohemians," she explained. "Jeopardy! was not a show that we watched. I've been very clear about this. I didn't want the American public to think like, 'Oh I claimed I grew up…,' that wasn't our thing."
The actor, who has a Ph.D. in neuroscience added that "other things were our thing, but [watching Jeopardy!] was not a thing." She confessed that when she began guest-hosting the quiz show her mother sent her a "string of texts" clearly confused about how the game works.
"'Why is everything asked in the form of a question?,'" she recalled her mother asking her. "And like, I didn't answer her, why? 'Because that's Jeopardy!, mom!'"
Mayim Bialik will be hosting the game show's primetime college tournament
For the first time, the classic program will be seen on primetime as Bialik hosts the upcoming college tournament games known as the National College Championship. The games will be broadcast in hour-long episodes from Tuesdays through Fridays, Feb. 8-22, 8-9 p.m.
She told Chicago's Daily Herald about the contestants: "They're kids from all different backgrounds, a really awesome and diverse group. This might be their first experience of putting themselves out there like this. We basically do it like March Madness; there's a bracket, and we go through it and get down to a winner. And it's intense and exciting."
Watch the 'Jeopardy!' National College Championship tournament starting Feb. 8 at 8 p.m.