'Jeopardy!': Will The Quiz Show's Announcer Johnny Gilbert Retire When Alex Trebek Does?
Announcer Johnny Gilbert has been the voice of Jeopardy! for thirty-six years. His is the voice viewers have come to look forward to at the start of each episode, as Gilbert says with perfect enunciation, "This . . . is Jeopardy!"
RELATED: 'Jeopardy' Host Alex Trebek Suggested Female News Anchor Be His Replacement
Find out more about the legendary voice talent, his role on the show, and whether he will leave the game show once the longtime host, Alex Trebek, retires from the program.
Johnny Gilbert, the voice of 'Jeopardy!'
Gilbert began his run on the classic game show in 1984, when he replaced outgoing announcer Don Pardo. Born in Virginia in 1924, Gilbert was recognized in 2017, his 32nd year on Jeopardy!, by the Guinness Book of World Records for becoming the longest-serving game show announcer on the same show.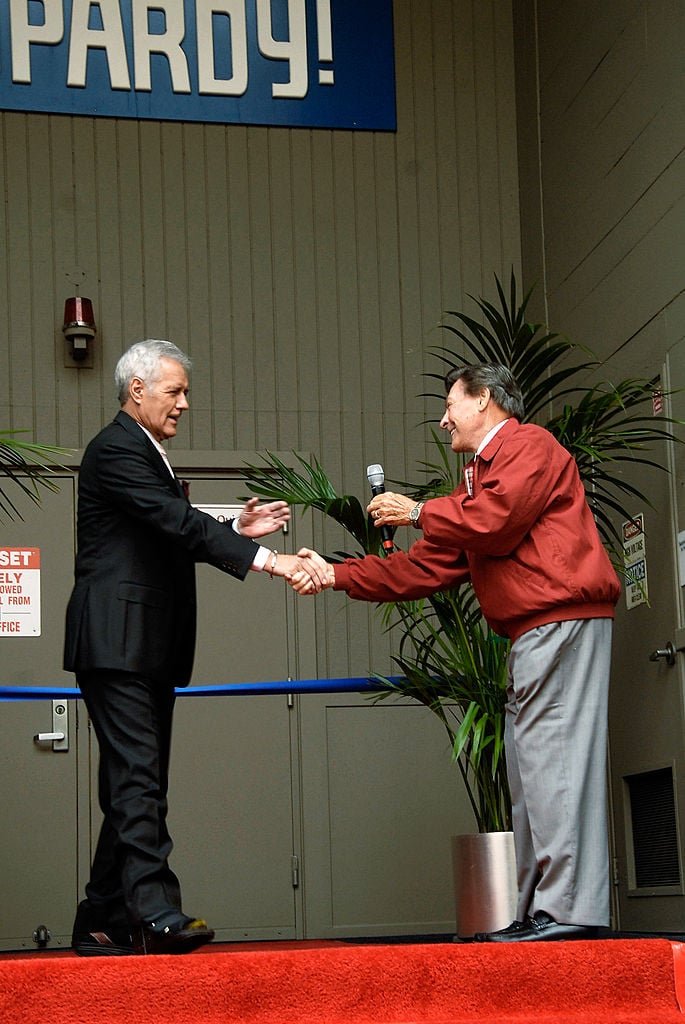 RELATED: 'Jeopardy': Will 'Breaking Bad' Star Bryan Cranston Be Alex Trebek's Successor?
"We all knew it was a good show," Gilbert said on Jeopardy!'s website, "but whether people would buy it or not, we didn't know. The audience just kept building and building and building…until it was being renewed for one year, and for two years, and three years at a time. It just grew."
Gilbert shared a humorous story that only confirms that he truly is the voice of Jeopardy!
"[People] do recognize the voice. I remember we went on a cruise a few years ago, [my wife] Sharee and myself, and we were seated at the dining table with – there must have been – nine people around it. And before we were halfway through the meal, they had identified me as being the voice of Jeopardy! And that does surprise me…even to this day. It's hard to get used to that kind of thing."
Alex Trebek's courage through his illness
Alex Trebek, diagnosed with stage 4 pancreatic cancer in 2019, has continued showing up diligently to work on the game show. It seems to, in fact, have given him strength and purpose in getting through his treatments of the advanced illness.
The Canadian native, speaking to viewers with an update on his health a year later in Mar. 2020, continued his habit of being honest with his fans, telling them his doctor had congratulated him on making it to the one-year mark.
Continually asked when he will retire, when, and who will replace him, Trebek told viewers in his filmed message that he was focusing on his health and staying around as long as possible.
"And you know something?" Trebek said. "If I, no, if we because so many of us are involved in this same situation, if we take it just one day at a time with a positive attitude, anything is possible. I'll keep you posted."
How Alex Trebek says Johnny Gilbert has given him the will to power through the worst of his illness
Still, Trebek admitted, it hadn't been easy.
"Now, I'd be lying if I said the journey had been an easy one," Trebek said. "There were some good days but a lot of not so good days. I joke with friends that the cancer won't kill me, the chemo treatments will. There were moments of great pain, days when certain bodily functions no longer functioned and sudden massive attacks of great depression that made me wonder if it really was worth fighting on."
The host has also made clear in a Jan. 2020 interview with the Television Critics Association that Johnny Gilbert had given him the strength to go on.
"For some reason, I can suck it up when [announcer] Johnny [Gilbert] introduces me, and it doesn't matter how I've been feeling before that moment in my dressing room backstage… it's just showtime."
Gilbert, for his part, has not made an official announcement regarding whether he will leave Jeopardy! once Trebek retires. He may decide to ride off into the sunset with his longtime show partner and cheer on his successor.
RELATED: 'Jeopardy' Host Alex Trebek Suggested Female News Anchor Be His Replacement