Jerry Seinfeld Describes the 'Seinfeld' Cast's 'Powerful' Behind-the-Scenes Moment That Ended the Show
Think back to '90s TV sitcoms, and Seinfeld likely springs to mind. Jerry, George, Elaine, Kramer, and their quirky antics entertained millions of viewers each week for nine seasons. Recently, star and co-creator Jerry Seinfeld shared the Seinfeld cast's "powerful" moment in his dressing room that ended the show. 
The show had many notable moments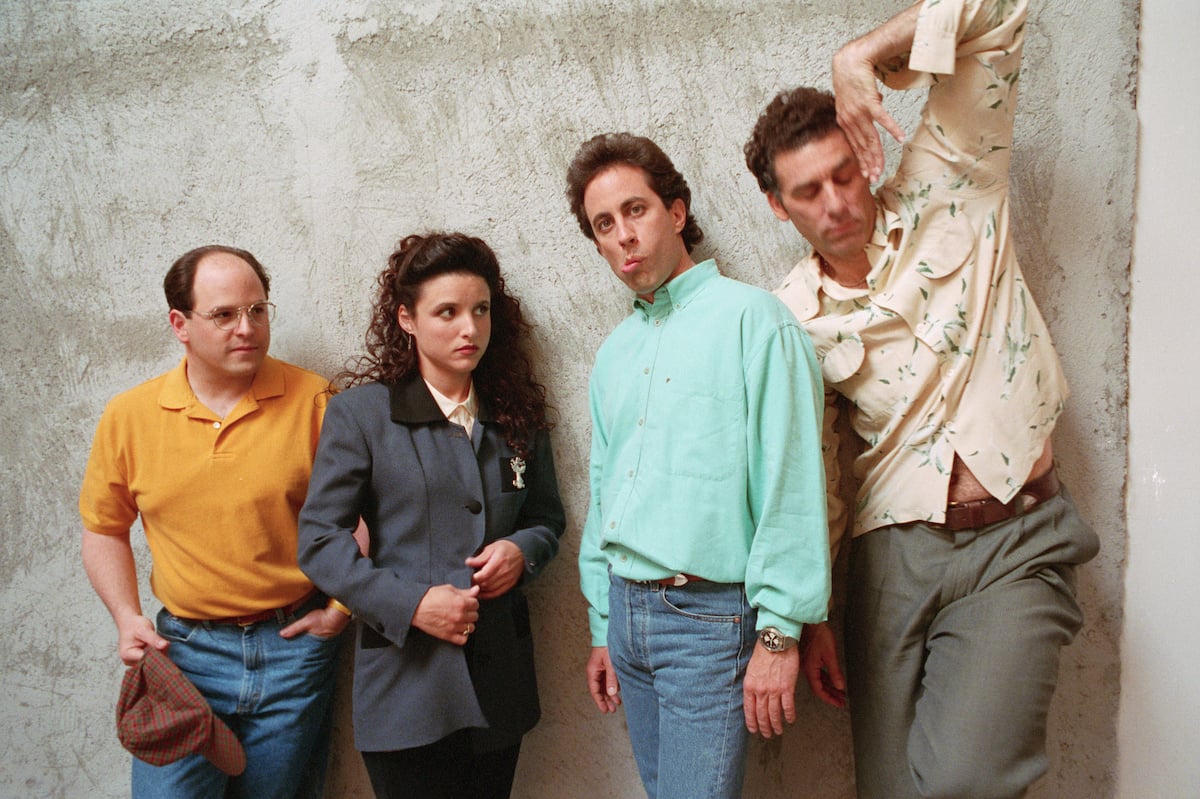 Fans still laugh at Seinfeld's most iconic moments. The show produced many unforgettable storylines that remain popular decades after the show's finale.
For instance, a season 6 episode taught viewers about the "manssiere" — not a bra, but a "bro," made for men. George's dad and Kramer believed it was a multimillion-dollar idea. 
Then there was the time Kramer hosted a talk show in his apartment after finding The Merv Griffin Show set in a dumpster.
And one of the funniest recurring gags was Elaine's dancing, which George called "more like a full-body dry heave set to music."
Also, most fans still giggle at the episode when Elaine earned the nickname "Nip" at work. She inadvertently sent dozens of Christmas cards featuring a photo of herself wearing a blouse she'd forgotten to button.
Thanks to the Seinfeld cast, writers, and producers, the show earned its fair share of accolades. According to IMDb, the sitcom won several Emmys, Golden Globes, and Screen Actors Guild Awards.
Jerry Seinfeld recounts the moment the cast knew the sitcom was over
At a September 2021 press conference, Jerry Seinfeld recalled the moment in his dressing room when the cast knew it was over.
"I remember when I was in the ninth season, and I was thinking maybe it's time to wrap this up, and I remember inviting Michael [Richards] and Julia [Louis-Dreyfus] and Jason [Alexander] to my dressing room, and we all just sat there and we stared at each other," the comedian said (via Esquire).
"We've had a lot of good fortune here. Maybe we shouldn't push our luck too far. And we all agreed that this was the right moment. And I remember it's the only time we all got together in a dressing room, the four of us, to make that decision. That was powerful."
He added, "I remember I was in a cab one time, and the cab driver said to me: 'Why did you stop doing that show? It was very successful.' And I said to him: 'Well, I was at a point we had done it for nine years, and I realized I could go off the air right now and the show could be a legend. I could be a legend of the sitcom world, or I could make some more money.'"
Looks like the comedian and his co-stars knew it was time.
The 'Seinfeld' cast shared other reasons why the series ended
Jerry Seinfeld gave another reason why he decided to end his eponymous show after nine seasons: "Nine is cool," he told Vanity Fair.
"By the end, we will have done 180 shows (1 + 8 = 9). When I was thinking about quitting the show, I thought, nine. People said, '10 — why not 10?' But 10 is lame. Nine is my number. And then I found out that nine in numerology means completion."
Former co-star Jason Alexander, who played George Costanza, also shared his reason why Seinfeld ended.
"There was nothing new we could do to these characters and still have it be Seinfeld…," he said in a 2020 episode of the At Home With the Creative Coalition podcast. "Since the show had career-wise done everything it was going to do for us, and it had taken care of us financially extremely well, the mutual thought was, 'Why don't we tuck it in before the audience says this kid's been up too long?'"