Jill Duggar Posted Vaguely About Losing 'Approval,' and Everyone Thinks She's Talking About Her Family
Those who've been keeping up with the Duggars are well aware of the saga between Jill Duggar and the rest of her family. According to Jill's husband, Derick Dillard, Jill drifted away from the rest of the Duggars largely thanks to her father, Jim Bob Duggar. And he's not finished sharing all of the details yet, as he's allegedly writing a tell-all book to really expose them.
As for Jill, she hasn't said too much about what's going on. But she has alluded to her feelings via her Instagram Story. Here's what she posted about 'approval' that has everyone talking.
Derick Dillard started spilling tea about Jill Duggar's family at the end of 2019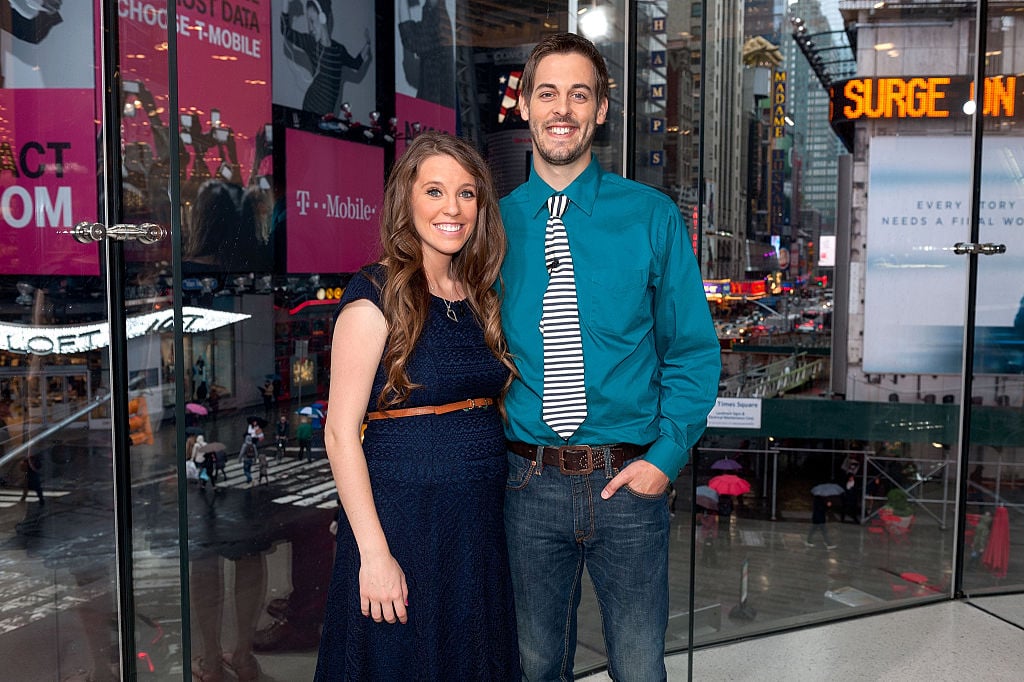 Fans and critics have long wondered if there's a rift between Jill and the rest of her family. At the end of 2019, Derick started to confirm this. After a fan commented on his Instagram asking if he and Jill see the rest of Jill's family around the holidays, he noted they don't see the other Duggars nearly as much anymore. From there, he mentioned Jill isn't allowed in the Duggar family home without Jim Bob's permission.
Since then, Derick's talked to YouTuber Without a Crystal Ball and the publication The Sun about his and Jill's relationship with the family and with TLC. And he's not finished yet. It looks like he's still responding to fans who ask him questions via Instagram.
More recently, Derick shared that he and Jill weren't invited to the Duggar family Zoom night, which was seen in the Counting On premiere. And he also noted that Jim Bob is still very much "in control" of his family and the show. "It's Jim Bob's show," Derick commented.
Jill has subtly posted about how she's setting herself apart from her family
Derick has been way more outspoken about Jill's family than Jill has been. Considering how much Derick has said, it seems Jill approves of him spilling her secrets and bringing her plenty of attention, both good and bad. While Jill hasn't spoken out about anything specific, she has left little quotes and comments here and there that indicate she's breaking free from her family's negative hold on her.
Back in May 2020, Jill posted a photo of an ornament in her car that says, "No Longer a Slave to Fear." And she's also proudly shown her shoulders off in sleeveless tops, which is something she never would've been able to do in her younger years.
Jill also put the most effort into her Black Lives Matter post. While a few other Duggars vaguely showed support and seemed to dance around the topic to conclude that all lives matter, Jill stood apart by actually adding a Story to her Instagram that included the words "Black Lives Matter."
She recently posted about 'authenticity' and 'approval' to her Instagram Story
While Derick busily spills more tea about Jill's family, Jill's taking to her Instagram Story once again. This time, she added a text post surrounded by floral designs that stated, "Don't trade your authenticity for approval."
Reddit users saw the post, and they think Jill's definitely referencing her family subtly again.
"I really feel for Jill," one Reddit user commented. "Losing your family so you can live your authentic self is really hard."
"This was shared right after Derick's tirade, too," another noticed.
"Dwreck went on a rampage with sassy comments that said a whole lotta nothing. Jill is definitely shading here," another noted.
We're interested to see how this continues to play out as Derick keeps sharing everything he knows about the Duggars and TLC.
Check out Showbiz Cheat Sheet on Facebook!