Jimi Hendrix Rented an Apartment From Ringo Starr but He Was Evicted for This Reason
Jimi Hendrix had a deeper connection to The Beatles than some fans might think. He might have been a huge fan of The Fab Four, and Paul McCartney might have endorsed him, but Ringo Starr sheltered him. Well, at least for a little while until Hendrix managed to get himself evicted.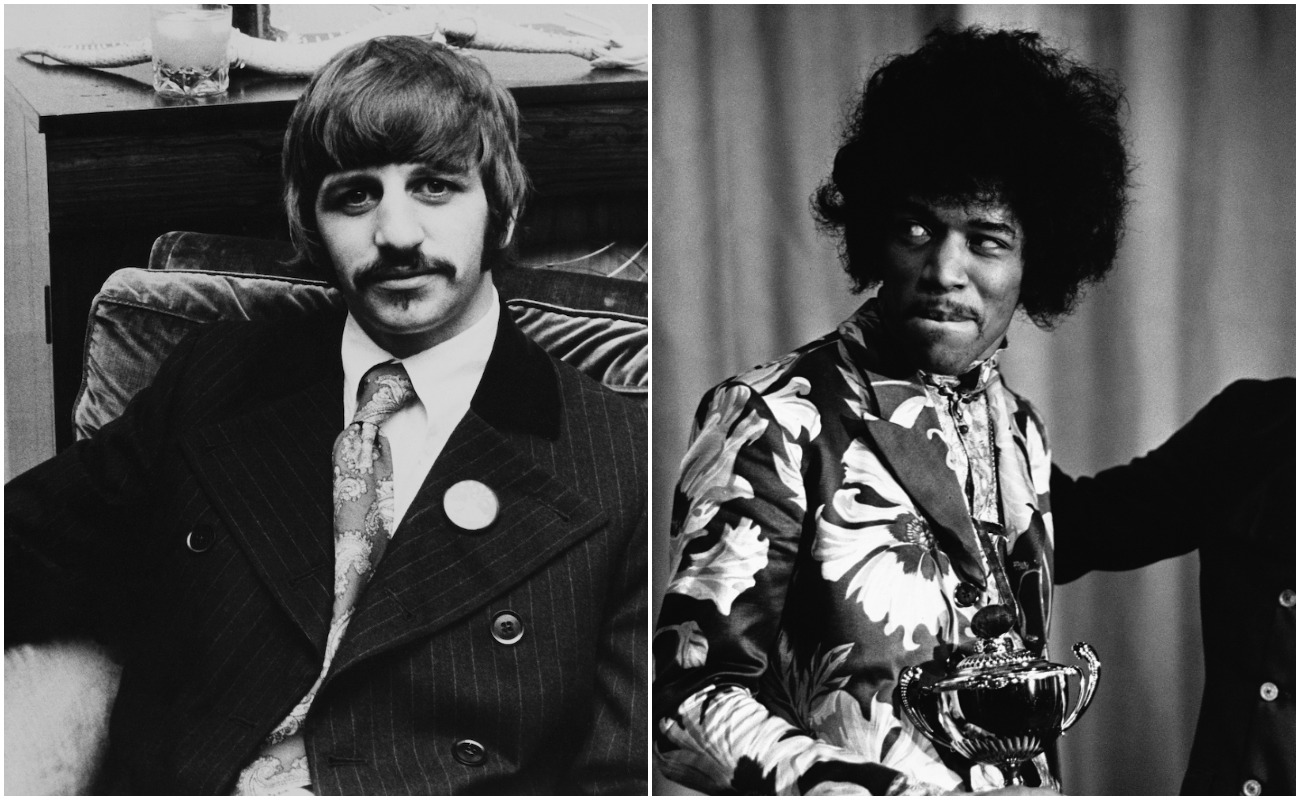 Ringo Starr rented out an apartment to Jimi Hendrix in 1966
Ringo started renting out the ground-floor and basement apartment of a home he owned on 34 Montagu Square, Marylebone, London, in the mid-1960s. According to Mashable, this was the same apartment where Paul McCartney recorded several Beatles demos in 1965, including "I'm Looking Through You" from Revolver.
Hendrix started subletting the apartment from Ringo in December 1966. He stared the space with his girlfriend, Kathy Etchingham, his manager, Chas Chandler, and his girlfriend, Lotta Null. The monthly rent was only £30, which is equivalent to £479.43 ($654.94) in today's money.
Hendrix accomplished a lot in his career during his time living at Ringo's apartment. He released "Purple Haze" in 1967 and played at the Monterey Pop Festival after Paul recommended him that same year. Hendrix famously set his guitar on fire at the end of his performance. He also wrote "The Wind Cries Mary" at the apartment, following a fight with Kathy (her middle name was Mary) over her cook skills.
However, Hendrix's time living at 34 Montagu Square was cut short due to his failure to stick to the renter's agreement.
Ringo Starr evicted Jimi Hendrix after he destroyed the apartment during a bad acid trip
Hendrix's time living at the apartment was cut short when Ringo evicted him for going against his renter's agreement. Hendrix had thrown whitewash all over the walls during a bad acid trip in 1967.
Later, John Lennon rented the apartment from his bandmate for three months in late 1968 with Yoko Ono. John and Yoko shot the cover photo for their album Two Virgins at the apartment.
Hendrix and The Beatles continued to have a good relationship
John and Paul were some of Hendrix's earliest fans, and they continued to support him even after he destroyed Ringo's apartment. Hendrix needed that support because he faced a lot of hostility during his first UK tour.
In Hendrix: Setting the Record Straight, Hendrix's manager Chas Chandler explained just how much support Hendrix got from The Beatles. "We got a tremendous amount of help from people like Mick Jagger, Paul McCartney, and John Lennon," Chandler said. "They would rave about Hendrix."
In return for all their support, Hendrix helped kick off one of The Beatles' most successful albums, Sgt. Pepper's Lonely Hearts Club Band. Hendrix played the titular track during a performance in London just a couple of days after its release, with both Paul and George in attendance.
Paul later called Hendrix's rendition of the song one of his favorite memories relating to the album and "one of the great honors of my career." As for Ringo's destroyed apartment, well, those whitewashed walls only added character to the now-famous building.