John Lennon Took Credit for George Harrison's Success: 'He Learned a Lot From Us'
After The Beatles split up, Paul McCartney, John Lennon, George Harrison, and Ringo Starr embarked on solo careers. As they worked together for years, reporters often asked what they thought about the others' work. When Lennon spoke about Harrison's solo career, he was slightly dismissive. He explained that he felt Harrison's talents developed as a direct result of working with Lennon and McCartney.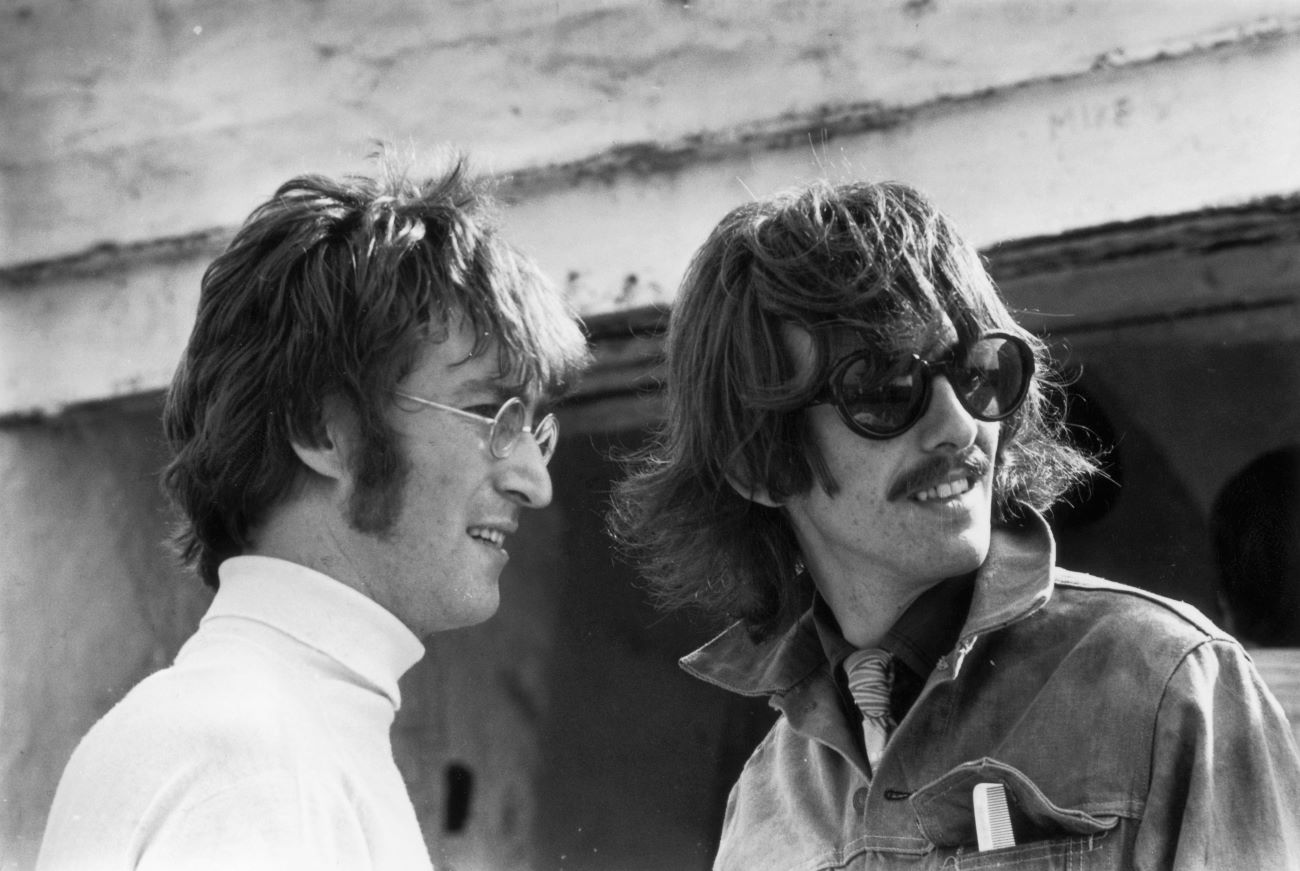 George Harrison admired John Lennon
When Harrison joined The Beatles, he was still a teenager. Harrison greatly admired his older bandmates, including Lennon.
"He told me he really, really admired John," Tom Petty told Rolling Stone. "He probably wanted John's acceptance pretty bad, you know?"
Despite this, he said it was a relief when the band broke up. He felt that Lennon and McCartney creatively stifled him.
"I'd put on 'Paperback Writer' and say, 'I love the guitar on that,' and he'd say,' "Oh, that's Paul.' I put all these other Beatles tracks on: 'Oh, that's Paul,'" Peter Frampton told the Daily Mail. "It wasn't until then I realized he had been stifled. It was very frustrating for George."
John Lennon said George Harrison was lucky to have been able to learn from him
In the aftermath of the Beatles' breakup, Harrison released the album All Things Must Pass. Lennon was a bit dismissive when a reporter asked for his opinion on it.
"I can't assess his talents," he said, per Far Out Magazine. "He's not the kind of person I would buy the records of … I don't want to hurt his feelings. But personally, I think it's nothing".
He also took partial credit for any success Harrison had. He explained that being around talented people like McCartney and himself was a good learning experience for Harrison.
"George has not done his best work yet," he said. "His talents have developed over the years and he was working with two f***ing brilliant songwriters, and he learned a lot from us. I wouldn't have minded being George, the invisible man, and learning what he learned. Maybe it was hard for him sometimes, because Paul and I are such ego-maniacs, but that's the game."
Lennon didn't want to compare his solo work to Harrison's
Though he believed he influenced Harrison's music, Lennon didn't want to compare his work with his former bandmate's. 
"No, I don't — I don't like — I don't want this — it's hard not to compare with George, even for us," he said in the book Lennon Remembers. "But I don't want to be compared with George. Why should I be compared with George?"
Despite some of the fraught dynamics, though, those close to Harrison said he loved his former bandmates.
"He loved the Beatles," Petty said, per the Petty Archives. "He used to b**** sometimes about individual Beatles who got on his nerves. But he really loved them down deep, and I knew this. I think that a lot of George's personality was formed by George. This is just a guess, but that was the way it appeared to me. He looked up to John so much. He said, 'Oh, John would be a Wilbury in a second.'"
RELATED: George Harrison's Wife Said He Had Never Met Anyone Like Tom Petty