John Wayne Had 3 Wives, 1 'Nearly Shot Him' to Death After He Came Home Drunk
'True Grit' actor John Wayne had 3 wives over the course of his life, one of which pulled a gun on him.
John Wayne is the personification of the western film genre. The legendary actor starred in some of the most significant movies in the category. Wayne had three wives over the course of his lifetime. There was a lot of drama in his relationships, including his second wife, Esperanza Baur, who "nearly shot him."
John Wayne's first wife was Josephine Saenz, whose parents disapproved of him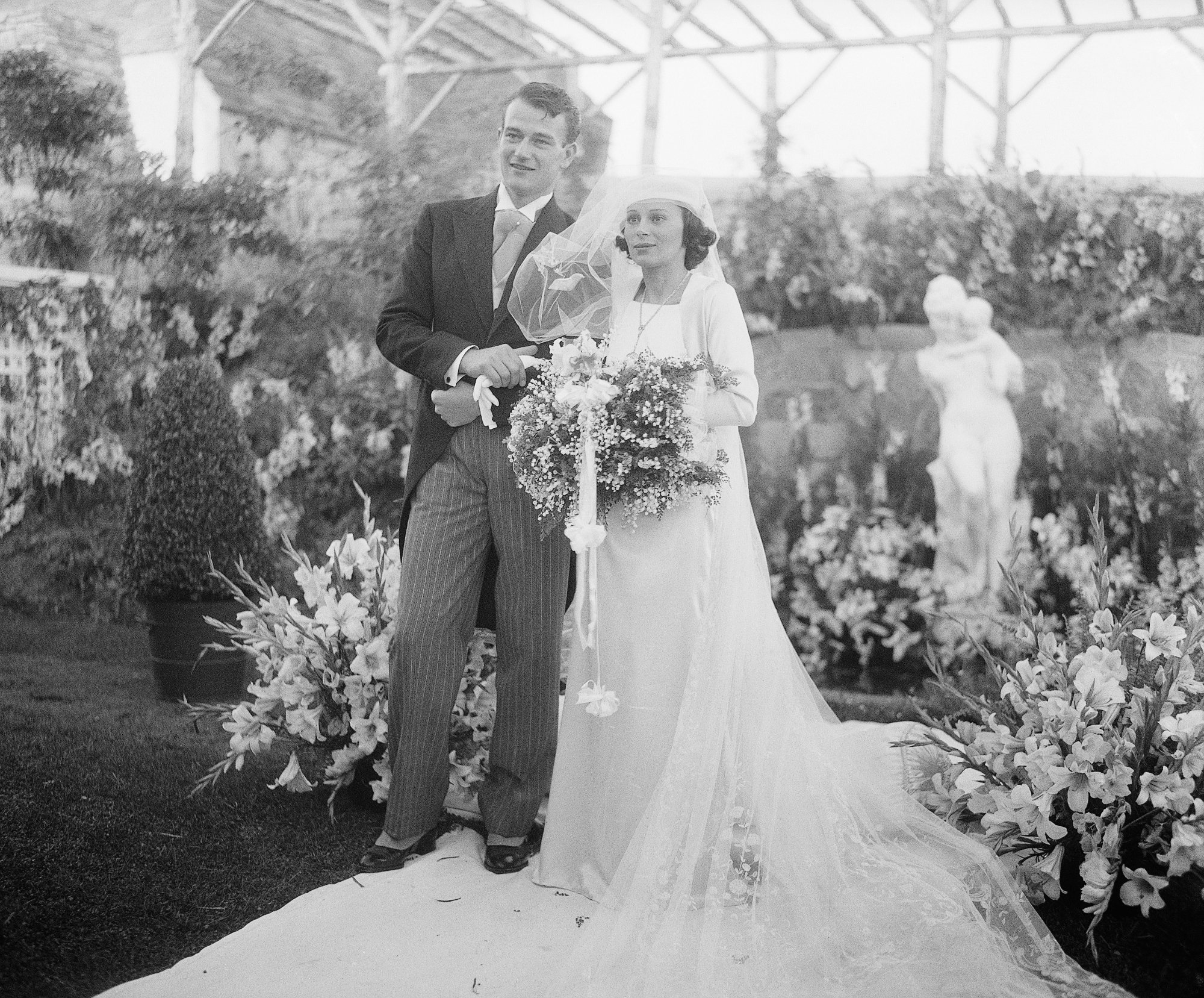 Hourly History's John Wayne: A Life From Beginning to End explores the actor's life, including his relationships with his wives. His first marriage was to Josephine Saenz. Wayne initially went on a date with her sister, Carmen, but he fell in love with Josephine. Her parents didn't care for John, considering that she was a 16-year-old from a financially well-off family. Meanwhile, he was a 19-year-old from a disadvantaged background.
Wayne and Josephine married on June 24, 1933. However, she discovered that he was having "extramarital misadventures" with 1940's Seven Sinners co-star Marlene Dietrich. Josephine was heartbroken and requested help from a priest named Father McCoy to provide marriage counseling. The wedge of mistrust between Wayne and Josephine ultimately led to their separation and eventual divorce.
His second wife, Esperanza Baur, 'nearly shot him' after he came home drunk
Wayne instantly fell in love with who would become his second wife, Esperanza Baur, who he called "Chata." He told Dietrich's business manager, Bo Roos, "the great thing about Latin women was that they liked the simple things—marriage, family, children, a home." Her phone calls to Wayne and Josephine's home were the last straw for his first wife. As a result, she left all of his things out on the front lawn.
Chata's mother ran a brothel in Mexico, but a conservative Wayne didn't let that sour his love for Chata. Hourly History wrote that Wayne married her soon after his divorce on January 17, 1946. However, their happiness was short-lived.
Chata feared that Wayne was cheating on her with one of Wayne's Angel and the Badman co-stars. She feared that he was doing to her what he did with Josephine. As a result, "when Wayne arrived home late, drunk, he was greeted by Chata who pointed a gun at him and nearly shot him," Hourly History wrote. Wayne buried himself deeper in his work to avoid his marital issues.
Wayne and Chata ultimately divorced and she quickly ran his name through the mud in the press. She made him out to be a "habitual drunk" and an "abusive husband," which he denied. Chata locked herself in a hotel in Mexico and drank herself to death at 40 years old.
Pilar Pallete and John Wayne never legally separated or divorced
Wayne married his third wife, Pilar Pallete, on November 1, 1954, who he met before Chata's death. Their marriage was initially filled with joy. However, everything changed after he was diagnosed with lung cancer in 1964. The cancer was at a late stage, so he had to have four ribs and his left lung removed. He was later declared free of what he called the "Big C," then starring in the western hit, True Grit.
According to Hourly History, Wayne and Pilar started to drift over the course of the 1970s. They officially separated in 1973, as Wayne buried himself deeper into his work and spent more time with his "personal secretary and sometimes lover, Pat." Wayne ultimately died on June 11, 1979, as a result of stomach cancer.
How to get help: In the U.S., contact the Substance Abuse and Mental Health Services Administration helpline at 1-800-662-4357.