Julia Louis-Dreyfus Net Worth and How Much She Earned from 'Seinfeld'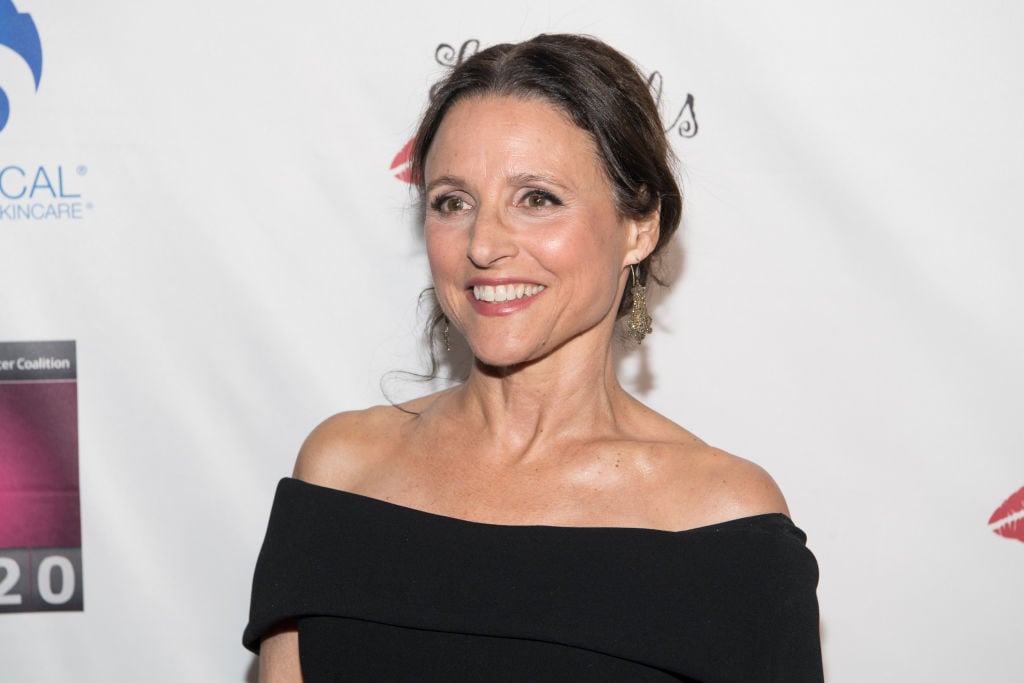 Julia Louis-Dreyfus has enjoyed success as a top actress and comedienne. She quickly rose to fame as she spent time in theatre, on the small screen, and in film. Here's Julia Louis-Dreyfus' net worth.
The early years
Julia Louis-Dreyfus' acting journey started when she began her studies at Northwestern University. She later joined Chicago's Practical Theatre Company and performed with the Second City comedy troupe. In 1982, Louis-Dreyfus joined the cast of Saturday Night Live.
The actress made her film debut in the 1986 Woody Allen movie Hannah and Her Sisters. She played the role of Mary. That same year, she appeared in several other movies, including Troll and Soul Man. From there, Louis-Dreyfus moved on to the small screen. She appeared in the hit 80s TV series Family Ties and Day by Day.
Is Julia Louis-Dreyfus a billionaire?
Louis-Dreyfus is the eldest daughter of Gerard Louis-Dreyfus. He is the former chairman of the Louis-Dreyfus Group, which was valued to be worth billions. In 1851, her great-great grandfather, Léopold Louis-Dreyfus, founded the Louis-Dreyfus Group, an international commodities and shipping conglomerate.
Although the actress comes from a wealthy family, she is not a billionaire. She told Rolling Stone in a 2014 interview she gets uncomfortable when people assume she's rich because of her father's wealth: "I've been attached to that," said Louis-Dreyfus. "It's unbelievable, because whatever I do, people just assume it's true… It's not good [to be perceived as a billionaire]. Money and finances are so private, and I was raised not to talk about them."
Rise to fame
Louis-Dreyfus became a household name after playing the role of Elaine Benes on Seinfeld from 1990 to 1998. She told Rolling Stone she enjoyed financial success from the show. However, the actress also says many people assume she made a lot more money than she did. "Of course, I made a lot of money on Seinfeld – but I don't own Seinfeld, OK?" said Louis-Dreyfus in her Rolling Stone interview. In 2012, Louis-Dreyfus saw more career success when she began playing the role of fictional vice president Selina Meyer on the HBO TV series Veep.
Awards
Louis-Dreyfus was praised for her performance in Seinfeld. She won a Golden Globe Award in 1993 and an Emmy Award in 1996 for her work on the show. In 2016, the actress made history during the Emmy Awards when she won her sixth award for lead actress in a comedy series for her performance in Veep. She broke the record she held with Candice Bergen and Mary Tyler Moore for receiving the most Emmy awards in that category. That year, she beat Ellie Kemper (Unbreakable Kimmy Schmidt), Laurie Metcalf (Getting On), Tracee Ellis Ross (Black-ish), Amy Schumer (Inside Amy Schumer), and Lily Tomlin (Grace and Frankie). At the time, it was Louis-Dreyfus' eighth Emmy win. In 2018, Louis-Dreyfus earned a top honor when she received the Mark Twain Prize for lifetime achievement in comedy.
Julia Louis-Dreyfus' net worth
Louis-Dreyfus has seen incredible success from her work on Veep. In addition to winning awards, she is also paid well for her performances. The actress reportedly makes $150,000 per episode. However, that's not much compared to what she made on Seinfeld. By the ninth season of Seinfeld, she earned roughly $600,000 per episode. Julia Louis-Dreyfus has a net worth of $200 million.
Read more: Busy Philipps Net Worth and How She Makes Her Money
Check out The Cheat Sheet on Facebook!