Kaley Cuoco Credits Co-Star Zosia Mamet With Getting Her Out of Bed Every Morning to Film 'The Flight Attendant' During Her Divorce
Kaley Cuoco experienced chronic stress from her divorce. Recently, the actor opened up about that painful time in her life.
Kaley Cuoco shot to fame as Penny on The Big Bang Theory. The TV series, which aired from 2007 to 2019, earned a huge following, and many viewers gravitated to Cuoco. She appeared on the show until it went off the air. In 2020, Cuoco's latest TV project, The Flight Attendant, earned the actor critical acclaim, and HBO Max renewed the thriller for a second season.
But fans might not know that Cuoco experienced chronic stress from her divorce behind the scenes. Recently, the actor opened up about that time in her life, admitting she turned to her co-star and friend, Zosia Mamet, to help her get through filming The Flight Attendant. 
Kaley Cuoco experienced intense stress during her divorce from Karl Cook
In September 2021, Kaley Cuoco filed for divorce from her husband of three years, Karl Cook. The news came as a shock to Cuoco's fans, and the actor struggled to come to grips with the reality of her new life.
In a recent interview with Glamour, Cuoco opened up about the couple's split, revealing that she hopped on a plane to film the second season of The Flight Attendant only days after the divorce announcement.
"I'd have these emotional scenes, and then I'd go home and cry over my personal life," Cuoco admitted. "I developed a rash that went from my lower stomach down my leg. It lasted for seven months. I discovered through therapy and through my doctors that it was completely emotional."
What did Kaley Cuoco say about Zosia Mamet helping her get through filming 'The Flight Attendant'?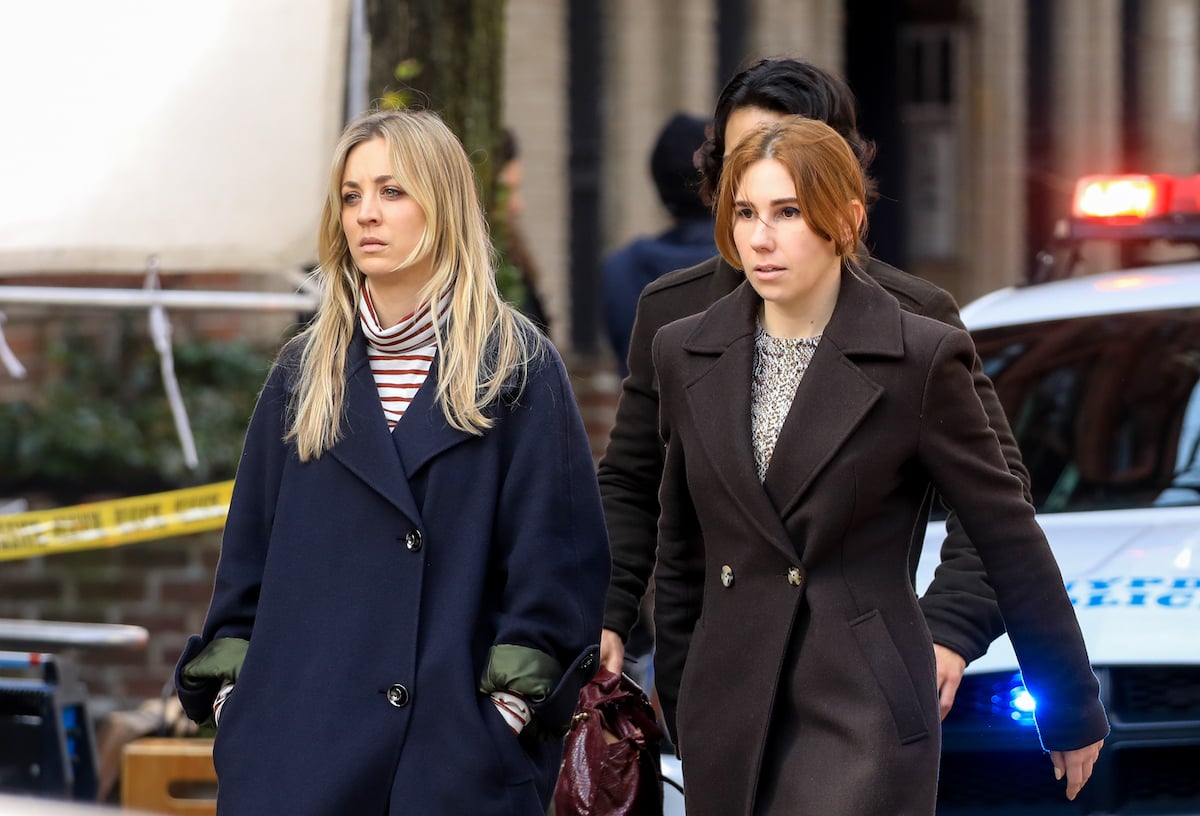 In the Glamour interview, Cuoco revealed that she relied heavily on her good friend Zosia Mamet, who co-stars in The Flight Attendant.
"I don't know if I would've gotten through this without Zosia Mamet, who lived with me basically the entire time we were filming season two," Cuoco admitted. "There were mornings where I was like, 'I can't get out of bed. I can't go to work.' And she would get me out of bed, get me dressed, and put me in my car. Multiple times."
Cuoco described how she's not a "roommate person" and likes to maintain her space. But despite that, she welcomed Mamet's company around her every day.
"I don't know what would've happened to me if she wasn't, truthfully," the actor admitted.
In April, Cuoco took to Instagram to share a snippet of her friendship with Mamet, posting a picture of their matching tattoos. 
The actor admitted therapy helped her move on in a healthy way
It wasn't just Mamet who helped Cuoco cope with the stress of her divorce from Cook.
In her interview with Glamour, Cuoco said her sister made sure to stay in touch and sent her a text every morning to say that "everything's going to be OK. Some mornings it was not OK, and other mornings I'd be like, 'Oh, my God, she's right — it's going to be OK.'"
Cuoco also relied on therapy to help her gain perspective and set a course for her future.
"My therapist and I are working on forgiveness and forgiving myself for making mistakes," Cuoco said, adding that she recommends therapy for everyone.
In the end, Kaley Cuoco is still learning how to navigate her new normal. But with the support and love of her family and friends, she's ready to tackle the next phase of her life and career.