Kate Hudson Shares Her Restrictive Diet Pre-Bikini Scene in 'Glass Onion: A Knives Out Mystery'
Kate Hudson has been a Hollywood favorite for many years. A mainstay in romantic comedies throughout the 2000s, Hudson recently made a big return to form in the popular new Netflix film, Glass Onion: A Knives Out Mystery. As a fashion-obsessed trendsetter who makes offensive statements on social media, Hudson was able to flex her comedic muscles in the film — but it was her fit form in her big bikini scene that really got fans talking. Recently, Hudson sat down for an in-depth interview, where she revealed her secrets to looking toned and trim in that spicy orange bikini.
Kate Hudson returned to the big screen in 'Glass Onion: A Knives Out Mystery'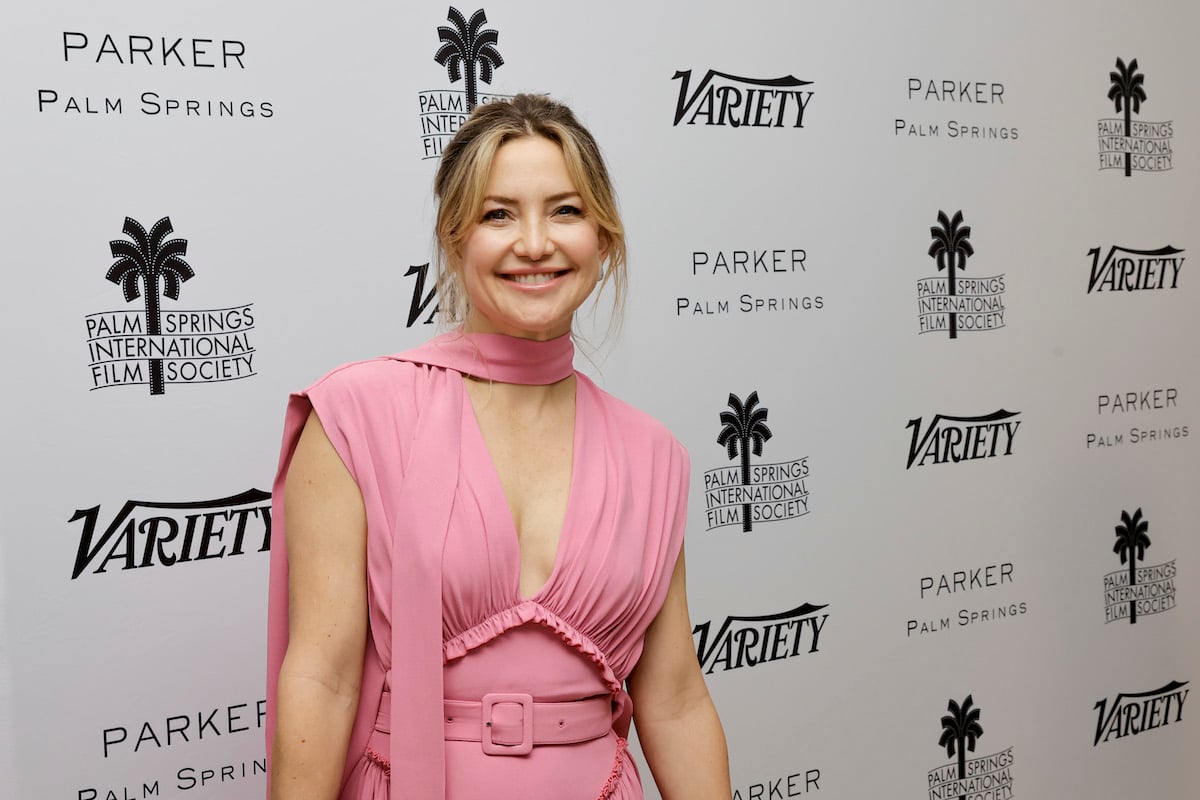 The daughter of actor Goldie Hawn, Hudson has been performing since she was a young child. She rose to fame while still in her early twenties, working hard to make a name for herself on her own merits. In recent years, Hudson has slowed down her movie work, opting to put most of her focus on her family and her other business ventures. However, the role of Birdie Jay, a supermodel turned fashion designer, clearly spoke to her — and for many fans, she is one of the best parts of the all-new film, Glass Onion.
In one notable scene in the film, Hudson struts to the pool in a bright orange bikini. It was impossible to ignore Hudson's toned abs and fit legs, and while she is a known devotee of fitness and personal care, the actor recently revealed that she followed a restrictive diet in order to rock the bikini scene.
What did Kate Hudson say about preparing for her bikini scene in 'Glass Onion'?
In a recent interview with This Morning, Hudson talked about how much fun she had filming Glass Onion, and how she prepped her body for that notorious bikini scene. "Well, while everyone else was having Aperol spritzes in Greece, I was just waiting for that scene to be shot so I could just join everybody, Hudson joked, according to Us Weekly. The actor admitted that she abstained from alcohol completely up until after that scene was shot. "Everybody was having a great time, and I was like, 'I'll take that cucumber and feta.'"
Of course, it isn't just dedication to a strict diet that keeps Hudson looking trim and fit. The actor is open about her love of fitness and even has her own athletic apparel company, Fabletics, which she co-founded in 2013. 
Kate Hudson has built her personal brand around fitness
Hudson recently launched a line of supplement and vitamin powders dubbed INBLOOM, proving that her commitment to health and fitness as part of her personal brand is still as strong as ever. When it comes to her workouts, however, Hudson likes to keep things fresh. "I love doing different things with my body," she recently told Women's Health. "I'm all over the place, I just get bored."
The actor did admit that she has a special place in her heart (and her fitness routine) for Pilates, yoga, and Tracy Anderson programs. "When I'm doing that, my body kind of goes back to where it likes to be," she said. "I know how my muscle memory works the best." Hudson also detailed how she likes to spend time outside each day, running or hiking with her kids – and she's also developed a new appreciation for Tonal, a digital weight machine that makes it easy to work out and build muscle at home. Hudson's oldest son, Ryder Robinson, has even joined her in her Tonal workouts, the star told Women's Health.