Kathryn Hahn Hopes to Reprise Her 'WandaVision' Role
Kathryn Hahn, star of 'WandaVision,' said in a red carpet interview that she hopes to reprise her role as Agatha Harkness in a future Marvel project, but didn't confirm that she would. Hahn was nominated for an Emmy for her role in the Disney+ series.
The second that fans first saw Kathryn Hahn as Agnes, aka Agatha Harkness, in WandaVision, they were hooked. There's no doubt that Hahn has always been a fantastic actor. But she brought a comedic, and later on a devilish (we're still making Mephisto references months later), aspect to the Marvel Cinematic Universe that had never been seen before. It's no wonder why fans took to her character so quickly and why they want to see more of her. Well, Kathryn Hahn wants to play Agatha again as much as we all want her to.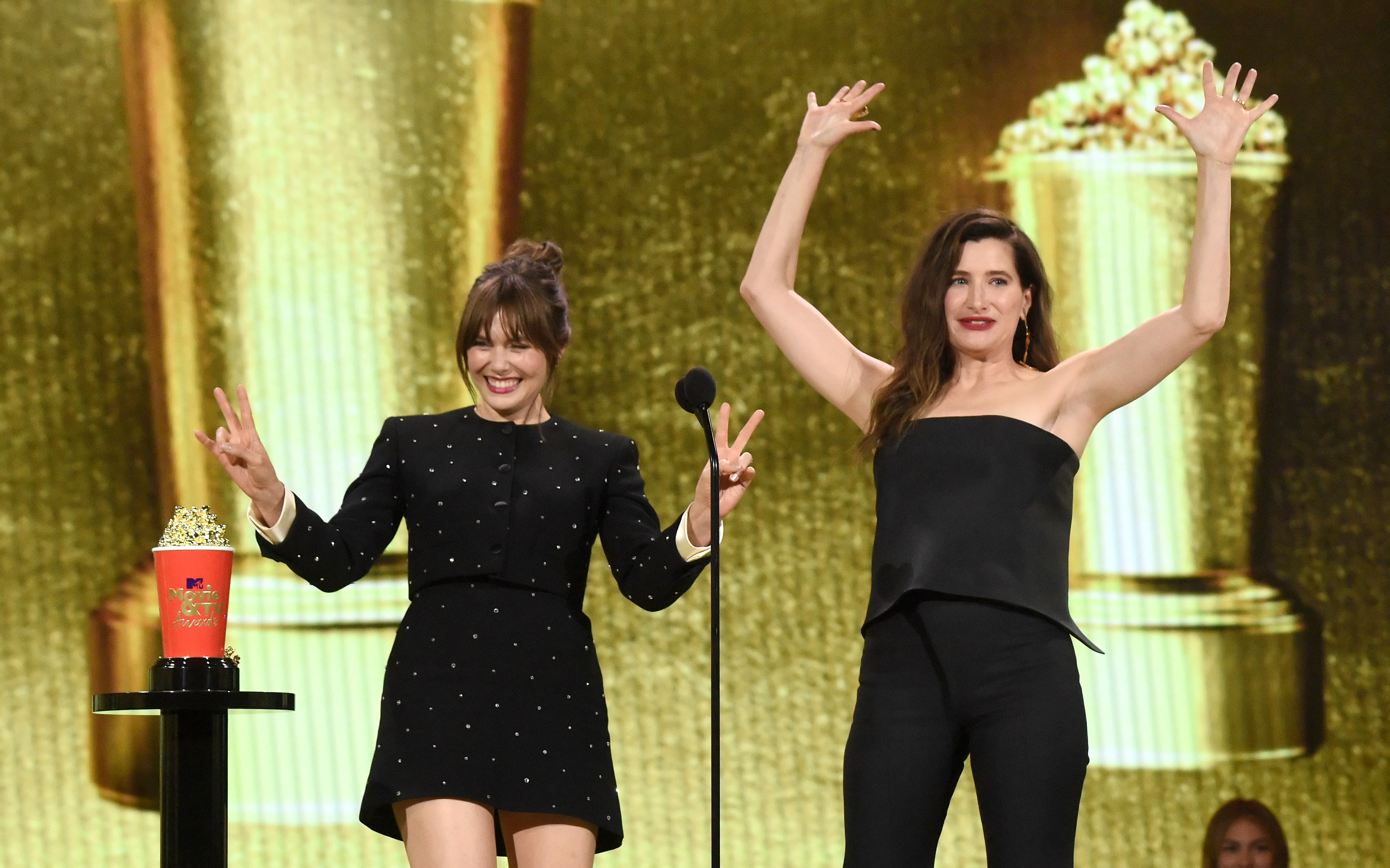 What was Agatha's fate in the last episode of 'WandaVision'?
Throughout the entirety of WandaVision, fans predicted that Kathryn Hahn's Agnes was really Agatha Harkness, a witch from Marvel comics. Later on, in episode 7, Agnes finally revealed her true identity with the popular, catchy song, "Agatha All Along." In episode 8, the audience learns of Agatha's backstory. She was almost burned at the stake during the Salem witch trials by her own coven for practicing dark magic. But she overpowered them all and drained every last one of them of their life forces. In the present, Agatha comes to Westview because she sensed Wanda's magic and wanted to take it as her own.
In the WandaVision finale, Wanda Maximoff and Agatha faced off in an epic battle that saw Wanda finally take on the mantle of the Scarlet Witch. While Agatha is undoubtedly a powerful witch, she could not measure up to Wanda's chaos magic. In the end, Wanda stripped Agatha of her powers. Then, she turned Agatha into the role she had originally cast herself in — Agnes, aka the nosy neighbor.
So, as of this moment in the MCU, Agatha, or Agnes, is presumably still in Westview, clueless as to who she truly is. The fact that she is still alive is reason enough for fans to believe that we have not seen the last of Kathryn Hahn in the MCU.
Will fans see Agatha in future MCU films or television shows? Kathryn Hahn hopes so
According to ComicBook.com, Kathryn Hahn was asked if she would reprise her WandaVision role in a future MCU project in a red carpet interview with Variety. She said, "I don't know. I hope somewhere. I hope anywhere." Hahn continued, "I love her madly. Listen, I'm with you. But who knows?"
Of course, Hahn did not give a yes or no answer to the question. If she did, Kevin Feige would probably go out of his mind. Marvel always wants to leave the door open for any characters to return, even if they are dead. And fans never lose hope that they will see some of their favorite superheroes and villains return to the MCU.
Thankfully, there's good reason to believe that Agatha Harkness will stir up some more trouble for Wanda in the future. The way that Marvel left off with Hahn's character leads us to believe that her story is far from over. Plus, Agatha has been wildly popular among fans, and Hahn wants to play her again. We would put good money on Kathryn Hahn returning to the MCU in the future.
Kathryn Hahn is Emmy-nominated for her role as Agatha Harkness
WandaVision racked up 23 nominations at the 73rd Primetime Emmy Awards, one of them being Outstanding Supporting Actress in a Limited or Anthology Series or Movie for Kathryn Hahn's portrayal of Agatha Harkness. Unfortunately, Hahn lost to Julianne Nicholson for her role in Mare of Easttown.
WandaVision got snubbed in all of their categories at the Primetime Emmy Awards. But the Disney+ Marvel series did win three Primetime Creative Arts Emmys for Outstanding Fantasy/Sci-Fi Costumes, Outstanding Original Music and Lyrics, and Outstanding Production Design for a Narrative Program (Half-Hour).
WandaVision's recognition at big award shows will hopefully open the door for more genre television series to be nominated as well. Thanks to Kathryn Hahn and the other brilliant minds behind WandaVision, this should just be the beginning for Marvel at the Emmys.
RELATED: 'WandaVision': Kathryn Hahn Thought Scarlet Witch Would Become a Villain, Too
Related post url: