Kathy Griffin Shares the Effects of Partial Lung Removal as She Celebrates Being Cancer-Free: 'I'm a Good 2 Octaves Higher'
Kathy Griffin's partial lung removal has caused her voice to raise significantly. Learn all about the comedian/actor's lung cancer journey here.
Kathy Griffin is a comedian and actress who has worked in a variety of mediums, from television to stage. Griffin has always courted controversy in her career and has never been afraid to tackle tough subjects — and often, she's received backlash for it. However, Griffin recently faced down her biggest challenge to date when she was diagnosed with lung cancer. The star opted to be open with her fanbase during her cancer battle, and in a recent interview with Jimmy Kimmel, she discussed the ways in which her body has changed since being diagnosed with cancer. Keep reading to learn more about Kathy Griffin's partial lung removal.
When did Griffin get her lung cancer diagnosis?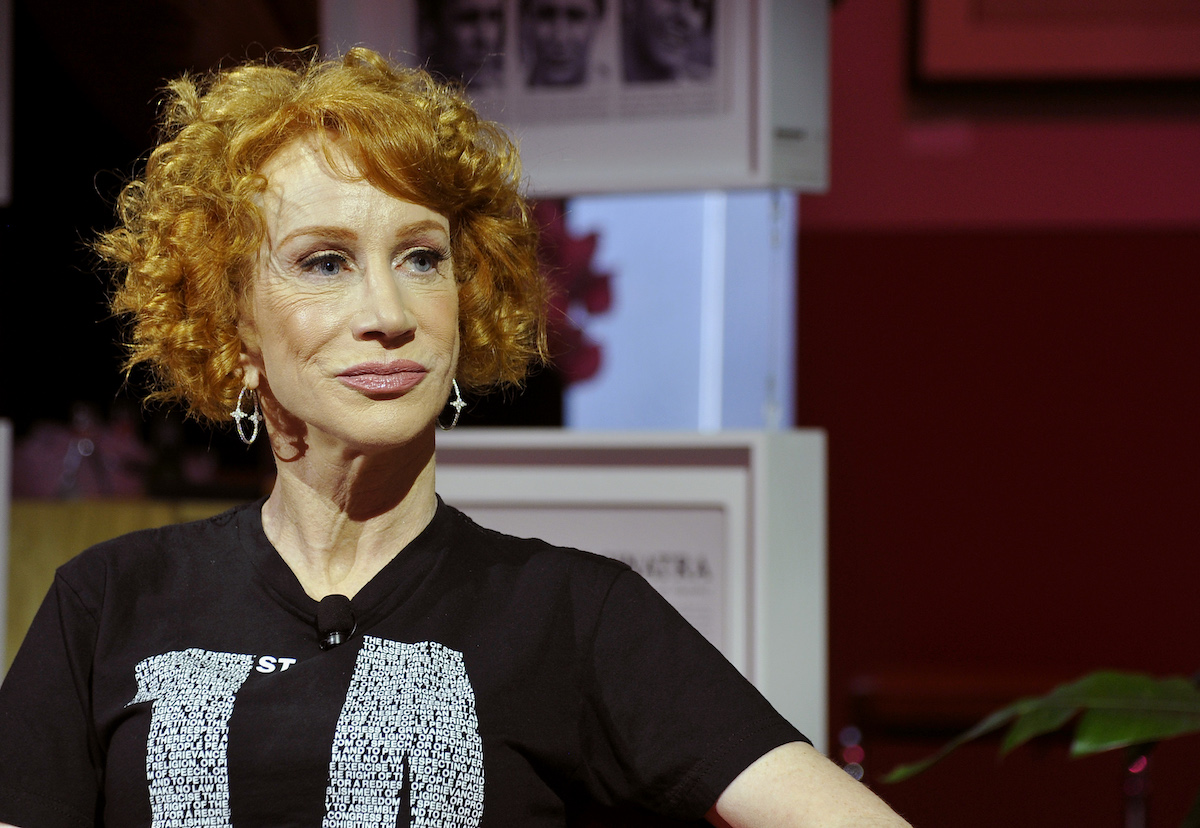 Kathy Griffin took to Instagram in early August 2021, shocking fans by revealing that she had just been diagnosed with lung cancer, despite never having smoked. In her emotional announcement post, Griffin told fans, "I've got to tell you guys something. I'm about to go into surgery to have half of my left lung removed. Yes, I have lung cancer even though I've never smoked!" 
Griffin noted that doctors were optimistic about her chances. In the days following the surprise surgery, Griffin documented her journey on social media, admitting that she would be relying on Tylenol to manage her pain since she had previously fought a battle with prescription pain pill addiction. 
Kathy Griffin has been transparent about her cancer battle, including her partial lung removal
Griffin remained in the spotlight in the days following her cancer diagnosis, even appearing on Nightline to admit that she was confident in her ability to fight cancer. "I fear drugs and addiction more than I fear cancer. So, I think I'll be OK," the controversial comedian said.
Over the weeks that followed the surgery, and the interview, Griffin continued to document her progress on Instagram, all while encouraging fans to get vaccinated for COVID-19 and to go to the doctor for regular checkups.
What did Kathy Griffin say about how lung cancer changed her voice?
A cancer battle hasn't slowed Griffin down by much. On Nov. 30, 2021, Griffin sat down with Jimmy Kimmel for a no-holds-barred interview, during which she talked about how surgery for lung cancer changed her voice.
"So, I have to explain my voice. You guys, listen to my voice," Griffin said, early on in the interview. "I had surgery, you're not going to believe this — so, I've never smoked but I got lung cancer. In August, I had half of my left lung removed, I'm not even kidding."
"It will heal, but I'm sort of enjoying it. I'm a good two octaves higher, I think," Griffin said, joking that her new voice sounds like "Minnie Mouse meets Marilyn Monroe."
How's Griffin doing these days?
Also in her interview with Jimmy Kimmel, Kathy Griffin revealed that she is cancer-free. The comedian noted, according to Self, that the surgery that had changed her voice had ultimately proven to be successful, with doctors able to identify and remove the tumor.
While Griffin was able to bounce back from her bout with lung cancer, several other high-profile celebrities were not so successful. WebMD notes that a few other celebrities who battled lung cancer include: Yul Brynner, who died from the disease in 1985, former Beatle George Harrison, who died of lung cancer in 2001 at the age of 58, and eccentric comedian Andy Kaufman, who died of lung cancer in 1984 after a short, intense battle with the illness.
While cancer is a terrible illness, advances in modern medicine have improved people's chances of surviving the disease, especially if it is caught early on.