Keanu Reeves and Winona Ryder Once Pitched a Wild Idea for Their Next Movie Together
Keanu Reeves has a history of reuniting with the same leading ladies time and again. Over the years, he has worked with Charlize Theron, Rachel Weisz, Sandra Bullock, and Carrie-Anne Moss on multiple films. But perhaps Reeves' most famous co-star is Winona Ryder, with whom he shares a curious off-screen relationship. In fact, the two once pitched a wild movie idea for their next project.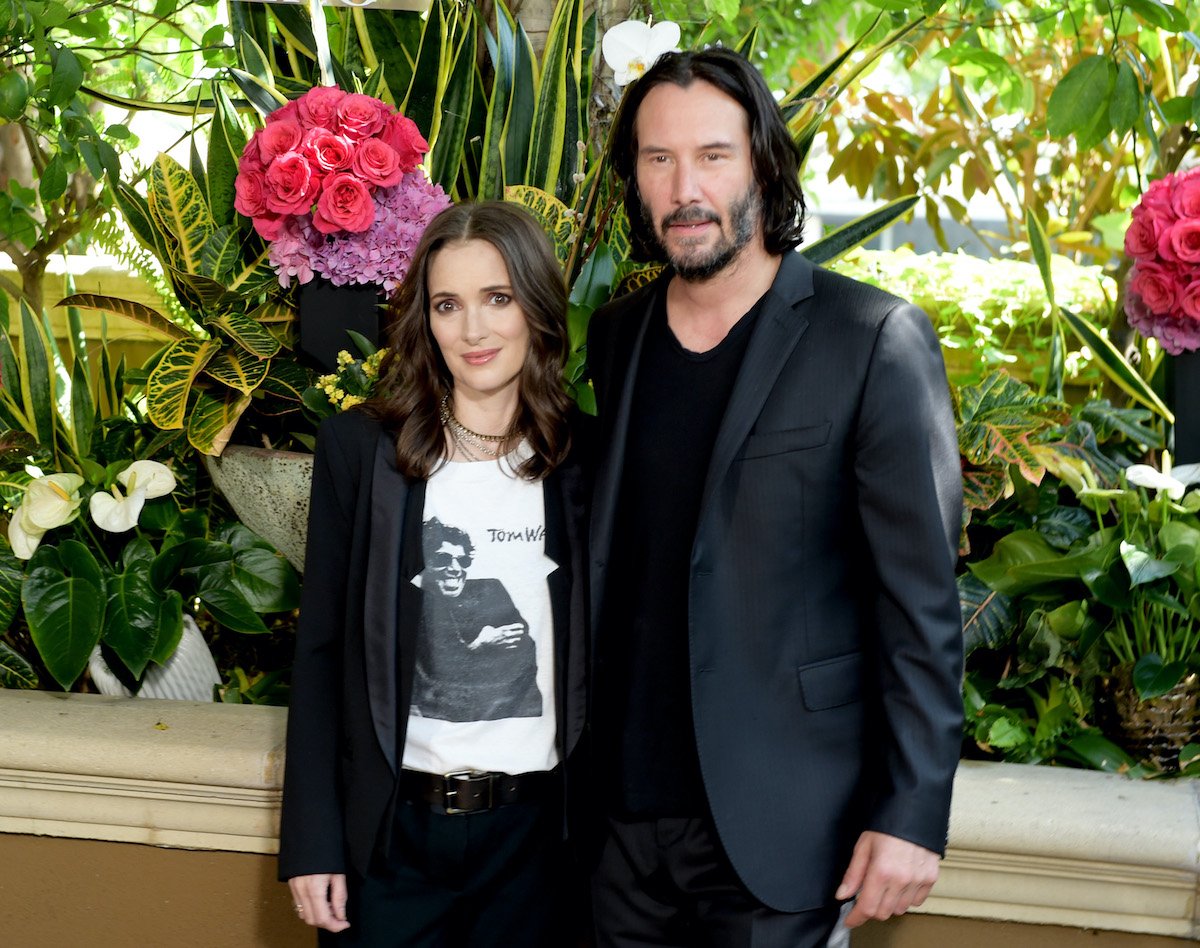 Keanu Reeves and Winona Ryder might be married
Reeves is known for being one of the most genuine stars in Hollywood. And that reputation is reflected in the connection he has with his fellow actors. Reeves famously shares real-life friendships with Theron and Bullock. But despite speculation, he reportedly never dated either of those Oscar-winning ladies. However, he might just be married to Ryder, the pair once revealed.
While promoting their movie Destination Wedding, Reeves and Ryder shared a story about how they got married on the set of 1992's Bram Stoker's Dracula. Reportedly, director Francis Ford Coppola used a real priest for their wedding scene. So the two stars might be legally married now, all because their characters tied the knot in a movie decades earlier.
The two stars have worked together several times
In keeping with their real-life bond, Reeves and Ryder have actually worked together have several occasions. Most famously perhaps, they did play opposite each other first as Jonathan and Mina Harker in Coppola's film. And most recently, the actors played strangers who realize they're attending the same ceremony in 2018's Destination Wedding.
However, Reeves and Ryder also co-starred in a pair of other films together in between those two. The stars both appeared in director Richard Linklater's trippy sci-fi thriller A Scanner Darkly in 2006. Using rotoscoped animation, the movie also stars Woody Harrelson and Robert Downey Jr. Then Reeves and Ryder reunited as part of the ensemble in 2009's The Private Lives of Pippa Lee starring Robin Wright.
And they hope to share the screen again at some point
After spending so much time together on set, Reeves and Ryder seem ready to collaborate on yet another project soon. The stars even brainstormed with Vanity Fair in 2018 about what kind of movie they could work on next. "My hope is to do many more movies with [Keanu]," Ryder said. She even briefly suggested she and Reeves make a Bonnie and Clyde remake. Then Reeves jumped in with a number of ideas before landing on one that struck Ryder.
"We're futuristic intellectuals. How about you're the amazing poet/painter, and I get to be the drunk guy?," he suggests. But when Ryder rejects that notion, Reeves fires back with a solid pitch. "You want to just fight and f**k? … 'Think. Fight. Fuck.'" At that point, Ryder — already laughing — confirms her interest, apparently ready to commit to the fictional project.
While the conversation is clearly in jest, there's something to it. Reeves and Ryder have made a period horror movie, romantic comedies, and a sci-fi thriller. Perhaps it's time they team up for a Mr. and Mrs. Smith style romantic action film. At the very least, Ryder could cameo in an upcoming John Wick movie opposite her "husband." For now, fans can dream, can't they?