Keanu Reeves Got Nervous on the Set of 'Bill and Ted Face the Music' for the Most Adorable Reason
The Bill and Ted franchise has always toyed with time. But even though the titular duo encounter all kinds of misadventures in their first two movies, no one thought they'd ever see Bill and Ted Face the Music. Yet, against all odds, the movie is here. Now fans have discovered star Keanu Reeves got nervous during production for the most endearing reason possible.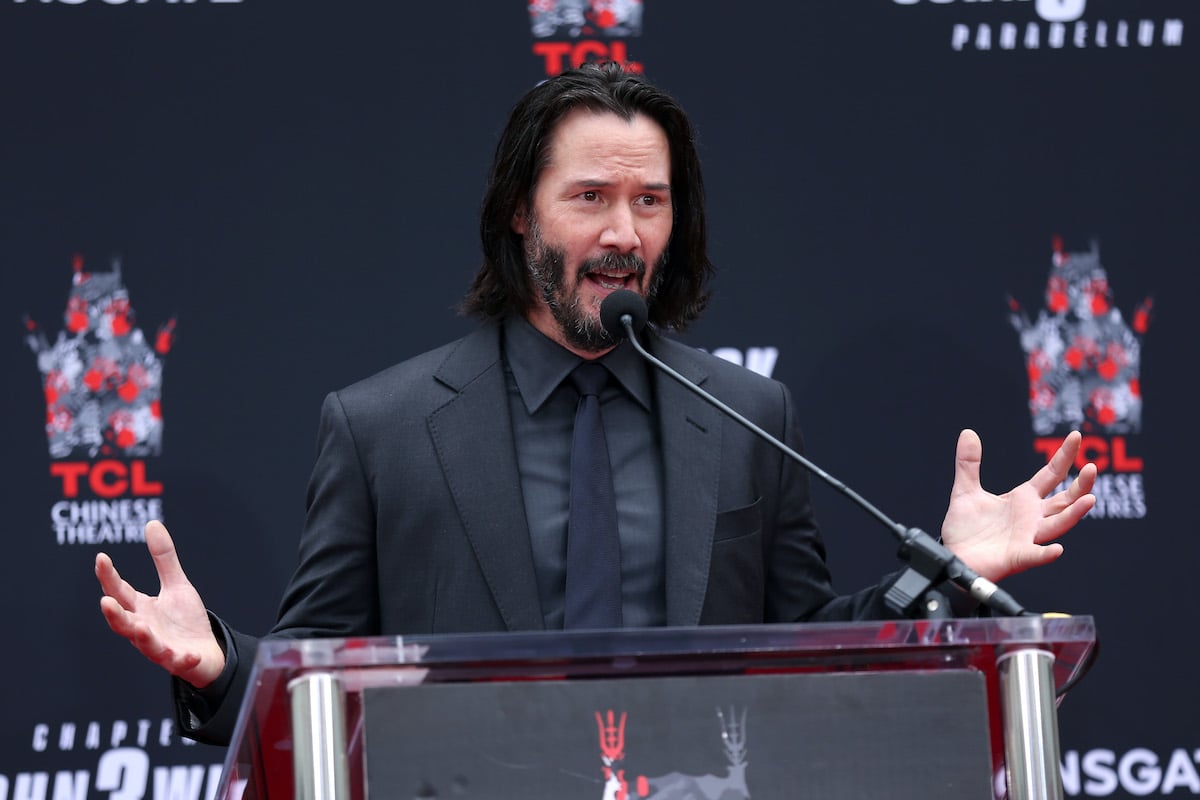 'Bill and Ted Face the Music' picks up the series in real time
Although nearly 30 years have passed since Bill and Ted's Bogus Journey, fans have kept the 1991 film and 1989's Bill and Ted's Excellent Adventure alive. And when rumors circled original writers Ed Solomon and Chris Matheson wanted to reunite Wyld Stallyns once more, the fans rallied. But how could the series recover from such a gap between films?
The answer, as it turns out, was to embrace it. Bill and Ted Face the Music doesn't shy away from the fact that Bill S. Preston, Esq. (Alex Winter) and Ted "Theodore" Logan (Reeves) are middle-aged. In fact, the story hinges on how much time has passed. The characters need to create a reality-saving song with less than 80 minutes to spare. No pressure.
RELATED: Keanu Reeves Reveals He's Given Up on Playing His Favorite Marvel Hero: 'It Is Too Late'
Keanu Reeves got nervous because of a co-star's innocent question
Appropriately enough, Reeves and Winter similarly had to rise to the challenge. After all, Bill and Ted spawned a pop cultural phenomenon with the first two films. The actors now needed to recapture that magic decades later. So co-star Jillian Bell was curious how they felt being back in those roles, she admitted on The Kelly Clarkson Show (via Yahoo! News), 
"I was actually there the day [Keanu and Alex] were getting back into character, like the first day they were actually shooting," Bell said. "And I just happened to flippantly be like, 'Oh my gosh, are you nervous?' And Keanu was like, 'Well, now I am. I wasn't thinking about it.' You forget these big stars that have been doing it for so long can just equally get nervous."
RELATED: Keanu Reeves Was Reportedly Considered to Play This Batman Villain
Will the actor feel similar pressure to return as Neo for 'The Matrix 4'?
As adorable as Reeves' reaction is, it's also completely understandable. Playing a lovable slacker in your 20s is one thing. But it's quite another to try and imagine what that same character might be like in his 50s. Thankfully, critics have largely enjoyed Reeves' and Winter's performances in Bill and Ted Face the Music.
Of course, Reeves is about to step into another one of his iconic roles. He's now filming The Matrix 4 in Berlin, the first time he'll play Thomas Anderson aka Neo since 2003's The Matrix Revolutions. The Matrix and its sequels made an even bigger impact on pop culture and the entertainment industry than Bill and Ted. Here's hoping Reeves keeps his nerves in check.