Keith Urban Shares the Shocking Story of Nicole Kidman Getting 'Whacked' by a Stranger in Public
From the people who brought you #WhoBitBeyonce, it's #WhoWhackedNicole. In a recent radio interview, Keith Urban revealed that just before the pandemic shut down the world, his wife, Nicole Kidman, was "whacked" by a stranger in an opera house. And it was all because of the audience member's idea of proper opera etiquette.
Imagine hitting The Nicole Kidman?! Imagine hitting a stranger for no good reason?! Honestly, the nerve.
Where is Nicole Kidman's home in Australia?
Kidman and Urban have been married since 2006. The duo wed not long after they started dating in 2005. They met at the 2005 G'Day USA gala and ended up having their first picture together taken just 5 minutes after the meeting.
Although they both were immediately into each other upon meeting, Urban was too nervous to make a move for a while after.
"Somebody had given me her number, and I had it in my pocket for a while," he told the Australian talk show Interview in 2018. "I kept looking at it thinking, 'If I call this number, she's going to answer. I don't know what [to] say.'"
He eventually bucked up the courage, and it didn't take long for them to fall in love. Kidman told People in 2019 that she knew Urban was the one on her 38th birthday.
"He stood outside with gardenias at 5 a.m. on my stoop in New York," she said. "That is when I went, 'This is the man I hope I get to marry.'"
RELATED: Nicole Kidman Reveals One of Her 'Great Memories' From Filming 'Moulin Rouge!'
Keith Urban and Nicole Kidman attended a 'bloody great' night at the opera
Kidman, Urban, and their two daughters, Sunday Rose Kidman Urban and Faith Margaret Kidman Urban spend their time living between Sydney, Australia, and Nashville, Tennessee.
They own homes in both areas, and Kidman told Vogue in her 73 Questions interview that the communities of people in both Sydney and Nashville are her favorite parts about the cities. She also noted in the interview that she wishes she could "sing opera exquisitely."
One night at the opera in Sydney might have briefly changed her mind, however.
In an interview with the Australian radio show The Kyle & Jackie O Show, Urban shared the truly bizarre story when a stranger "whacked" his wife with a program.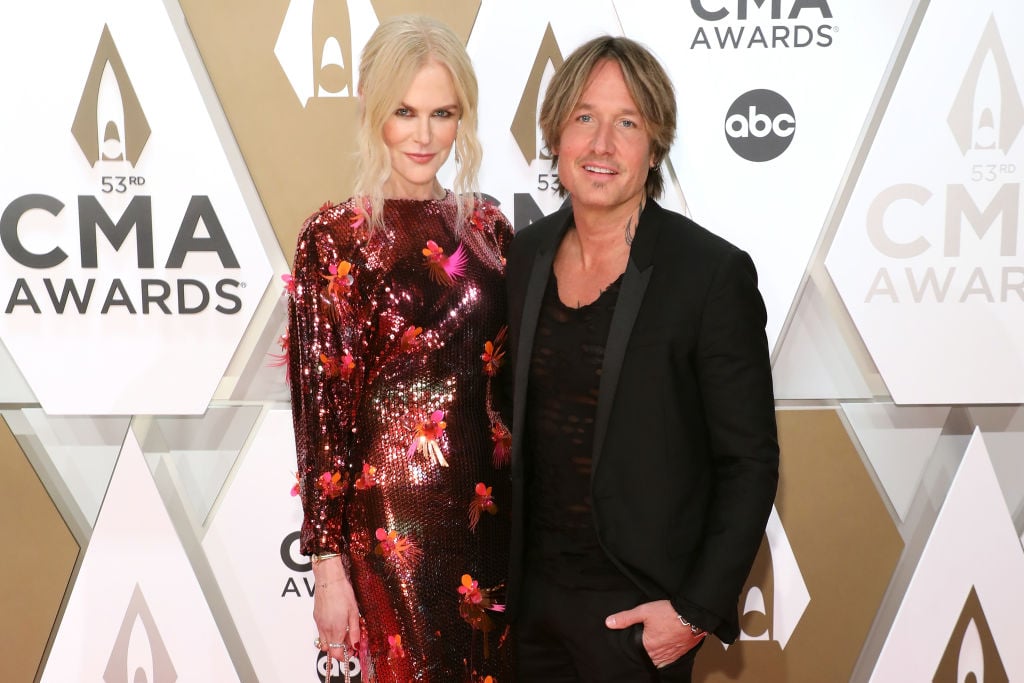 RELATED: Nicole Kidman and Keith Urban Once Had a Baby in Secret, Like Mindy Kaling
An audience member at an opera house smacked Nicole Kidman with their program
As Urban explained, he and Kidman were at an opera house seeing a "bloody great performance" in January in Sydney (you know, because Australia is actually in its post-coronavirus stage and they can have nice things).
Every live performance medium has its own audience etiquette, and Urban and Kidman were aware of this at the show that evening. He noted they didn't attend the opera frequently, so they might not have known all of the proper practices, namely that it's apparently looked down upon to give a standing ovation.
Urban said the performance was so wonderful, it prompted other people to start giving a standing ovation. As more and more people rose from their seats, Urban and Kidman did the same, and that's when someone sitting behind the couple "whacked" Kidman with their program. The audacity!
"It was a bit of a pickle that I was in," Urban said. "Took a lot of restraint—I was pretty upset."
The country singer admitted he was shocked by the rude behavior and didn't quite know how to respond. He said:
"I think I just looked at him. I said, 'It's a standing ovation!' I didn't know I'm not allowed to. At the same time, I get it. I get that there's this thing going on where there's a tradition or thing that says you don't do that and I respect that, but I was also going by a lot of other people who were standing."
Something tells us smacking someone in the opera house isn't opera etiquette either.