Ken Jennings Credits This Toy for Helping Him Win Big on 'Jeopardy!'
Jeopardy! has been good to Ken Jennings.
The game show champ won 74 games in a row in 2004, in a streak that is still talked about. He then went on to be crowned the Greatest Player of All Time in the quiz show's 2020 tournament. Now, Jennings is officially on staff at the show as its consulting producer and Jeopardy! ambassador.
Here's how a toddler's toy helped Jennings train to slay on the classic answer-and-question program.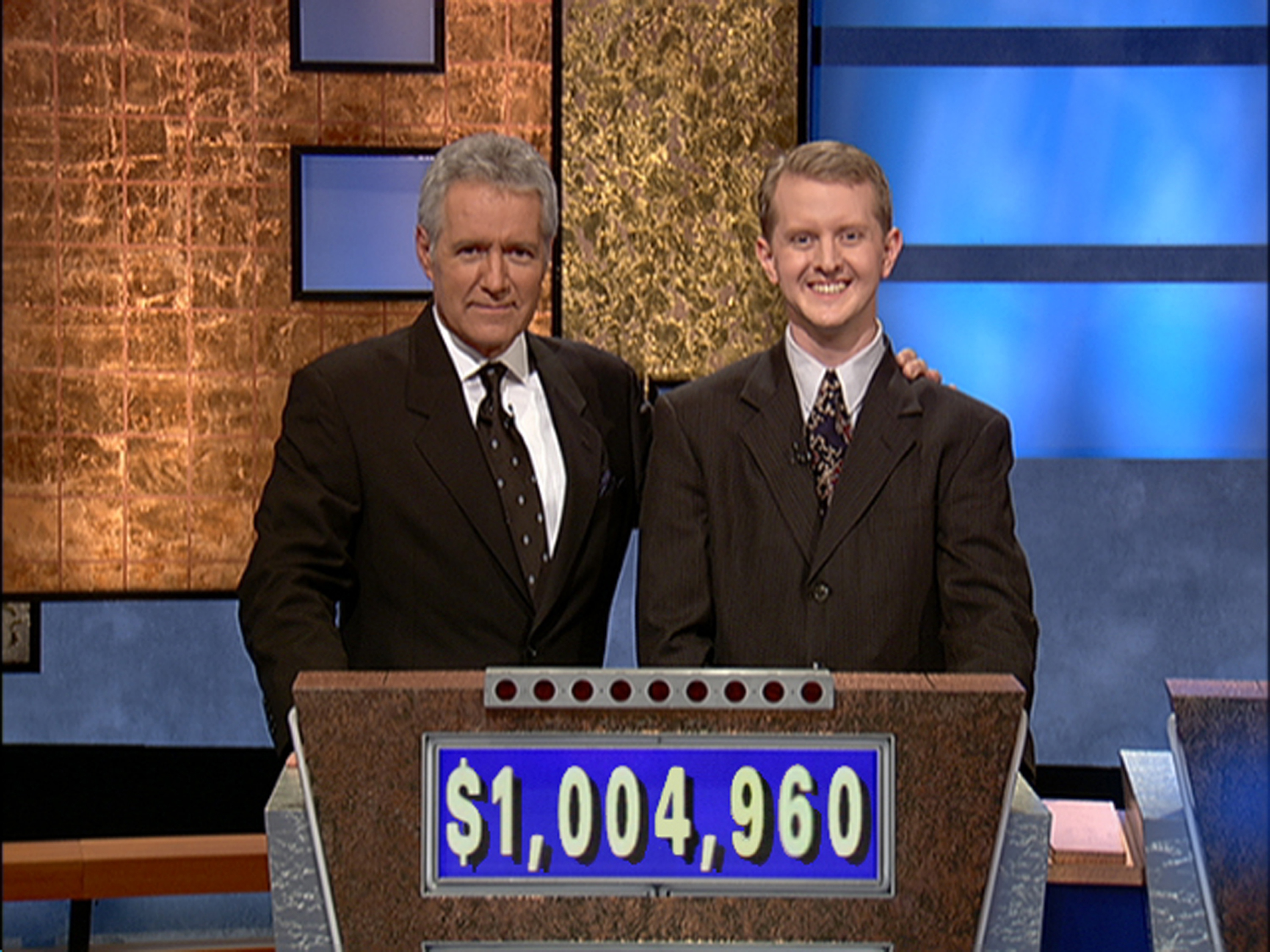 Ken Jennings had to think of a way to prepare for his debut on 'Jeopardy!'
In his 2006 book Brainiac, Ken Jennings recalled the measures he took when he discovered he had made it onto the quiz show. He resorted to using what he had around him in order to train for the program.
"I have only twenty-seven days before my long-repressed trivia savvy is going to be paraded before a national audience," he wrote. "I'm desperate enough to try anything."
The father of two described what one imagines was a moment of despair, looking around his home for that one thing that might help him train for his appearance on Jeopardy! So he turned to his wife, Mindy.
"'Where's Dylan's ring-stack toy?'" I ask Mindy that night after dinner."
A toy and a recliner a 'Jeopardy!' champion do make
His wife, of course, wants to know why he needs a child's toy.
"'Well, I'm going to start videotaping as much Jeopardy! as I can.' In fact, I've discovered that I can tape Jeopardy! twelve times a week. And I think I want to start watching the show standing up."
Jennings, 46, shared with his wife his plans to watch hours of the program, standing up. Behind his recliner.
RELATED: How Ken Jennings Went From Desk Jockey To His New Role as 'Jeopardy!' Consulting Producer
"[The recliner] looks about the same height as the contestant podiums," he explained to Mindy. "To prepare for the show. [And the ring-stack toy] is about the same size as the buzzer the contestants hold. I want to try different ways of holding it, and get used to pressing the button at the right time."
Mrs. Jennings not only doesn't think it's a weird or crazy idea. She offers to be his score-keeper. The future winner wrote of his supportive wife, "She's elbow-deep in applesauce, but I have my corner man."
It was time well invested by the pair, as Jennings went on to win over $2 million in his 2004 streak on the game show.
Ken Jennings now will be working alongside Alex Trebek
Fans of the show were surprised to learn in Sept. 2020 that Jennings is officially on staff at Jeopardy! The Washington State-born Jennings has signed on to the program as a consulting producer.
According to the show's press release, Jennings will present video
categories, develop projects, find new contestants, and "serve as a general ambassador for the show."
Jennings' contributions can be seen starting with the season's second episode. As he stated, "Though I've played my last round of Jeopardy! as a contestant, I'm delighted to have the opportunity to remain involved with my favorite show."
He concluded by joking that, "I'm still in on all the action, but I don't have to worry about phrasing things in the form of a question anymore."
RELATED: 'Jeopardy!': How Might Alex Trebek Do As a Contestant on the Quiz Show?