Kevin Hart Explains Why 'Shock Jock' Howard Stern Is Such an Inspiration to Him: 'He Changed the Dynamic'
For most comedians, making the jump into movies is often the goal. Stars like Robin Williams, Eddie Murphy, and Whoopi Goldberg all seamlessly leaped from stand-up to TV and/or movies. But Kevin Hart isn't looking to stop there. Rather, he has another medium in mind and has found a surprising inspiration in Howard Stern.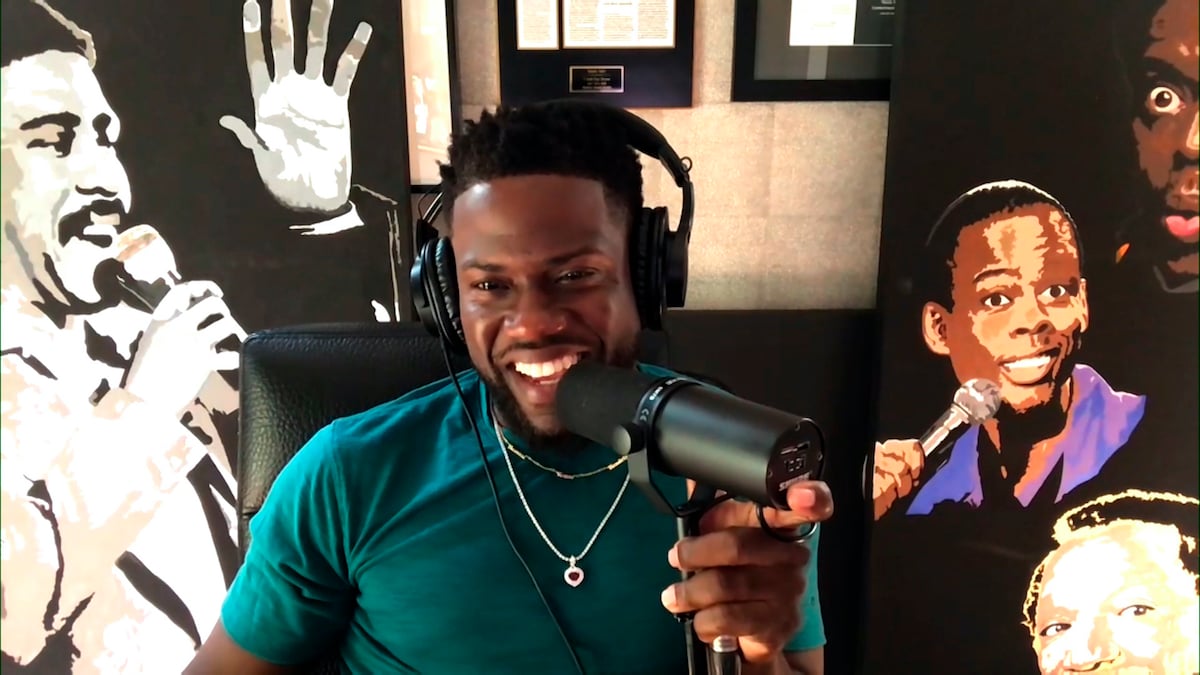 Kevin Hart is perhaps the biggest comedy star in the world right now
Comedy is perhaps the most subjective form of entertainment. So for a single individual to reach such heights that they are literally filling stadiums with their stand-up shows is rare. Hart, however, has accomplished just that. And throughout the 2010s, he's taken his popularity to the big screen.
Though his first movie was in 2002, he didn't break through until about a decade later. 2012's Think Like a Man put in an ensemble cast. And 2014's Ride Along — which paired him with Ice Cube — cemented his ability to lead a movie. Since then, he's starred in several major hits, most notably opposite Dwayne Johnson in Central Intelligence and two Jumanji movies.
The comedian and actor now wants to step into a new arena: radio
Now in a chat for the virtual Advertising Week event, Hart discussed his ambition to move into bringing comedy to radio. He recently signed a multi-platform deal with SiriusXM. Upcoming projects include exclusive podcasts and audiobooks. And it seems Hart is intent on using this status to shed a light on other comedians.
"As a black man in the business, I know how hard and tough it is for opportunities to come. They're very far few and in between. Whether you are behind a camera, in front of the camera…the one talking into the microphone or the producer behind the scenes… it's tough to get these opportunities. So when I had the opportunity to build the platform where we could create futures for so many, we said why not highlight the world of people that don't get the mass opportunity…we can become that platform that springboard and throw people into the position of success."
Indeed, Hart sees audio as an extension of what he's already been doing. And with the world of podcasting and the like moving more and more into the mainstream, it makes sense he'd want to leverage his success that way. Besides, Hart has a family, and the ongoing coronavirus (COVID-19) pandemic no doubt highlighted how important the flexibility of remote work is.
And Kevin Hart credits Howard Stern with paving the way for him
But because this particular form of audio entertainment is still evolving, Hart doesn't have as clear a template to follow. Unlike the transition from stand-up to acting, many of his comedy idols never made this kind of commitment to audio before. But at least Hart has one man he can admire in that regard. 
"I have so much respect for the audio pioneers… when I look at Howard Stern's career through radio, you can only applaud him…he has changed the dynamic of [radio] and created something that so many people are able to follow now…I myself am able to jump in this because of a lane that he created, so [I want to think about] what other lanes can be created for people to jump into."
Truly, Stern — who himself calls SiriusXM home — created a brand based on his radio show long before everyone in the business was launching podcasts. So it stands to reason Hart would hold his career up as a shining example of how to build a loyal fan base in that arena.