Kim Kardashian's Outfit Is Straight Out of an Iconic 'Friends' Episode, According to Fans
Kim Kardashian is the most famous member of the Kardashian-Jenner clan and the original queen of reality TV. She has climbed the ladder of success, from her early days working in boutiques and organizing Paris Hilton's closet to becoming a cover girl for high-fashion magazines.
Kardashian's outfit choices regularly make headlines, whether they are super-skimpy or something even more daring, like bicycle shorts and crop tops.
However, some fans on Reddit pointed out that one of Kardashian's recent fashion choices looks suspiciously like an outfit made famous in the iconic TV show Friends. 
How did Kim Kardashian become famous?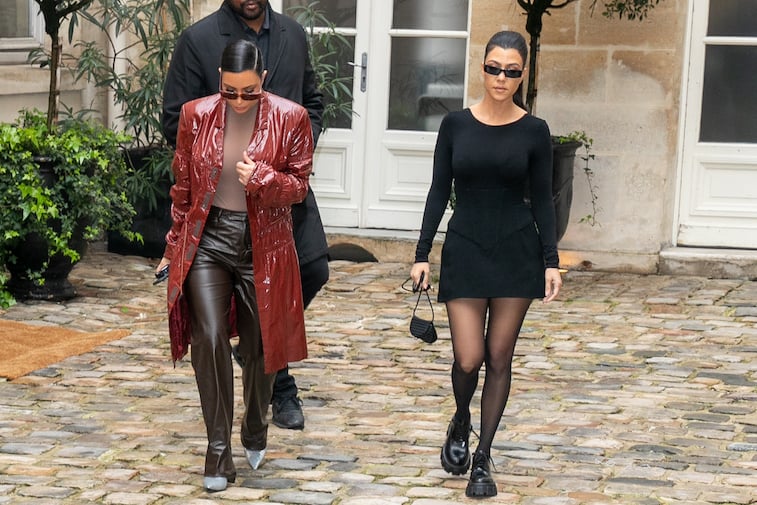 Kim Kardashian's love of fashion began when she was very young. She was born in 1980 and raised in an affluent suburb of Los Angeles, California. Although she had an indulgent upbringing, Kardashian started working at a young age when she was hired as Paris Hilton's stylist and closet organizer.
Kardashian began receiving a great deal of media attention, primarily for her unusual and exotic look, and she gradually became a popular figure in the L.A. nightlife scene.
In 2007, Keeping Up with the Kardashians premiered, boosting Kardashian and her family to even greater levels of fame. While her sex tape with then-boyfriend Ray J brought her a boatload of negative publicity, she was able to rise above the controversy and soldier ahead with her own ambitions, which included launching a clothing boutique with her sisters and endorsing a wide variety of products, from Carl's Jr. to her own line of fragrances.
When she married Kanye West in 2014, she achieved worldwide fame, and these days, she is considered to be a fashion icon.
Kim Kardashian's fashion has evolved
There's no doubt that in the early days of her career, Kim Kardashian dressed in a very trendy manner. Many of her outfits were based on what was popular at the time, and in the early 2000s, that included babydoll dresses, large belts, low-slung jeans, and lots of bright colors. Kardashian also favored animal prints in the early to mid-2000s and was frequently seen with huge handbags, as was the fashion at the time.
When she started dating Kanye West in 2012, her style started to undergo a significant change. She revealed that West did a purge of her closet, getting rid of her more trendy pieces and outfitting her in a lot of monochromatic clothes, including black, white, and cream.
High-fashion brands started pursuing Kardashian to appear in their magazines and wear their clothes, and Kardashian was happy to comply. These days, she is known as someone who sets trends rather than following them.
What buzzworthy outfit did Kim Kardashian recently wear?
Although many fashion editors and stylists love Kim Kardashian's choices, she has frequently worn things that baffle fans. From the floral dress that she wore when heavily pregnant to clear heels that allowed a few of her toes to escape, Kardashian has had more than a few fashion fails. Recently, she stepped out in a head-to-toe leather ensemble that had many fans scratching their heads, wondering where they had seen it before.
A thread on Reddit discussed Kardashian's leather outfit, and more than a few fans drew the comparison between her outfit and the episode of Friends where Ross wore the infamous leather pants. One poster even stated that "I wanna see Kim play Ross from Friends struggling with her fashion choices."
The general consensus was that her outfit was "mismatched and awkward," in spite of the funny Friends connection. The incident proves that even style icons can't win them all.