Kristen Stewart Said Her 'Twilight' Kisses 'Probably' Didn't Win MTV Movie Awards Because They Were Good
Kristen Stewart has won so many awards and starred in so many films post-Twilight. Like her new holiday movie Happiest Season, which broke records. But Twilight will definitely be remembered for being the movie that kicked Stewart's career off. Plus, it lasted for a while and gave her a ton of MTV Movie Awards for Best Kiss with co-star (and real-life boyfriend at the time) Robert Pattinson. But it's probably thanks to Twilight and less thanks to how good the kisses were, in hindsight. 
Kristen Stewart shared that the Edward and Bella kisses didn't win MTV Movie Awards because they were necessarily good
As stated above, Stewart stars as Abby in Hulu's new holiday film, Happiest Season, about a woman whose girlfriend, Harper — played by Mackenzie Davis — invites her to come to her family's house for Christmas. However, she did it impulsively and hasn't come out to them yet. So for five days, Abby has to hide the fact that she's a lesbian and that she's dating Harper. It's faced some controversy, but also had one of the best openings on Hulu for an original movie. 
In an interview with Marie Claire on Dec. 1, Davis and Stewart played a game of "How well do you know your co-star?" and Davis had to guess how many Best Kiss MTV Movie Awards Stewart had won for The Twilight Saga. She didn't get it correct — the answer is four — but she did say that she "wanted to know what [Stewart] did to win the kiss." Stewart and Pattinson were nominated for every movie besides Breaking Dawn Part 2, and Stewart was also nominated once with Lautner for Eclipse. 
"Oh, again, probably, a really not good kiss," Stewart said about why she and Pattinson won so many times. "People just really liked that series. It really wasn't great. Just the slow in." Stewart and Pattinson hold the record for most consecutive wins for that award as well. 
Stewart and Robert Pattinson's audition together was their first kiss in 'Twilight'
As Stewart said, though, those moments were big deals in the films. And, as it turns out, Edward Cullen and Bella Swan's very first kiss in Twilight was actually what director Catherine Hardwicke chose to have the two leads audition with. 
"We did the audition — the chemistry read — here [in her bed] to see if these two would have chemistry. To see if their kiss would be exciting and cool," Hardwicke told MTV News in her house in 2009 right before they won their first Best Kiss award. She described how Stewart and Pattinson had just met, but that it was kind of spontaneous on purpose, to really see if that raw emotion was there. 
Hardwicke shared that Stewart had already been cast in the role of Bella and had to kiss three other guys that day before Pattinson came in for the audition. 
"He was a bit nervous, because suddenly you've just met a girl and you're going to start making out with the person — and someone is filming," Hardwicke said. "[Pattinson] was really wild on the first take — use your imagination."
Hardwicke reportedly reminded Pattinson that the rating of Twilight was going to be PG-13, nothing more. 
Stewart opened up more recently about her real-life relationship with Pattinson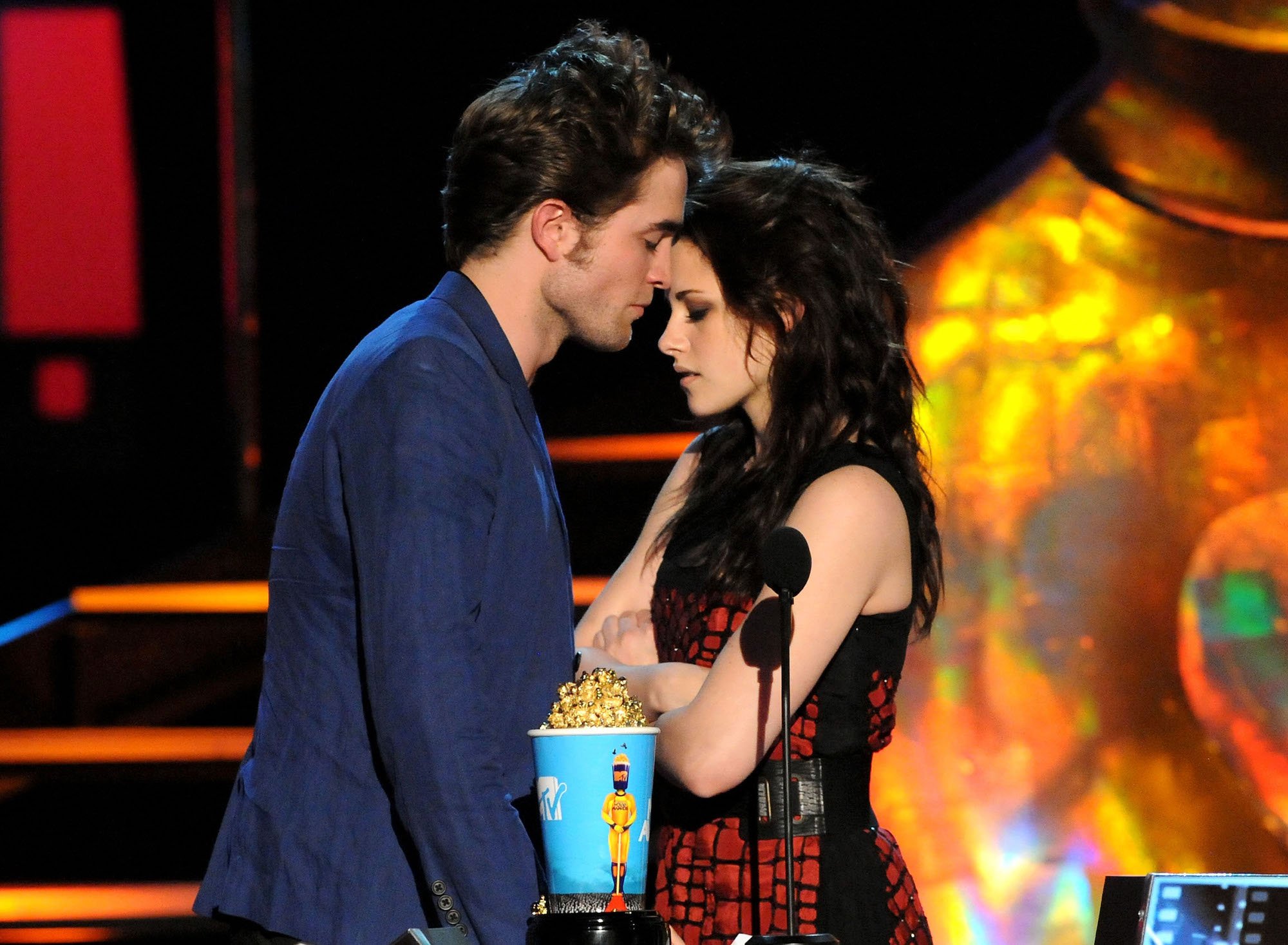 It's no secret at this point that Stewart and Pattinson dated during their time as Edward and Bella, breaking up right before the final installment of Twilight: Breaking Dawn Part 2, which came out in 2012. Neither of them talked about their relationship at all when it happened, though, and Stewart only recently started opening up about it. 
"It's so weird, like, actually being honest about this. It's been so heavily consumed," Stewart told Howard Stern on The Howard Stern Show in 2019. 
I have this fear that people would assume that maybe I'm, like, you know — it's kind of attention-y, like, 'Oh, cool, you're still, like, pushing that narrative' or whatever. It's like, no, I've actually never been allowed to just say what happened. Because I was so self-conscious about seeming like an attention-seeker.
Stern shared his opinion that falling for a co-star on set was "the biggest mistake," but Stewart just replied that "there was nothing [she] could do."
The two have, of course, been long-broken up, and are currently dating separate people. But they'll always have Twilight and their shared Golden popcorns.