Kristen Stewart Was the Reason the 'Twilight: Breaking Dawn' Sex Scenes Had To Be Reshot
Twilight and the three books that followed in its series are notoriously not sensual. Written by Stephenie Meyer, they leave a lot to be desired when it comes to the desirable, and that might have something to do with Meyer's religion. And it's also marketed toward teens and tweens. 
Regardless, the movies are a little steamier, if only because you can actually see Edward Cullen and Bella Swan make out or see him grab her on a bed or something along those lines. But still; it's all rated PG-13. And because of that rating, some of the Twilight Saga: Breaking Dawn — Part 1 scenes had to be reshot thanks to Kristen Stewart. 
'The Twilight Saga' was pretty tame when it came to sexual things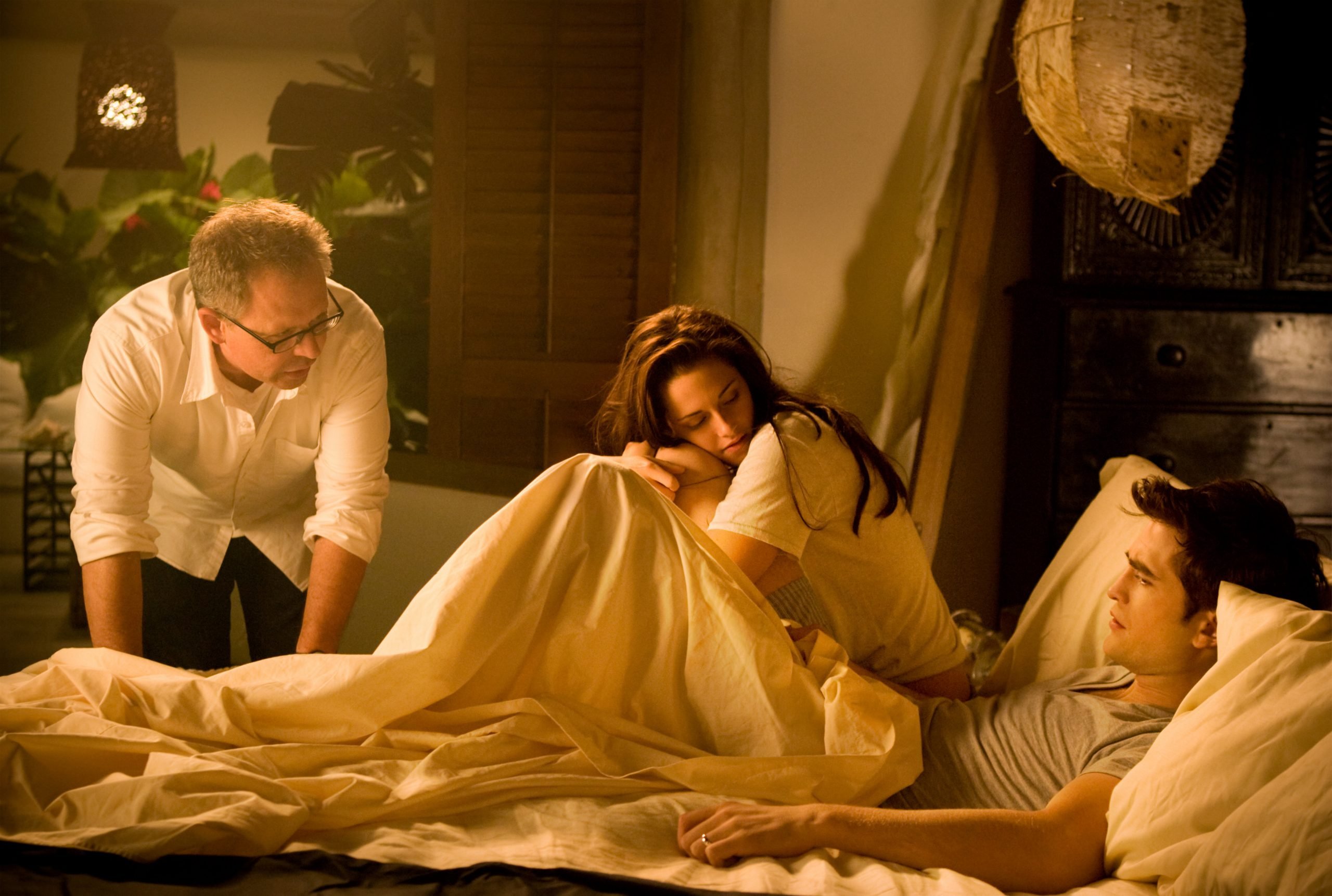 RELATED: Kristen Stewart Said Her 'Twilight' Kisses 'Probably' Didn't Win MTV Movie Awards Because They Were Good
Edward and Bella's love story is one of the most well-known modern day love stories out there. Like them or not, those are just facts. And they're pretty conservative when it comes to physical affection. However, that's only just because Edward is afraid that the slightest wrong turn of his teeth could kill Bella. He's not wrong, but that really limits what they can do.
It creates a pretty frustrating environment for Bella, of course, who's a human teenager. And with that, the two get married on the condition that they will have sex while she's still human. Edward reluctantly agrees and it happens on Isle Esme off the coast of Brazil.
Edward does hurt Bella, but only in bruises and not mortally. The rest is really history; Bella convinces Edward to get over it, however she does end up getting pregnant. That demon baby ends up not being a demon at all, and it spirals out of control once the Volturi find out only half of the truth in The Twilight Saga: Breaking Dawn — Part 2
'Breaking Dawn' sex scenes reportedly had to go through reshoots because of Kristen Stewart
With that said, both parts of Breaking Dawn were the first films to show sex in the Twilight saga, and it was going to be intense. Because in the first part, it's enough to break a bed, burst some pillows, and basically make an impression. And in the second part, Bella and Edward are both vampires so it's much more intense.
But after filming The Twilight Saga: Breaking Dawn — Part 1, director Bill Condon revealed to Celebuzz in 2011 that the original cut was too risque by PG-13 standards.
"[There are MPAA] guidelines on thrusting intercourse," Condon said, according to People. "[Kristen] got very into it."
When they went back and redid it, Condon noted that the scene was "so much more about romance than it was about hot-and-heavy action." The "adjustment" was "simple" to make, he said.
"It's almost clinical the kind of strict guidelines [the MPAA] have about anything that appears to be," Condon stated.
Having sex in a 'Twilight' movie didn't feel real for Stewart to begin with
It was new for everyone — those in the story and those telling it — so it makes sense that there was some sort of learning curve. Stewart told Glamour UK in 2011 that the sex scenes were one of the first things done as well.
"It was so weird, it didn't even feel like we were doing a scene within a Twilight film," Stewart said about how odd it was to film a scene like that in those characters MTV News reported. "I was like, 'Bella! What are you doing? Wow! What is happening here?!' It was very surreal."
Well, it kept its rating of PG-13, broken pillows and all.
RELATED: The 'Twilight' Kissing Scene Was Originally Too Steamy for Stephenie Meyer; She Had Catherine Hardwicke Change It