Leonardo DiCaprio Made Jonah Hill Watch 'The Mandalorian' While Filming 'Don't Look Up': 'Baby Yoda Was So Cute'
Jonah Hill admitted Leonardo DiCaprio forced him to watch 'The Mandalorian.' Here's what he thought.
So far Don't Look Up has received a somewhat divisive response from critics. But even those who aren't on board with director Adam McKay's satire can't deny its star power. Leonardo DiCaprio, Jennifer Lawrence, Jonah Hill, and Meryl Streep lead the ensemble cast. And during filming, DiCaprio and Hill caught up with The Mandalorian. However, it sounds like the two actors might not have shared the same opinion of the breakout Disney+ hit.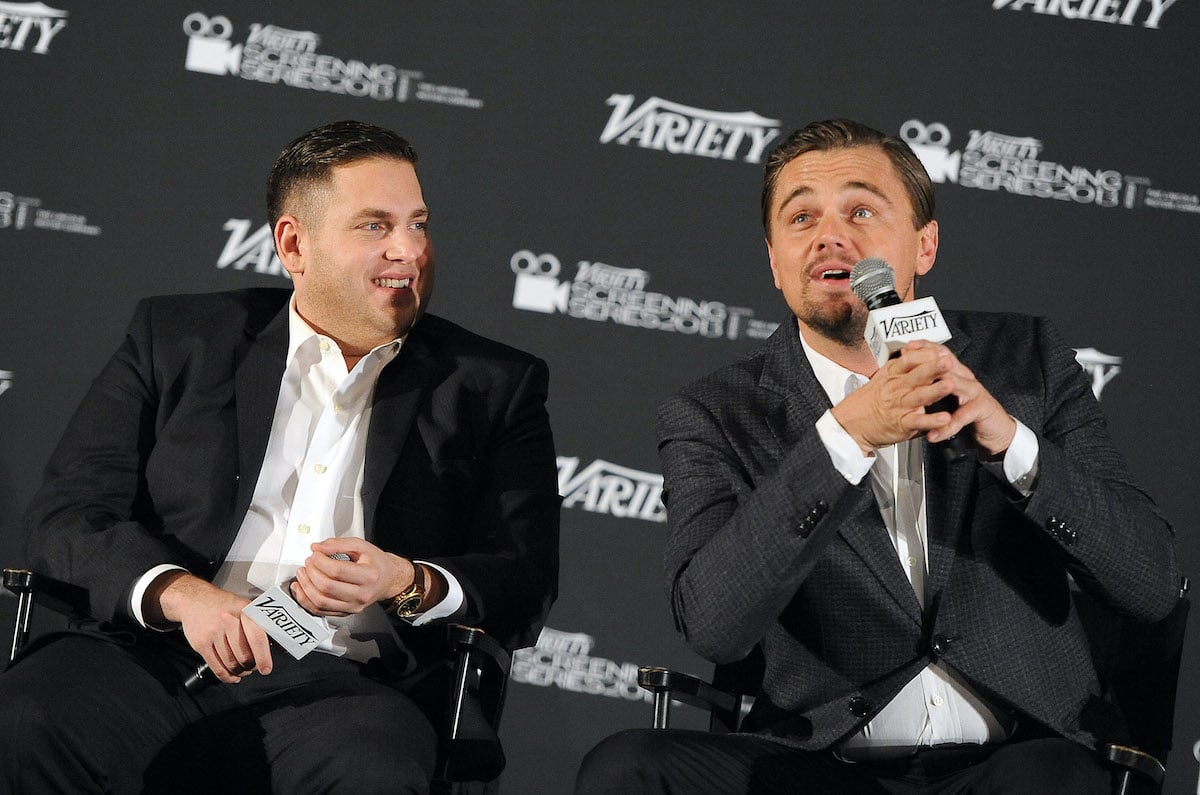 Leonardo DiCaprio and Jonah Hill have worked together before
Of course, DiCaprio and Hill didn't meet on the set of Don't Look Up. The two stars have been friends and collaborators for years. They first shared the screen in Quentin Tarantino's 2012 hit Django Unchained. In that film, DiCaprio plays the villainous Calvin Candie, while Hill cameos as a white supremacist during a key sequence. The next year, DiCaprio and Hill delivered Oscar-nominated performances in Martin Scorsese's The Wolf of Wall Street.
The two actors also produced the 2019 film Richard Jewell, though they didn't appear on screen. Don't Look Up marks a reunion of sorts for DiCaprio, who works with several actors from past entries in his filmography. But it's perhaps his reconnection with Hill that will most excite fans, as the two actors clearly enjoy each other's company. What's less shared by them is a passion for Star Wars, or at least The Mandalorian.
Why the two actors watched 'The Mandalorian' together
During their downtime while making Don't Look Up, the two actors caught up with Disney+ series The Mandalorian. Although the show isn't exactly the type of thing Hill normally watches, DiCaprio forced him to at least give it a chance. Here's what Hill told W magazine about his experience watching The Mandalorian with his co-star.
"I used to have a rule. If it didn't happen or it couldn't happen, then I just wasn't interested [in TV shows] because I would lose focus. Leo made me watch The Mandalorian when we were making Don't Look Up. And it was like, Baby Yoda was so cute, but I just didn't give a f–k because I didn't know anything that it was about. Game of Thrones is so sick. I know this is hilarious because I'm in 2012. I'm just watching three episodes at a time, like you would binge any show. But I forget this happened in real time and was like a cultural event. So I watched the "Red Wedding," as one of three episodes I watched that night. I'm calling friends, like, 'Oh my god, Robb Stark got killed, blah, blah, blah.' And they're like, 'Yeah, dude. It was like the end-of-Sopranos-level cultural event.'"
It's interesting to note how Hill broke his TV rule for both Game of Thrones and The Mandalorian, with very different results. Ironically, DiCaprio was once up for a key Star Wars role. And it's a testament to the power of "Baby Yoda" aka Grogu that even a skeptic like Hill openly admits the little critter is adorable.
'Don't Look Up' is getting lots of attention this awards season
Much like The Mandalorian, DiCaprio and Hill's latest is garnering plenty of attention. Don't Look Up has made waves with its pointed social commentary. And though it hasn't connected with everyone, the movie is breaking viewing records over at Netflix, according to Deadline. But how far can Don't Look Up go this awards season?
The film has earned a ton of critics' awards as well as four Golden Globe Awards. Going into the Academy Award nominations, many industry pundits assume Don't Look Up will get some recognition. Perhaps the Netflix movie will even follow in the footsteps of Django Unchained and The Wolf of Wall Street in securing a Best Picture nomination.