Liam Neeson Owes His Acting Career to His Ex-Girlfriend Helen Mirren Who Got Him an Agent and Let Him Live With Her
Liam Neeson is one of the entertainment industry's most beloved actors – a performer who is well known for his skill at acting in period dramas as well as hardcore action films. Neeson has been famous for much of his adult life, after entering the movie business quite by chance. After developing a love for acting, Neeson worked hard to receive acclaim. Ultimately, the Irish-born actor owes much of his success to his ex-girlfriend, Helen Mirren, who helped the up-and-coming actor book jobs during the early years before he made it big.
When did Liam Neeson and Helen Mirren start dating?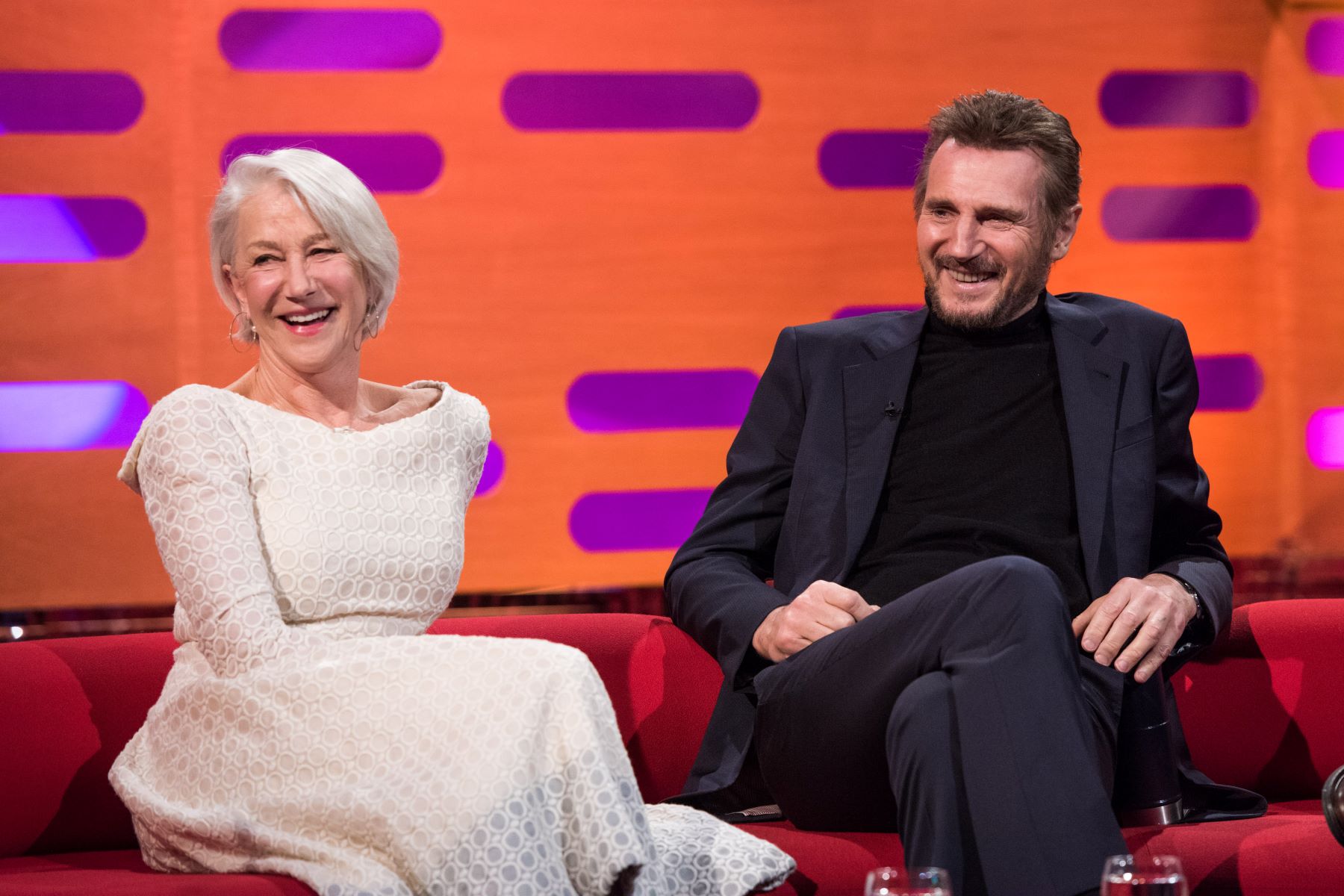 Liam Neeson and Helen Mirren first crossed paths on the set of the 1981 film Excalibur. As Neeson revealed in an interview with Graham Norton featured on Twitter, he was introduced to Mirren after being cast in the film and brought on the set to meet his co-stars. When he saw Mirren in full costume from some distance away, "I didn't know what to say…I was certainly smitten."
Neeson and Mirren embarked on a romantic relationship, with Mirren noting in the same Graham Norton interview that the two actors were a "serious item for a while." Neeson, who was less established in the entertainment business than Mirren, who had a reputation as a talented performer thanks to her work in stage productions, moved in with his girlfriend – and the two worked on their craft together.
How did Mirren help Neeson break into the entertainment business?
Helen Mirren encouraged her live-in boyfriend to pursue his acting ambitions. According to InStyle, Mirren even helped him land an agent. In an interview with The New York Times, Mirren admitted that Liam Neeson struggled to get jobs during those years – with InStyle reporting that Mirren noted, "It was difficult for him to be under my shadow. I was well known; I had the money."
In the end, Mirren and Neeson decided that their romance had hit its stride. Mirren said that she "had a sense from Liam that it was time for him to come out from under my wing. He handled it with great elegance and grace. We loved each other. It was difficult to let go." By the mid-90s, Neeson had found his niche in Hollywood, landing starring roles in movies like Schindler's List and Rob Roy. Neeson's star status was further solidified with a leading role in the 1999 blockbuster Star Wars: The Phantom Menace.
Is Liam Neeson married?
Both Liam Neeson and Helen Mirren went on to find lasting love after their breakup. Neeson and actor Natasha Richardson started dating in the early '90s, tying the knot in 1994. They welcomed two sons and carved out a beautiful life together before their romance ended in tragedy. In 2009, Richardson died after suffering a traumatic brain injury during a skiing accident. After she was declared brain-dead, Neeson faced the tough decision of whether to end life support – and ultimately, he decided to let his wife slip peacefully away. In the years since Richardson's death, Neeson has credited his work with helping him focus on the good things in life again.
As for Mirren, she married film director Taylor Hackford in 1997, after more than 11 years together. The two have been together ever since. Mirren has frequently opened up about why their marriage works, admitting that space is the key to their happy union: "The thing is to allow the other person freedom to do what they want to do, which is so important."
RELATED: After 'Taken,' Liam Neeson Took His Talents to 'Sesame Street'