Lifetime's 2021 Christmas Movie Schedule: See Premiere Dates for All 35 New Movies
Lifetime is getting into the holiday spirit. The network has unveiled the 2021 "It's a Wonderful Lifetime" movie slate. The schedule includes 35 all-new movies featuring stars such as Mario Lopez, Reba McEntire, and Kelly Rowland. 
The celebration kicks off Nov. 12 with the premiere of An Ice Wine Christmas and goes through Dec. 25, with new movies premiering every day between Black Friday and Christmas. Tia Mowry will also host the It's a Wonderful Lifetime Holiday Movie Preview, available on VOD beginning Oct. 24 and airing Nov. 7 on Lifetime at 10 a.m. ET. 
Music legends Smokey Robinson, Reba McEntire to star in new Lifetime Christmas movies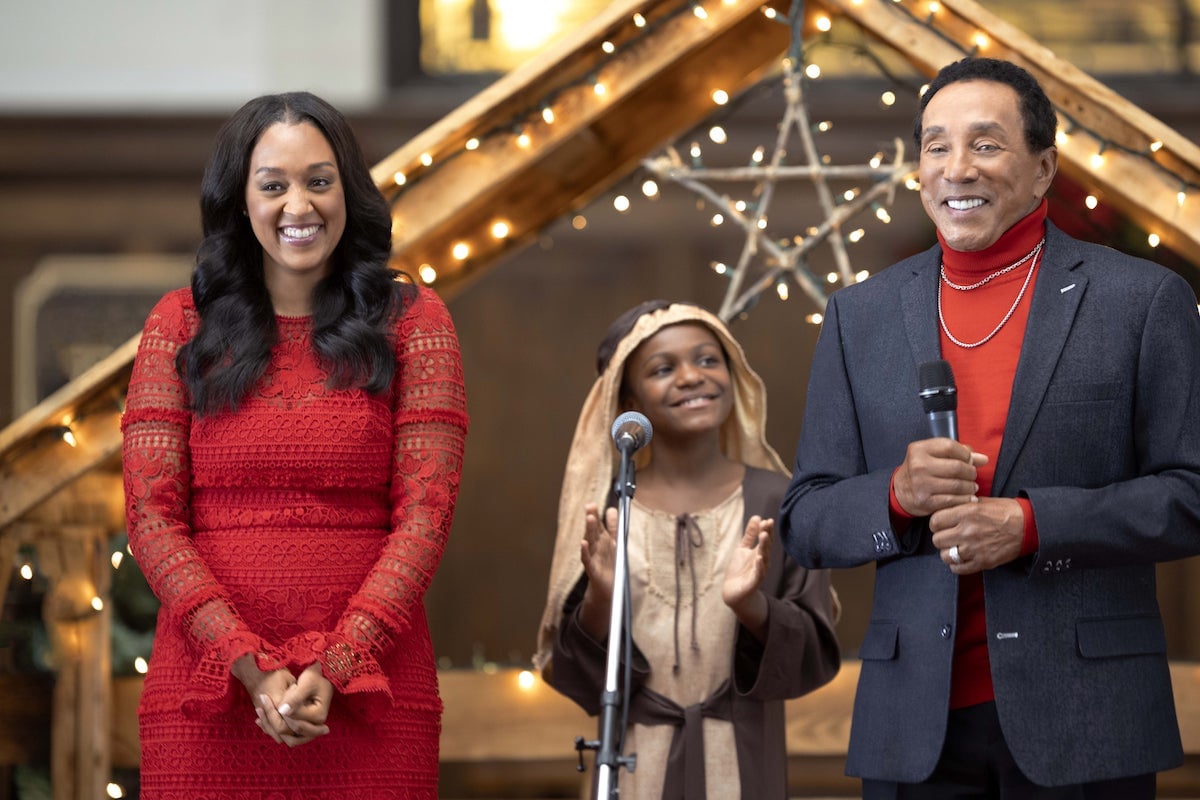 Music fans should be delighted by Lifetime's 2021 Christmas movie lineup. The schedule includes new movies featuring award-winning artists Smokey Robinson, Reba McEntire, and Kirk Franklin.
In Reba McEntire's Christmas in Tune, the Grammy-winner plays Georgia, who agrees to reunite with her former singing partner (and ex) Joe (John Schneider) after their daughter asks her parents to participate in a Christmas charity concert. It airs Friday, Nov. 26. 
Motown legend Robinson will appear in Miracle in Motor City, which airs the Sunday after Thanksgiving. Tia Mowry stars as a woman named Amber, who takes charge of her church's Christmas pageant and then accidentally promises a performance from Robinson. She reconnects with her old flame (Mark Taylor) and the two team up to track down the "Shop Around" singer and convince him to participate in the pageant. 
In Kirk Franklin's A Gospel Christmas, a young woman (Demetria McKinney) lands a job as the lead pastor at a new church. She's afraid she might not be up to her new role, but as she and the congregation come together, she discovers a new home for herself, as well as a new romance. The movie airs Saturday, Dec. 4, and features songs written and arranged by Franklin, as well as an appearance by the gospel star.  
'It's a Wonderful Lifetime' begins Nov. 12
This year's "It's a Wonderful Lifetime" event begins Friday, Nov. 12 with An Ice Wine Christmas, starring Roselyn Sanchez and Lyriq Bent. Sanchez plays a big-city sommelier who returns to her hometown for the annual ice wine harvest. There, she meets — and clashes with — Declan (Bent) a consultant who has been hired to modernize her beloved godfather's vineyard. 
Here's the rest of Lifetime's November 2021 Christmas movie lineup. All movies air at 8 p.m. ET. 
Nov. 13: A Picture Perfect Holiday 
Nov. 19: Dancing Through the Snow
Nov. 20: You Make It Feel Like Christmas
Nov. 21: Baking Spirits Bright
Nov. 26: Reba McEntire's Christmas in Tune 
Nov. 27: Merry Liddle Christmas Baby 
Nov. 28: Miracle in Motor City 
Nov. 29: Welcome to the Christmas Family Reunion
Nov. 30: Saying Yes to Christmas 
Lifetime's December 2021 Christmas movie schedule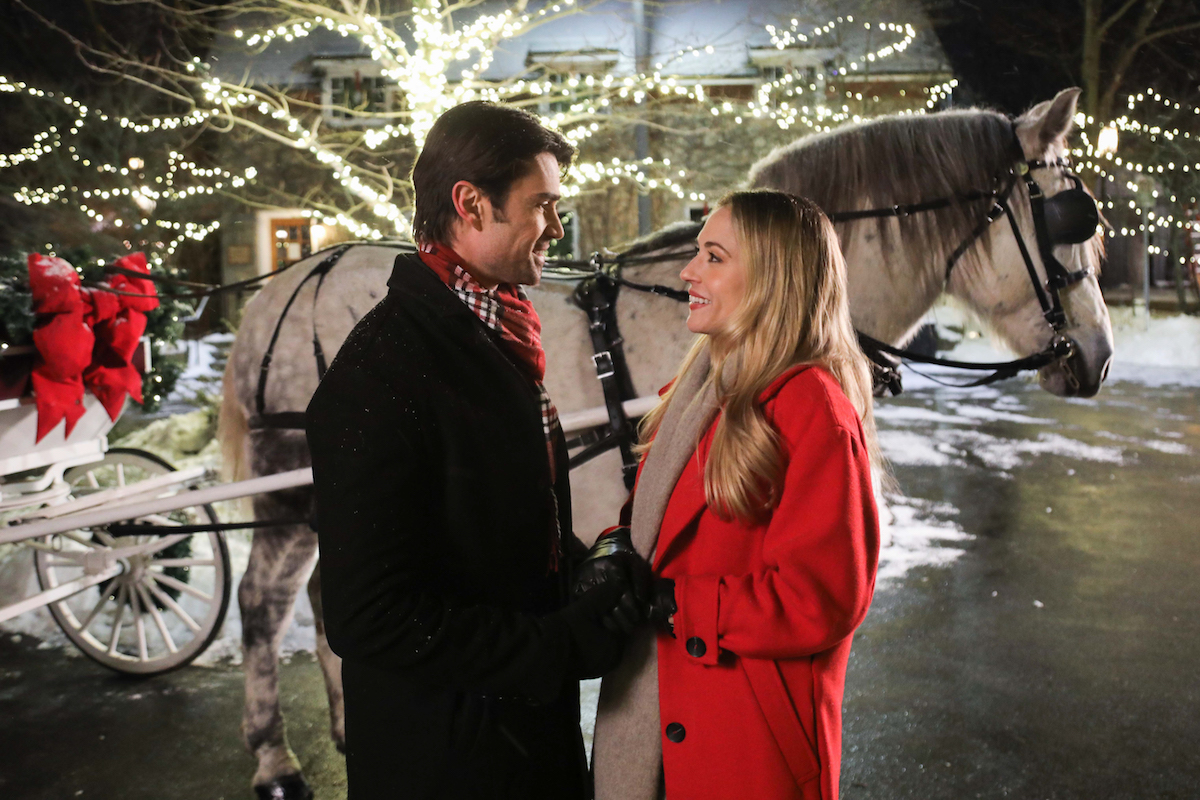 Lifetime's holiday celebration continues in December with daily premieres of all new movies through Christmas Day. Here's the schedule: 
Dec. 1: Match Made in Mistletoe 
Dec. 2: A Christmas Village Romance 
Dec. 3: A Christmas Dance Reunion
Dec. 4: Kirk Franklin's A Gospel Christmas 
Dec. 5: My Favorite Christmas Melody 
Dec. 6: Secretly Santa 
Dec. 7: Christmas Movie Magic
Dec. 8: Christmas With a Crown
Dec. 9: A Fiancé for Christmas 
Dec. 10: Holiday in Santa Fe 
Dec. 11: The Holiday Fix Up
Dec. 12: Blending Christmas
Dec. 13: Maps and Mistletoe
Dec. 14: Ghost of Christmas Past 
Dec. 15: The Enchanted Christmas Cake 
Dec. 16: Christmas By Chance 
Dec. 17: Mistletoe in Montana 
Dec. 18: Toying With the Holidays
Dec. 19: Under the Christmas Tree
Dec. 20: Candy Cane Candidate
Dec. 21: The Christmas Ball
Dec. 22: It Takes a Christmas Village 
Dec. 23: Rebuilding a Dream Christmas 
Dec. 24: Hot Chocolate Holiday
Dec. 25: Writing Around the Christmas Tree 
Check out Showbiz Cheat Sheet on Facebook!