Love 'Outlander'? Here Are 10 Steamy Dramas to Get You Through Droughtlander 2022
Outlander Season 7 is currently in production, but it won't premiere on Starz until late 2022 or early 2023. With at least six more months left of Droughtlander, what should fans watch in the meantime to get their fix of period pieces and romance? Here are 10 steamy dramas that Outlander fans should try.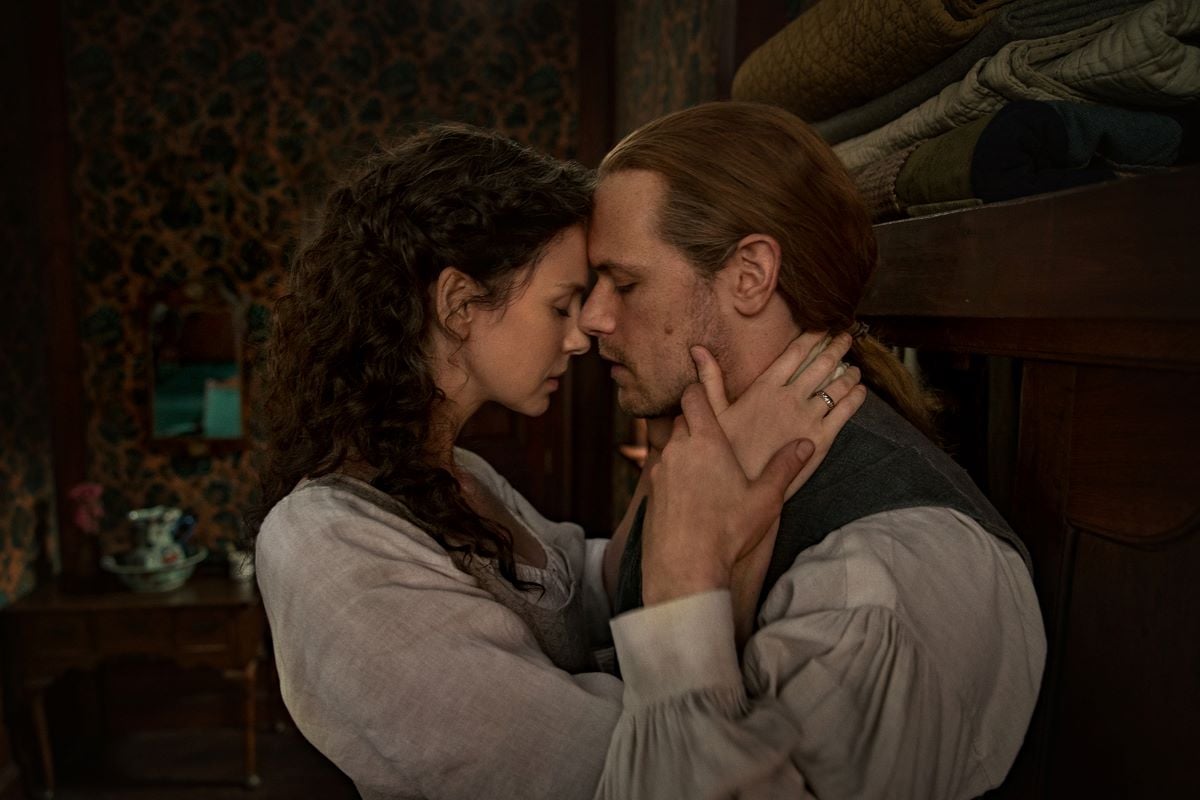 1. 'Viking's has bloody battles and sex scenes just like 'Outlander'
For fans looking for an entire series to binge during Droughtlander, a fantastic choice would be the six seasons of Vikings on Hulu. This series was inspired by the sagas of legendary Norse warrior hero Ragnar Lodbrok, a character played by Travis Fimmel.
The historical drama portrays Ragnar as a farmer who becomes famous for raiding England and eventually becomes Scandinavian king. It also follows the journeys of his sons as they continue their father's legacy.
Outlander fans who love bloody battles and sex scenes — as well as rich character arcs and historical action — are sure to love Vikings.
2. Meet the compelling characters of 'Downton Abbey'
If you haven't yet watched the ultimate British period drama Downton Abbey, then the current Droughtlander is the perfect opportunity. Set in the early 1900s, the story follows the aristocratic Crawley family and their servants.
The series shows how historical events like World War I and the sinking of the Titanic influence their lives, complete with plenty of scandal and intrigue. It is now streaming on Peacock and Amazon Prime Video.
This series stars Hugh Benneville, Maggie Smith, Elizabeth McGovern, Michelle Dockery, and Jim Carter. In addition to the six TV seasons, there are also two movies. Including Downton Abbey: A New Era, which is now playing in theaters and will soon be available On Demand.
3. There is no shortage of love scenes in 'The Tudors'
Well before Outlander premiered on Starz, Showtime aired The Tudors starring Jonathan Rhys Meyers, Henry Cavill, Sam Neill, and Annabelle Wallis. For four seasons, the series chronicled the reign of King Henry VIII (Meyers) in 16th century England, his political relationships, and his numerous romantic pursuits.
There is plenty of violence and love scenes, just like Outlander. And even though there isn't any time-travel or supernatural aspects to the story, The Tudors definitely brings the drama and action. Not to mention some fantastic historical fashion. All four seasons are now available on Hulu.
4. 'Rome' was short-lived but had fantastic attention to historical detail
Rome was a historical drama that ran on HBO for two seasons from 2005 to 2007. The focus was on Roman history during its transition from Republic to Empire. And season 1 follows the rise and fall of Julius Caesar, beginning with his civil war and ending on the Ides of March — his assassination on March 15, 44 BC. The second season is all about the power struggle following Caesar's death.
Outlander fans will like this series because of the bloody action scenes and the romance. But it's the attention to historical details and the high production value that really make this short-lived series stand out. Both seasons of Rome are streaming on HBO Max.
5. 'Outlander' fans will need a box of tissues for 'When Calls the Heart'
The biggest similarity that When Calls the Heart has with Outlander is its "fish out of water" premise. The series is set in 1910, and it follows a young school teacher named Elizabeth Thatcher (Erin Krakow) as she is lifted from her life of luxury and forced to survive in a small coal-mining town in Western Canada.
As she attempts to live life on the frontier, Elizabeth learns life lessons and finds romance. This isn't a "steamy drama," so we did cheat a bit by adding to the list. But we thought Outlander fans would appreciate the romance, death, and heartbreak from this period drama that requires tissues in nearly every episode.
When Calls the Heart is now available on YouTube TV, Roku TV, Sling TV, and Amazon Prime Video.
6. 'Spartacus' is a fictionalized version of a classic love story
If you already have a Starz subscription because of Outlander, then you should definitely give Spartacus a chance. Based on the historical figure of the same name, Spartacus is a Starz series that ran from 2010 to 2013.
It tells the classic story over three seasons of a slave who led a rebellion against the Roman Republic, but it focuses mostly on the character's early life as a gladiator before he led the slave revolt. Spartacus has got all of the nudity and violence of Outlander, and then some.
7. 'Victoria' stars someone who 'Outlander' fans are very familiar with
Victoria is a Masterpiece PBS series that is all about royal family drama as it follows the reign of Queen Victoria, played by Jenna Coleman. She begins her rule at the young age of 18, and her romance with Albert and their visit to Scotland definitely gives off Jamie and Claire vibes.
But that's not the only reason we are recommending this series to Outlander fans. The cast of Victoria includes Nell Hudson as the queen's loyal maid, Mrs. Skerrett. Hudson's name might not sound familiar, but her face sure is. Hudson played one of the most-hated characters on Outlander, Laoghaire MacKenzie.
8. 'The White Queen' and 'The White Princess' are the first two parts of a trilogy
Inspired by the novels of Phillippa Gregory, the historical dramas The White Queen and The White Princess are the first two series in a trilogy about influential female figures in European history.
The White Queen stars Rebecca Ferguson as Elizabeth Woodville, and it's set against the backdrop of the Wars of the Roses. The story follows three women who are all trying to gain power by manipulating events behind the scenes of history.
The follow-up to the series was The White Princess starring Jodie Comer. It centers on the marriage of Elizabeth of York and Henry VII, which creates unity among the houses of Lancaster and York. And, in turn, ends the Wars of the Roses.
Both The White Queen and The White Princess are available to stream on Hulu and the Starz app.
9. 'The Spanish Princess' concludes the trilogy
After watching The White Queen and The White Princess, Outlander fans will need to finish the trilogy by watching The Spanish Princess. The series stars Charlotte Hope as Catherine of Aragon, the first wife of Henry VIII.
However, the story focuses on the princess in the years before her marriage. And it recounts her journey to meet her betrothed, Prince Arthur. After his tragic death, Catherine finds herself entangled with Arthur's younger brother Henry. This series is also available on Starz.
10. 'Poldark' is the 'Masterpiece PBS' version of 'Outlander'
There is no time travel in Poldark, which has been described as the Masterpiece PBS-version of Outlander. However, there is plenty of romance, a smoldering leading man, and a strong female lead. Sound familiar?
Set in Cornwall after the Revolutionary War, this British series follows Captain Ross Vennor Poldark as he returns home from battle to find his father has died, his estate is in ruins, and the love of his life is in the arms of his cousin. However, things change for Ross when he hires his scullery maid Demelza.
Based on the book series of the same name by Winston Graham, Poldark is about a character whose determination gets them through some of life's worst moments — an who manages to overcome the pain of heartbreak.
Poldark is available to stream on PBS.
RELATED: 'Outlander' Author Diana Gabaldon Just Crushed 1 Popular Fan Theory About Jamie Fraser