How Lupe Fiasco Got His Stage Name
Lupe Fiasco is a rapper, songwriter, record producer, and entrepreneur who has been an exciting presence in the music industry since 2006. That was the year that he released his highly-anticipated debut album, Lupe Fiasco's Food & Liquor. In the years since then, Fiasco has branched out to multiple other ventures, from fashion to charitable pursuits. Still, his fans love him best for his music, and for his innovative stage presence. It is his innovation and creativity that led him to adopt his unique stage name, which he chose when he was still a teenager. 
How did Lupe Fiasco get his stage name?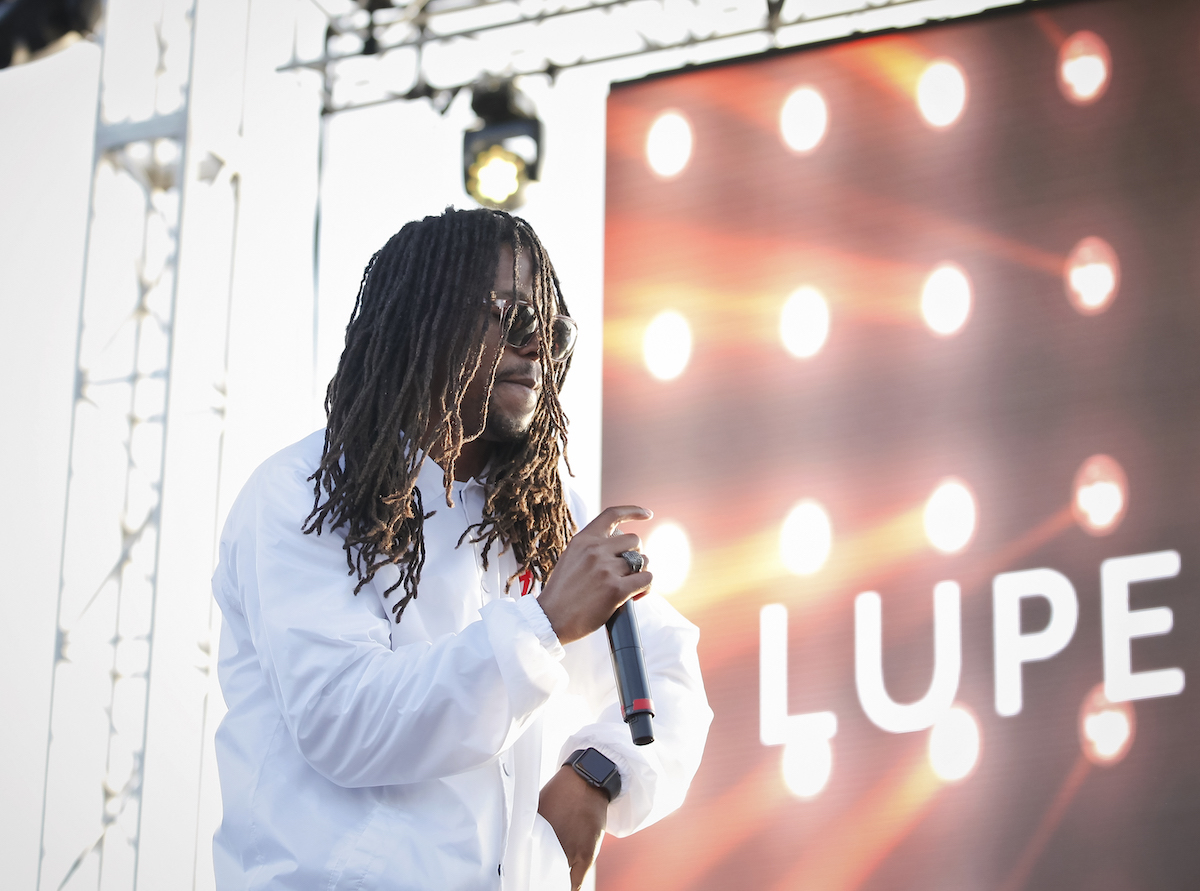 Lupe Fiasco was born Wasalu Muhammad Jaco in Chicago, Ill. Raised as one of nine children, Fiasco's father was a member of the Black Panther Party and his mother worked as a gourmet chef to help support the family. When he was only 3 years old, Fiasco started taking karate lessons, but his world was rocked when he turned 5 and his parents divorced.
Fiasco went to live with his father, and it was around that time that he started developing a serious love for music, including jazz and hip-hop. He started rapping when he was in eighth grade and ultimately, he decided to pursue a career in the music business.
He decided to adopt a stage name, putting a lot of thought into the perfect new identity to represent him. As he later told SoundSlam, he took the name "Lupe" from a friend of his — the latter part, Fiasco, coming from one of his favorite albums by the band Firm. "They had the song, 'Firm Fiasco.' I just liked the way it looked on paper. And so it's like, Lupe … Fiasco," the rapper said. 
Lupe Fiasco is involved in fashion and business as well as music
Lupe Fiasco also revealed to the publication that he chose his stage name as a precautionary measure, in a sense. "You know how rappers always have names like MC Terrorist — like they're 'terrorizing' other rappers? I knew fiasco meant a great disaster or something like that, but I didn't realize that the person named Fiasco would be the disaster, and that you should be calling other MCs fiascos — not yourself … it kind of humbled me in a sense. It taught me like, 'Yo, stop rushing, or you're going to have some fiascos.'"
Fortunately, Fiasco hasn't experienced many of the trying times that he referenced in that interview. The young rapper forged an early partnership with music mogul Jay-Z, who signed him to a record deal when he was only 20 years old. His debut album earned him three Grammy nominations, and in the years since his big breakthrough, he has continued to earn critical acclaim for his inventive lyrics and way with rhymes. In addition to music, Fiasco runs two clothing lines, Righteous Kung-Fu and Trilly & Truly, and has also designed a specialty line of sneakers for Reebok. 
Lupe Fiasco isn't the only rapper to take stage name inspiration from a friend
Lupe Fiasco might be one of the most celebrated rappers to work on crafting the right stage image, but he's far from the only one to choose a unique stage name. As reported by Billboard, rapper The Game chose his stage name based on a nickname given to him by a family member when he was a child. As a young man, The Game was reportedly great at sports, with his family saying that he was always "game" for anything.
Additionally, Jay-Z, Lupe Fiasco's mentor, combined his childhood nickname "Jazzy" with the name of his friend and producer, Jaz-O, to create his stage name, Jay-Z. Stay tuned to Showbiz Cheat Sheet for all the latest entertainment news!