'Ma Rainey's Black Bottom' Review: A Triumphant Tragedy
Until recently, it seemed unlikely any streaming service would enter the awards race. Yet, the late 2010s saw companies such as Netflix, Amazon, and Hulu pop up in Oscar talk. In particular, Netflix has emerged as a heavy-hitter in Oscars 2021, with 35 nominations. The likeliest win among them? Chadwick Boseman as Best Actor in Ma Rainey's Black Bottom.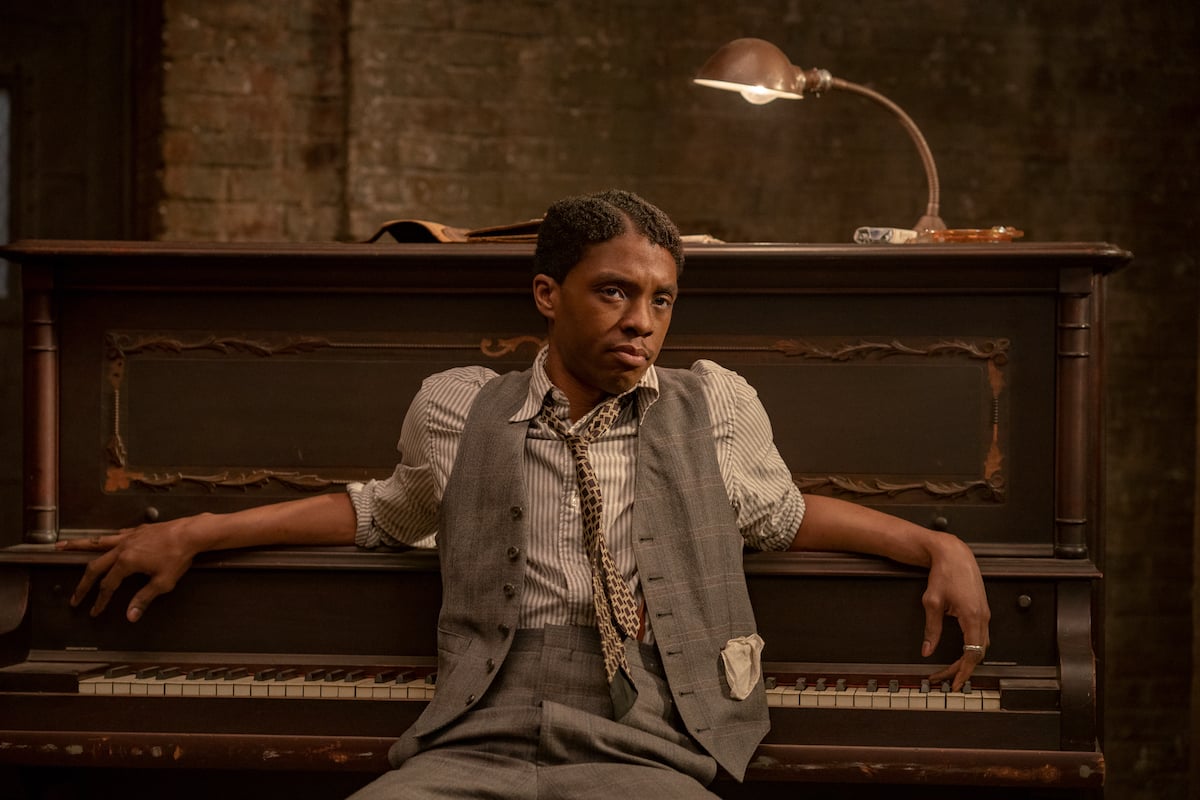 'Ma Rainey's Black Bottom' is based on an August Wilson play
Like 2016's Fences, Ma Rainey's Black Bottom is a film adaptation of a beloved work by playwright August Wilson. Throughout his career, Wilson captured the Black experience in America. And since Fences earned Viola Davis her first Academy Award, many critics expected her performance as the eponymous Ma Rainey could make her a two-time winner.
Ma Rainey's Black Bottom is a slice-of-life drama centering on a recording session involving blues performer Ma Rainey and her band. Over the course of a single day, tensions rise, and lives are changed forever. And while Davis earned an Oscar nod — becoming the most-nominated Black female actor in history — hers isn't the most-talked-about performance.
RELATED: 'Ma Rainey's Black Bottom': Viola Davis Drank That Whole Bottle of Coke in One Take
The late Chadwick Boseman's final role will go down as his finest work
Following Boseman's death in August 2020, Ma Rainey's Black Bottom became the star's final role. And early reviews praised his go-for-broke performance. But they hardly do it justice. Amid his battle with colon cancer, Boseman embodied his role as Levee, Ma Rainey's trumpet player, with such conviction and intensity that even Davis was in awe.
Truly, Boseman's work is transcendent. The actor became a household name thanks to his work as Black Panther in the Marvel Cinematic Universe. But he so changes his vocal delivery, physicality, and mannerisms that fans would be hard-pressed to spot the Wakandan king. Certainly, it helps Ma Rainey's Black Bottom gives Boseman plenty of juicy monologues.
RELATED: Viola Davis Reveals Chadwick Boseman 'Hated the Celebrity Part' of Acting
August Wilson's story is as relevant as ever to today's audiences
Although it's easy to spot director George C. Wolfe's movie is based on a stage production, it's no less poignant. Wilson's words are a gift to the film's cast, giving even supporting players like Glynn Turman and Colman Domingo time to shine. But in addition to its focus on dialogue, Ma Rainey's Black Bottom carries themes just as rich as its vocabulary.
In the end, the film's social commentary on the Black experience rings as true now as it did when Wilson's play first hit the stage in 1982. Though set in 1920s Chicago, Ma Rainey's Black Bottom feels like it as easily could have transposed into a modern context. If anything, the contrast between the film's setting and that of its audience allows its message to cut even deeper.
To be sure, Boseman's anticipated Oscar win is well-deserved. But on the whole, Ma Rainey's Black Bottom deserves credit too for how reverently it treats the source material and its subject matter. The film is currently available to stream exclusively on Netflix.