Machine Gun Kelly Fuels Kendall Jenner Controversy With a Shady Eminem Quote
Machine Gun Kelly came under fire when an old interview resurfaced in which he says he would have sex with an underage Kendall Jenner. The "Papercuts" singer made several disturbing remarks about older men dating and sleeping with underage girls. Machine Gun Kelly recently posted an Eminem quote seemingly in response to the controversy, only adding fuel to the fire. Here's what he said about the famous model and reality star, and how his Eminem quote makes it appear that he is doubling down on his comments.
Machine Gun Kelly once said he would have sex with an underage Kendall Jenner
Musician Machine Gun Kelly made some controversial remarks about Kendall Jenner in a 2013 interview with Fuse. The singer, who was 23 years old at the time, said he wouldn't hesitate to have sex with the 17-year-old model.
He was asked who his celebrity crush was. "I don't care who my first celebrity crush was, because right now it's Kendall Jenner," the music star answered.
"Godd—it, I've said that so many motherf—ing times, I hope that … snagging that. Don't let me move to LA. I'm finding her."
When asked if he was counting down the days until Jenner turned 18, he responded, "I'm not waiting till she's 18, I'll go now. I'm 23, dog, like, I'm not like a creepy age, like, you know what I'm saying? I'm 23, bro, she's 17 and she's, like, a celebrity. Like, there's no limits right there.
He went on to justify his reasoning by naming other musicians who have had relationships with underage girls. "Robert Plant, who was one of the greatest lead singers ever, for all y'all don't know he's from Led Zeppelin, dated a girl that was 14," the "Candy" rapper said. "Axl Rose, who was one of the biggest badasses ever, dated a girl that was 16 and wrote a song on his first album about the girl that was 16."
The musician concluded, "I don't care. Say what you want, man. If Kendall Jenner was in your bedroom naked, and you're 50, you're going."
Machine Gun Kelly responded to backlash about his Kendall Jenner remarks with an Eminem quote
The old interview about Kendall Jenner recently resurfaced after Machine Gun Kelly's engagement to Megan Fox. The musician said he designed Fox's engagement ring to be painful to remove so she wouldn't take it off, sparking discussion of Machine Gun Kelly's treatment of women.
He seemingly responded to the controversy with a tweet on Jan. 31. "I am whatever you say i am 😜," the musician wrote. The line is from a well-known Eminem song, "The Way I Am," which adds another layer to the comment.
Machine Gun Kelly once started a feud with Eminem by making sexual comments about his daughter, who was 16 years old at the time.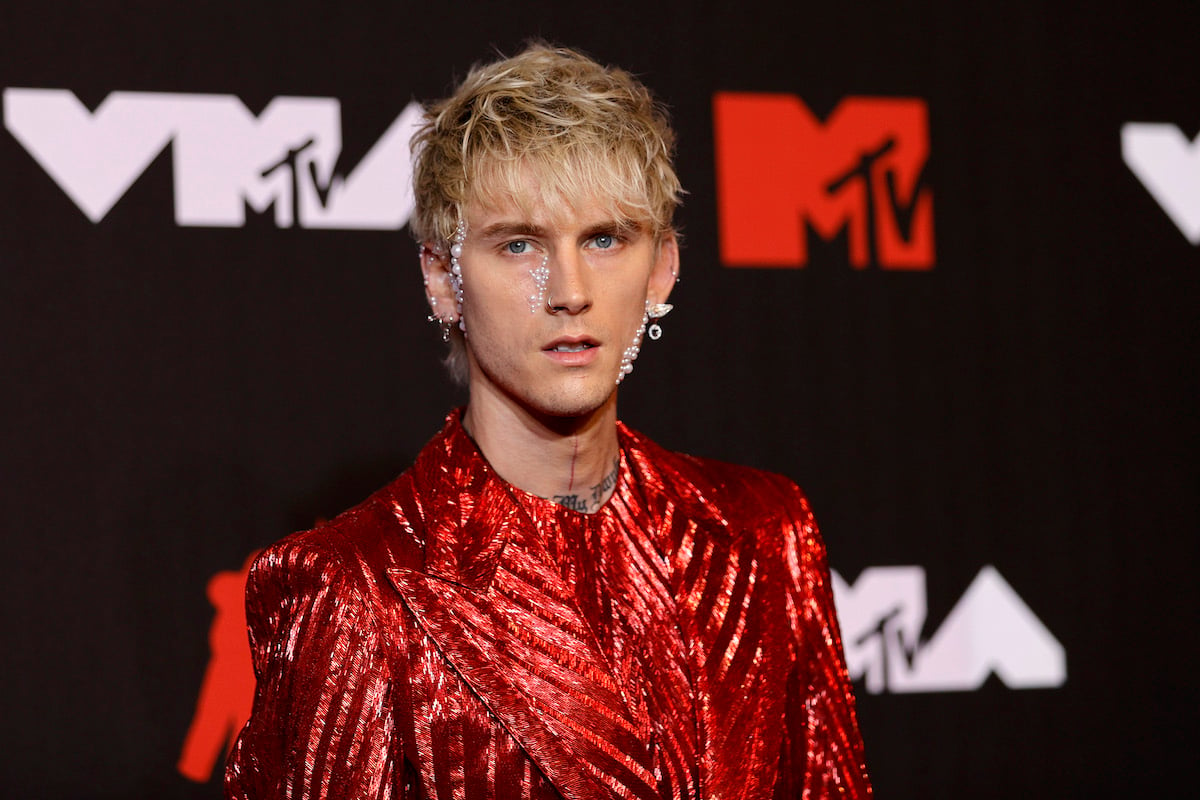 The 'Papercuts' singer has had beef with Eminem in the past over comments he made about the rapper's underage daughter
A year before Machine Gun Kelly made controversial remarks about Kendall Jenner, he posted a since-deleted tweet about Eminem's daughter, Hailie Jade, who was then underage. "I have to say, she is hot as f—, in the most respectful way possible cuz Em is king," said Machine Gun Kelly (per BuzzFeed).
The tweet sparked a years-long feud between the two stars. Eminem banned the musician from going on his Shade 45 radio station, and dissed him on his track "Not Alike."
Eminem rapped, "If you wanna come at me with a sub, Machine Gun/And I'm talkin' to you but you already know who the f— you are, Kelly / I don't use sublims and sure as f— don't sneak-diss / But keep commentin' on my daughter Hailie."
Machine Gun Kelly hit back in his song "Rap Devil," the title of which is a direct response to Eminem's hit "Rap God." The singer mentioned Hailie Jade by name and called Eminem's beard "weird," among other comments. 
Based on his tweet quoting Eminem, it appears that Machine Gun Kelly isn't sorry for what he said about Kendall Jenner or Eminem's daughter when they were underage.