Marie Kondo Has a New Show Coming to Netflix This Summer, But It's Not 'Tidying Up' Season 2
Netflix has announced a new show with organizing expert Marie Kondo. Sparking Joy with Marie Kondo premieres in the summer of 2021. Get Organized with the Home Edit has also been renewed for season 2 and is currently casting. Plus, Dream Home Makeover will return for season 3.
Netflix has sparked joy among Marie Kondo fans with news about a new show featuring the organizing guru. Sparking Joy With Marie Kondo, which premieres this summer, will focus on how Kondo's famous tidying method can affect not just the spaces where people live but also businesses, relationships, and communities. 
'Sparking Joy with Marie Kondo' premieres on Netflix in summer 2021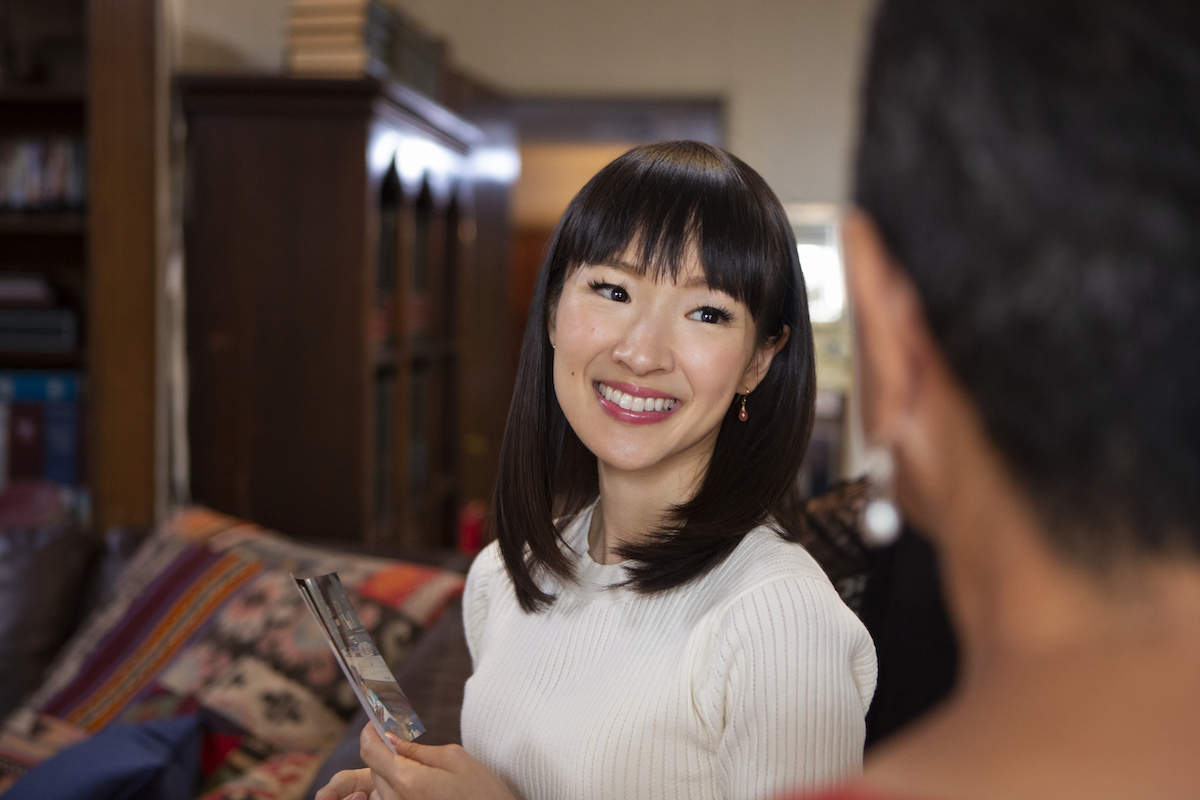 Kondo is a Japanese organizing consultant and the author of the best-selling 2014 book The Life-Changing Magic of Tidying Up. She gained a legion of new fans when her Netflix series, Tidying Up with Marie Kondo, landed on the streaming service in January 2019. Her cleaning strategies — which are built around the idea of letting go of items that no longer "spark joy" — inspired many closet clear outs. 
Now, fans of Kondo — who recently launched a collaboration with used clothing app Poshmark — and the KonMari method finally have a new series to look forward to. While it's not a second season of Tidying Up, Sparking Joy with Marie Kondo will undoubtedly appeal to those who are looking to live a clutter-free life. 
Sparking Joy with Marie Kondo features Kondo taking her signature organizational approach to the next level. She'll show how to apply the KonMari method to other aspects of your life. Viewers will see the "surprising, emotional, and transformative" effects of tidying in the lives of people featured on the show. Plus, fans will get a look at Kondo's own home, meet her family, and see how she sparks joy in her own life.
"I can't wait for you to see it!" Kondo wrote in an Instagram post sharing the news. Sparking Joy with Marie Kondo premieres in the summer of 2021 on Netflix. 
'Get Organized with The Home Edit' Season 2 is also on the horizon   
Decluttering and organizing addicts can also look forward to a second season of Get Organized with The Home Edit. (Season 1 premiered in September 2020.) Clea Shearer and Joanna Teplin will be back to use their unique approach to organization and interior styling to help clients get their mess in check. The new season will feature a closer look at the pair's business. It will also feature several celebrities surprising deserving friends and family with home makeovers. 
Netflix hasn't announced a premiere date for Get Organized with The Home Edit Season 2. However, the show is currently casting for the upcoming episodes. Producers are looking for people whose lives would be changed through an organizing project, those who've recently experienced a major life event and could benefit from a room refresh, and people who are short on time and energy but still want to get organized. You can nominate yourself or someone else by visiting the show's casting page. 
Finally, Dream Home Makeover has also been renewed for season 3. The show follows Syd and Shea McGee as they run their home design business. Episodes feature projects involving everything from single-room makeovers to full-home builds and renovations. 
Check out Showbiz Cheat Sheet on Facebook!