'Married at First Sight': Katina and Olajuwon's Dating App Fight Was Scripted, Some Fans Suspect
Fans have some theories about Katina and Olajuwon's fight in the March 16 episode of 'Married at First Sight.'
Will Katina and Olajuwon make it to Decision Day? The Married at First Sight couple started out the season strong, but a series of clashes since their wedding day have some viewers wondering if they'll be able to make their relationship work. The latest blow-up came during the March 16 episode, where an angry Olajuwon confronted Katina after he discovered a dating app on her phone. The incident had Olajuwon telling producers he was thinking about divorce, but some fans suspect the incident might have been played up for the cameras. 
Olajuwon discovers a dating app on Katina's phone on 'Married at First Sight' 
Katina and Olajuwon's relationship may only be four weeks old, but there's been no shortage of ups and downs for the Boston couple. That was definitely the case in the latest episode of the Lifetime reality show. At first, all seemed to be going well, with the pair going on a romantic gondola ride for the one-month anniversary. But things went sideways during a group dinner with the other couples. 
During the meal, Olajuwon spoke up about a mysterious incident that was weighing heavily on him. Katina had no idea what he was talking about, and she was annoyed that he'd bring up the issue in a group setting without talking to her privately first. Once they got home, the truth came out. During the bus ride to the restaurant, Olajuwon borrowed his wife's phone and noticed she still had a dating app installed. For him, that was a huge betrayal. 
Katina defended herself, saying she'd had used the app in ages and simply neglected to delete it from her phone. But Olajuwon wasn't interested in hearing what he called her "excuses." The angrier Olajuwon got, the more upset Katina became. Eventually, she removed her microphone and told the MAFS camera crew to leave the apartment. 
Fans notice something weird about Katina and Olajuwon's phones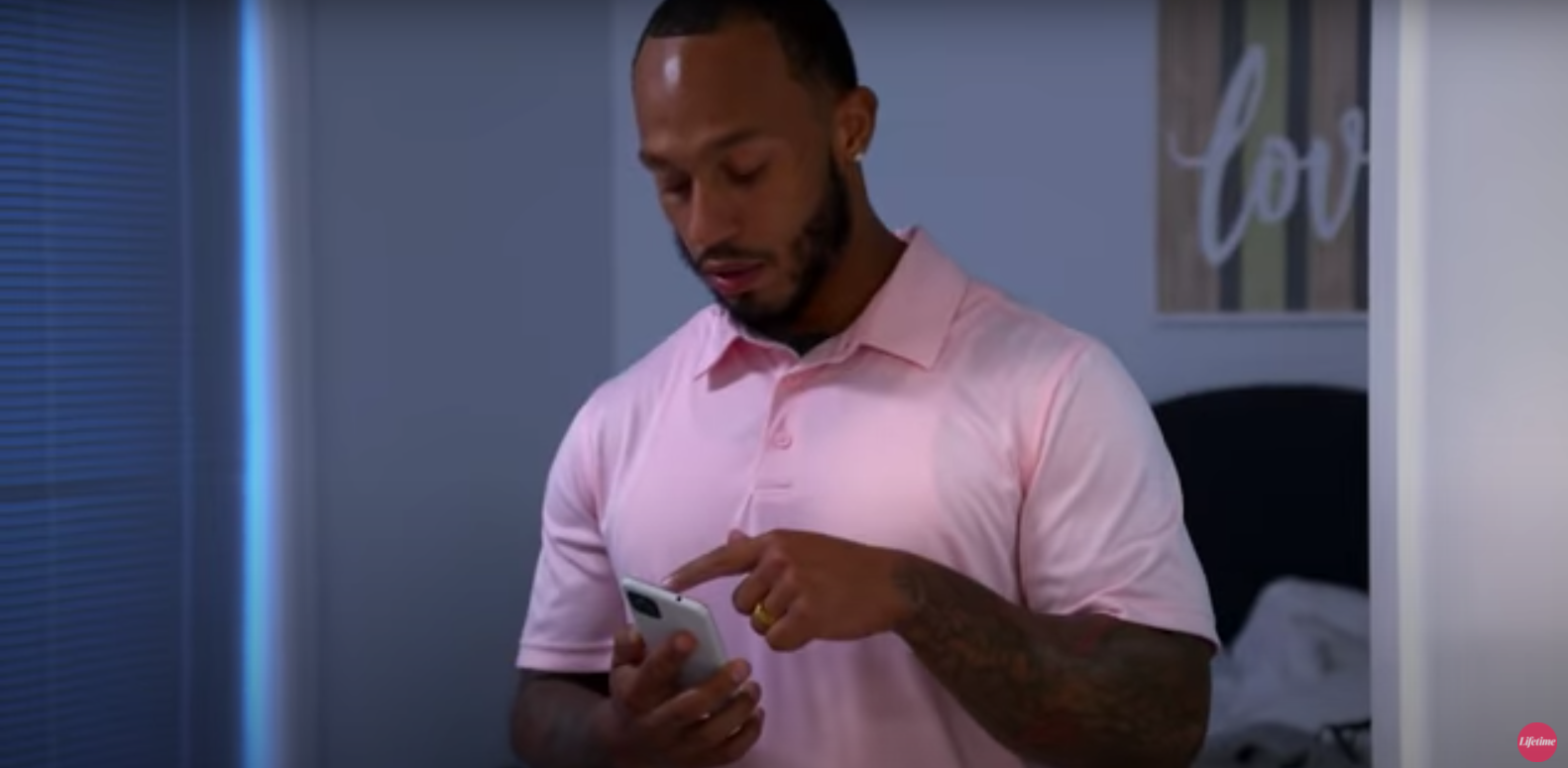 Olajuwon's reaction to finding the dating app on Katina's phone drew plenty of comments from the show's viewers. Many felt he overreacted, with a number calling his behavior a red flag and criticizing the way he spoke to his wife. 
A few, however, wondered if the whole phone app argument might have been fake drama. Several noticed that the phone Olajuwon was looking at on the bus – when he said he spotted the dating app – was not the same phone Katina showed him when they were back at the apartment. 
"But on the bus he had a white phone. In the kitchen her phone was black," one person wrote on Instagram. 
"Yep, shows you that the drama is contrived," another agreed. "I think this was all scripted," another wrote. 
However, a few who noticed the discrepancy felt that it was more likely just the result of sloppy editing. "Could just be a clip of him looking at his own phone after he'd already looked at hers … Editor chose [the] wrong clip," one person argued.
Will Katina and Olajuwon be able to move forward after their latest fight?
Scripted or not, fans are wondering whether Katina and Olajuwon will be able to more forward after their latest argument. They've already found themselves at odds over his expectations for his wife. He's made it clear that having a partner who cooks and cleans is essential, even though Dr. Viviana Coles has warned him that those demands are "archaic." And he hasn't hesitated to tell Katina when he feels she isn't measuring up, even if those conversations end with her in tears. 
A preview for the March 23 episode again shows Katina crying. "I'm a real person, with real feelings, she says.
Some viewers have had enough of Olajuwon's behavior. They say that whatever his feelings about the dating app, he should have handled it better. 
"His reaction is 100% his responsibility, no matter what was true," one person wrote. "The way he spoke to her and how he didn't let her speak is not okay. Period."
New episodes of Married at First Sight Season 14 air Wednesdays at 8 p.m. ET on Lifetime.
Check out Showbiz Cheat Sheet on Facebook!