Marvel's 'Eternals' Stars Gemma Chan and Richard Madden Were Friends Before Getting Cast as Love Interests
Marvel Studios' latest adventure, Eternals, features an ensemble cast who make up the newest heroes of the Marvel Cinematic Universe. Although these characters are new to the audience, in reality, they have been around for thousands of years. And two of the Eternals, Sersi and Ikaris, share a love that has lasted just as long. In Eternals, Gemma Chan and Richard Madden play Sersi and Ikaris, and they were friends long before playing lovers on screen.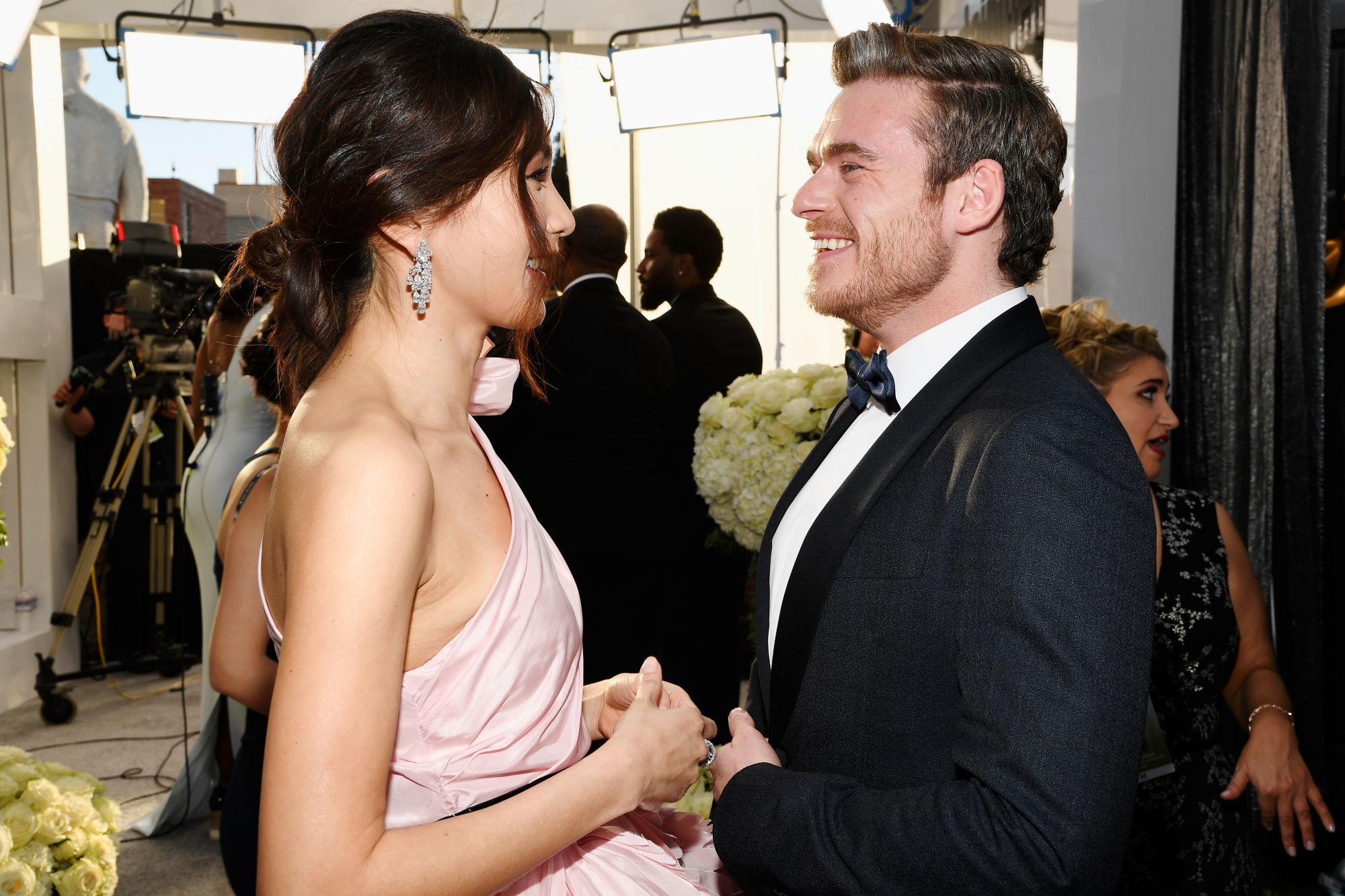 Gemma Chan and Richard Madden discuss their friendship
Eternals stars Gemma Chan and Richard Madden recently talked with Entertainment Weekly about their upcoming MCU film and their years-long friendship. Madden said, "Somehow, we ended up just spending lots and lots of time together. I think we ended up not having jobs at the same time, and that helped, like, 'Oh, great, you're also not working.' [Laughs] And we never ever talked about work! So it's quite funny that we ended up then working together when we've never really acknowledged each other in the industry or talked to each other about work."
Chan and Madden, both from Great Britain, have known each other for years thanks to mutual friends. However, Eternals was the first time they ever worked together. Thankfully, it seems like their chemistry as friends translated to the screen because they know one another so well.
When asked about his reaction to learning he had been cast alongside his good friend, Madden said, "Over the moon. I mean, we've known each other for over 10 years now, so if you're going to go to work and get up and see someone at 4 a.m. every day, it makes it a lot easier if you like them. Because we've known each other so long, we already have this trust and rapport. We know how to push each other's buttons. We know how to make each other laugh."
He continued, "We wanted to bring out the best in each other, so it makes it just a nice, organic process — rather than meeting someone for the first time and being like, 'Hey, you've got to make out now.'" Truer words have never been spoken.
Working on the Marvel's 'Eternals' film set was challenging for the two actors
Despite Chan and Madden having one another to confide in on the set of Eternals, they still had challenges to overcome. After all, a Marvel film set is probably a lot different than any other set in the industry.
Chan said, "For me, it was finding moments to bring truth amongst the craziness of a production of this size, with everything that's going on and the challenges of shooting on location. Finding moments where you could be still, or just have a really intimate, small moment—that kind of grounds you through it."
Madden added, "I'd say the same. It's finding these moments of reality amongst laser eyes and fighting monsters and being thrown into rocks and upside down. These characters are superheroes, but they're also souls, and they have really complex feelings and relationships that have spanned a long time. We tried to find the truth and honesty in those moments while wearing superhero costumes and diving off cliffs and stuff."
Everything we know about Marvel's 'Eternals'
Eternals' premise reads, "After the return of half the population in Avengers: Endgame ignites 'the emergence,' the Eternals—an immortal alien race created by the Celestials who have secretly lived on Earth for over 7,000 years — reunite to protect humanity from their evil counterparts, the Deviants."
Eternals features an ensemble cast who all play never-before-seen characters in the MCU. The film stars Gemma Chan, Richard Madden, Kumail Nanjiani, Lia McHugh, Lauren Ridloff, Brian Tyree Henry, Barry Keoghan, Don Lee, Salma Hayek, and Angelina Jolie as the Eternals. Oscar-Award winning filmmaker Chloé Zhao directed the film.
Eternals premieres on Nov. 5 exclusively in theaters.