Mayor of Flavortown Guy Fieri Steps Up to Save Local Eateries With 'Guy's Restaurant Reboot' Livestream Event
Guy Fieri will host Guy's Restaurant Reboot, a livestream event to support local restaurants, on June 12. The free event will feature roundtable discussions with celebrity chefs and appearances by Shaquille O'Neal and Rob Gronkowski. Fieri will also hand out $300,000 in grants to 11 winners during the livestream.
Guy Fieri is stepping up for the restaurant industry, again. The Food Network star and Mayor of Flavortown has teamed up with LendingTree for Guy's Restaurant Reboot, a free livestream event that will celebrate local restaurants across the U.S. Fieri will distribute $300,000 in grants to restaurants live during the show. 
'Guy's Restaurant Reboot' happens June 12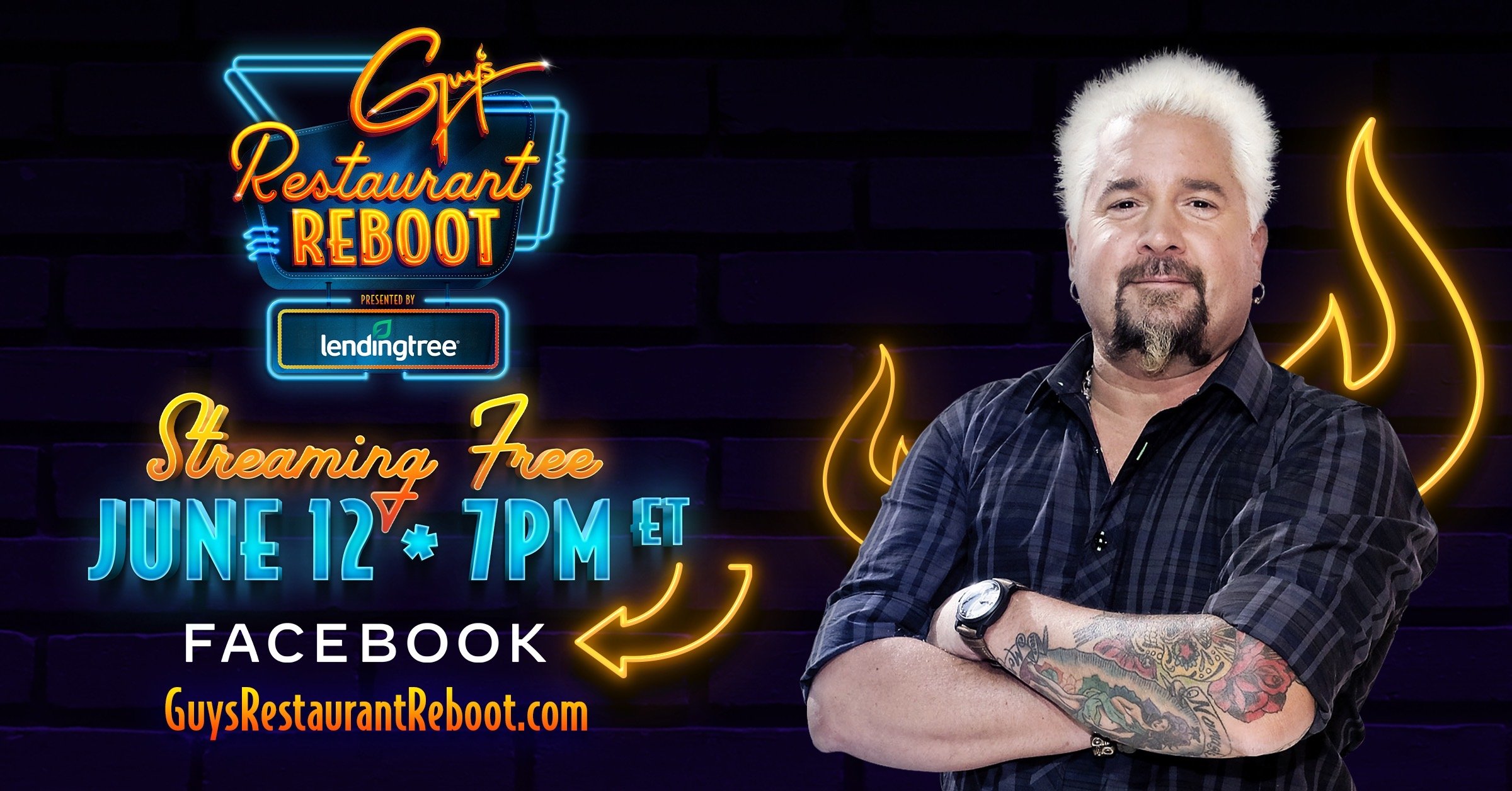 The livestream — which organizers say will be one of the largest culinary events of all time — begins Saturday, June 12 at 7 p.m. ET on Fieri's Facebook page. Chef Antonia Lofaso co-hosts. The event will be simulcast by LiveXLive across more than 20 other platforms including LiveXLive, YouTube, Twitch, TikTok, and Twitter. You can also watch it at GuysRestaurantReboot.com. 
'Cake Boss' Buddy Valastro, Shaquille O'Neal, others team up with Fieri to support restaurants 
During the livestream, the Diners, Drive-Ins, and Dives host will sit down for roundtable discussions with celebrity chefs Buddy Valastro, José Andres, Marcus Samuelsson, Cat Cora, Jon Taffer, Alex Guarnaschelli, Robert Irvine, and Matthew Kenney.
In addition, Guy's Restaurant Reboot will feature appearances by Shaquille O'Neal, Rob Gronkowski, Wale, Adriana Lima, and Kane Brown. Each has teamed up with their favorite local restaurant and Pepsi to create "Off the Hook" menu items that will be available for customers to purchase in-store or via GrubHub.  
Shaq has partnered with Park Tavern in Atlanta, Gronkowski with Datz in Tampa, and Brown with Party Fowl in Nashville. Lima is working with Monty's in Miami, and Wale is supporting the legendary Ben's Chili Bowl in Washington, D.C.
Guy Fieri will hand out $300,000 in grants during the livestream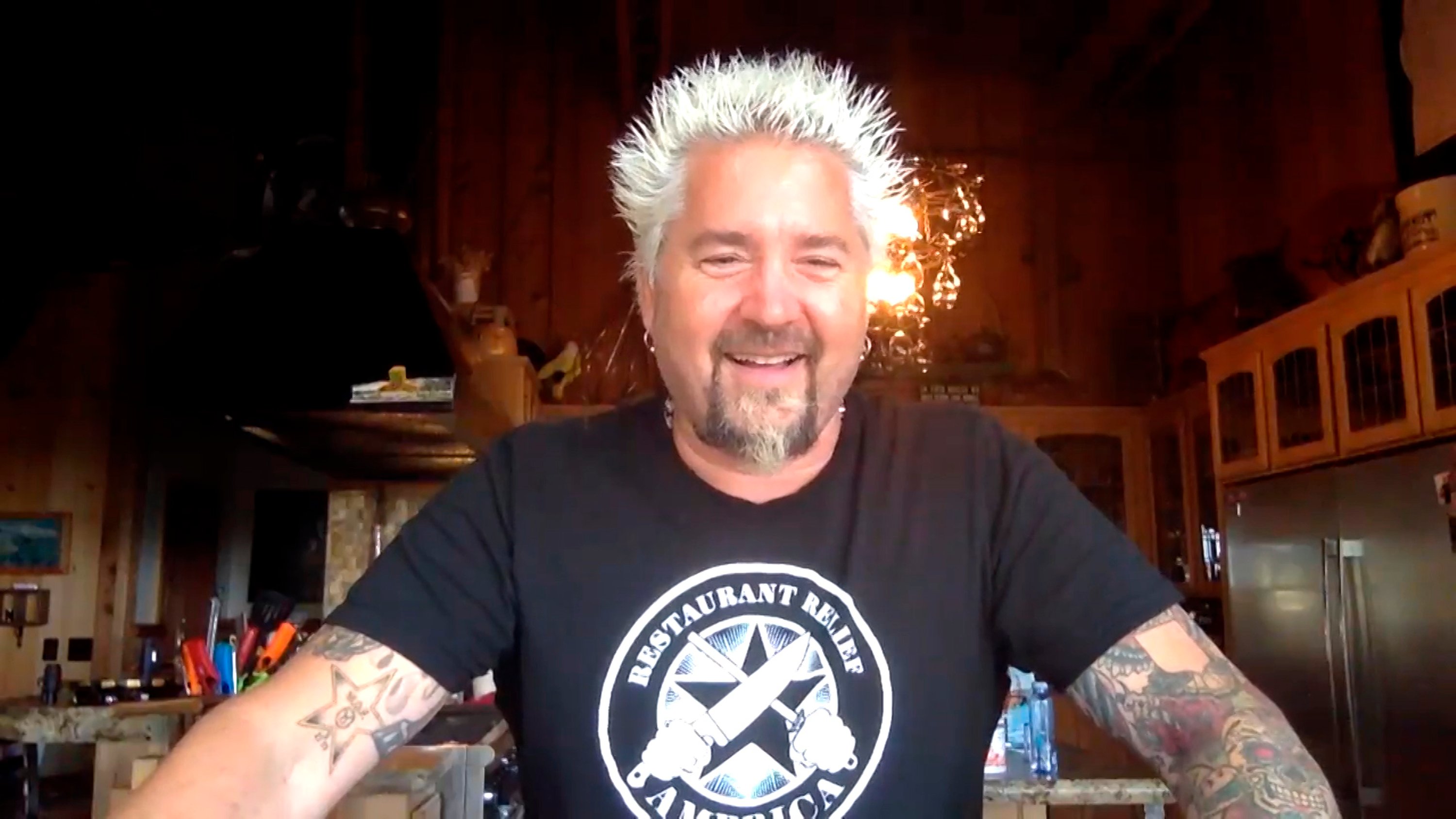 The goal of Guy's Restaurant Reboot is to inspire and empower the next generation of restaurant owners and celebrate the return of dining out. During the event, Fieri will hand out $300,000 in grants to 11 winners. The We Build Restaurants Grant was created by Fieri and The National Restaurant Association Educational Foundation & California Restaurant Foundation. It was funded by LendingTree, Pepsi, SpotOn, AT&T, Grubhub, Cascade, Dawn, Twisted Tea Hard Iced Tea, Conagra, Thermomix, and Thomasville.
"I teamed up with LendingTree to create Guy's Restaurant Reboot in order to celebrate restaurants and the entrepreneurial spirit that drives me, and so many others," Fieri said in a statement.
"The people and partners who have signed up alongside me are eager to champion the rebirth of the restaurant industry coming out of the COVID-19 pandemic, the most devastating obstacle our industry has ever faced," he added. "So hop on the bus to flavortown for the biggest, most action packed culinary event of all time!" 
Fieri raised more than $20 million for restaurants during the pandemic
This isn't the first time Fieri has used his celebrity to stand up for restaurants and restaurant workers, who have been hit hard by the coronavirus (COVID-19) pandemic. Last year, he was instrumental in raising more than $20 million for the Restaurant Employee Relief Fund. The fund handed out $500 in grants to more than 43,000 struggling restaurant workers. 
"You know, so many people work in the restaurant industry in multiple jobs, second jobs, single moms, single parents, students, retirees. And the restaurant industry is massively important to our communities," Fieri told CBS News in April. "And so, when I saw this coming, I said, 'We got to do something to get some money to these folks.'" 
Check out Showbiz Cheat Sheet on Facebook!