Megan Fox Believes She 'Manifested' Machine Gun Kelly's Existence at 4 Years Old
Megan Fox and Machine Gun Kelly are making a lot of attention-grabbing headlines. They are both big entertainment stars, but their engagement rituals overshadow any projects that they currently have in production. Fox explained in an interview how she believes she "manifested" MGK's existence at the age of 4.
Megan Fox and Machine Gun Kelly are in the news for their 'blood rituals'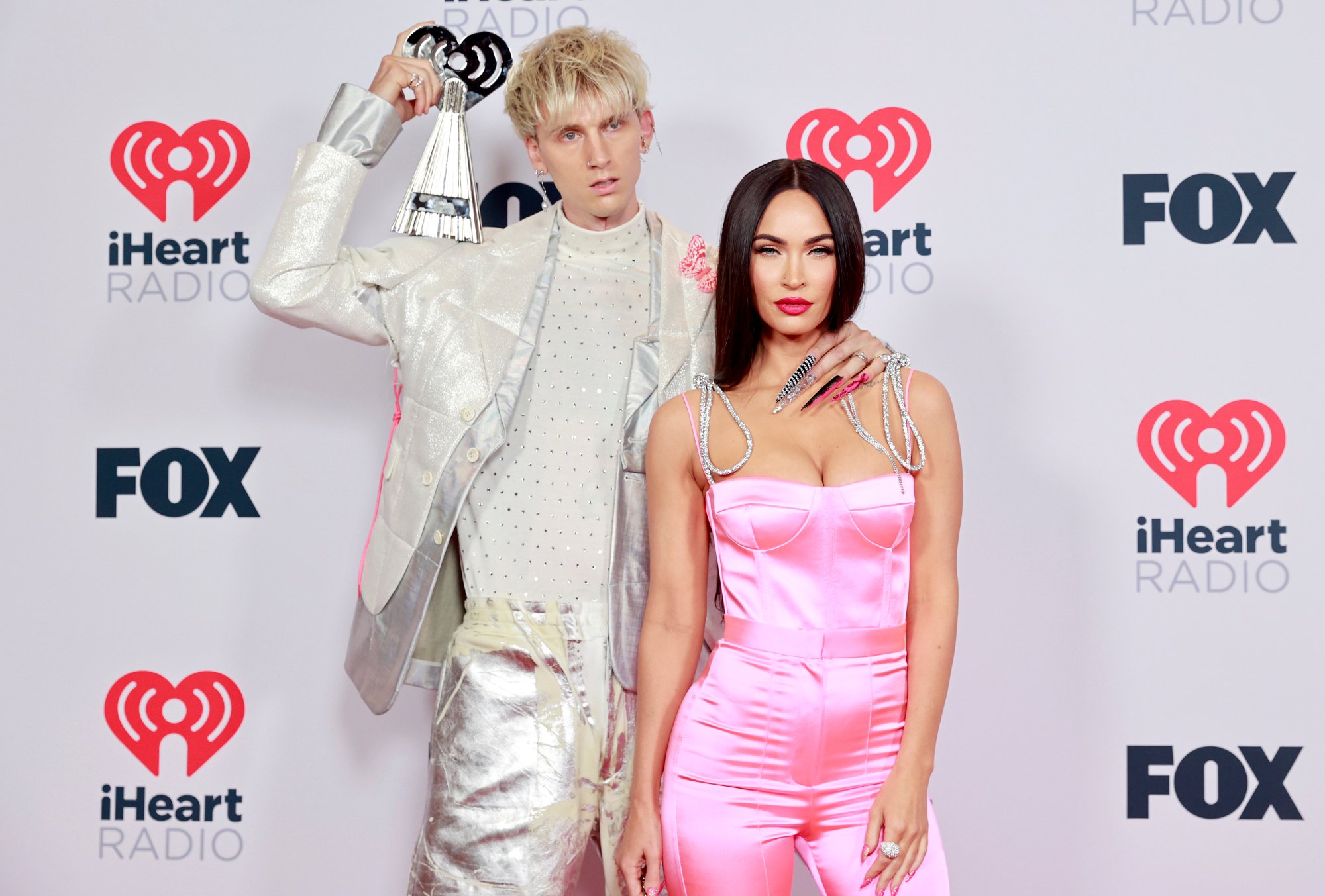 Glamour interviewed Fox about her relationship with MGK and the evolution of her career. She opened up about the Instagram post celebrating their engagement that stated, "And then we drank each other's blood." Social media went into an all-out frenzy over this blood-drinking ritual.
Fox confirmed that this wasn't a joke in the interview. "Yeah," Fox said. "So I guess to drink each other's blood might mislead people or people are imagining us with goblets and we're like Game of Thrones, drinking each other's blood."
Fox laughed and continued: "It's just a few drops, but yes, we do consume each other's blood on occasion for ritual purposes only."
Megan Fox believes she 'manifested' Machine Gun Kelly at 4 years old
Fox talked about how she co-starred with MGK in Midnight in the Switchgrass with Glamour. The outlet asked if her involvement in the project is why he accepted the part.
"He says that," Fox said. "And I do believe, even the day before, he was trying to basically quit the movie and his best friend, Rook, his drummer, and then also his manager, Ashleigh, were both like, 'But your scenes are with Megan Fox.' And he was like, 'F*** it! I'll get on the plane.'"
However, the actor had the opposite experience and had no idea why she was taking the part at the time.
"I just knew I needed to do it for some reason," Fox said. "And then when I was at the table read, there was still one character that hadn't been cast. I asked, 'Who was playing that character?' And they were like, 'Oh, it's Machine Gun Kelly.'"
She continued: "And I kind of knew the name but didn't, so I'm looking it up and I was like, 'Oh, I'm going to be in so much trouble.' He's literally my exact physical type that I've been manifesting since I was four. I'm also four years older than him. So I think I made him. My thoughts and intentions grew him into the person that he is, who knows what he would've looked like or been like if it wasn't for me."
The couple had a ceremony that made them 'vomit violently'
Fox told Glamour all of the details regarding Fox and MGK's engagement ceremony. It certainly went further than just a few drops of blood. They fasted beforehand and drank a type of tea that, "makes you vomit violently before taking the medicine." However, the actor explained what that meant for their relationship.
"It confirmed a lot of things for us that I needed to know or I needed to feel," Fox said. "It opened a door for a lot of healing for me, from a personal experience I had with him, that allowed us to get to a place where we were now seeking the right outlets to heal moving forward."